One thing we've heard over and over is that logging into social media analytics tools can leave marketers feeling a little lost. Sure you can see the reach and engagement of your posts but how is this really impacting your business?
Social media tools have been great at giving us social media metrics. But they terribly lack at providing us with a comprehensive view of the business. Unless you are running social ads, chances are you find it hard to know how your marketing efforts have influenced sales.
For direct-to-consumer (DTC) brands that invest in social media, the need to understand how social media and sales relate to each other is crucial. Marketers at these brands need to know how their social media strategy is helping the business. To them, social media is not just about getting likes and comments…
but how their social media posts are driving the business forward.
That's why we are thrilled to introduce the first version of our Shopify integration today. You can now have your social and Shopify data in one single tool and create modern, visual reports with more data about your business.
(Can't wait to get started? Start an Analyze Premium trial to try the integration right away!)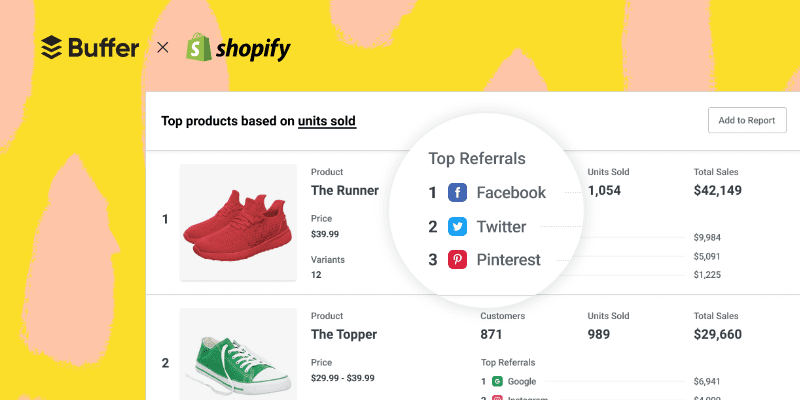 Realize the full potential of your brand
Our customers use our platform of products to build their brand and connect with their customers online. Analyze, our new analytics product, aims to help you realize the full potential of your brand.
To achieve the best version of your brand, we want to give you:
More data to provide a more complete picture of your brand
Data that are easy to understand and share
Strategies and tactics to achieve your goals
Currently, social media marketing can feel isolated from the business. You spend time creating content, find the best time to post, and respond to questions on your posts. At the end of the day, you can only report on follower growth, reach, and engagement.
Only if you had more data about your marketing efforts and the business!
When we look at 1,300 top DTC brands, we learned that 87.4 percent of them use Shopify to sell their products.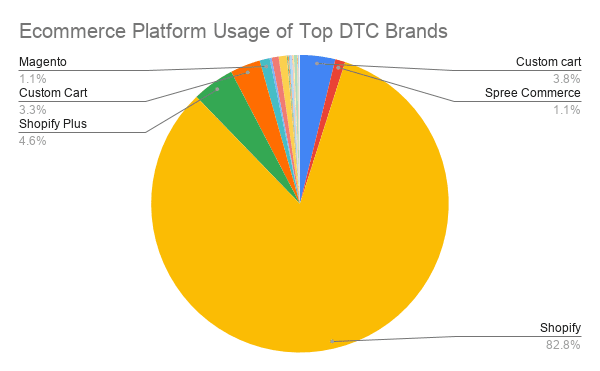 Shopify provides data that marketers and small business owners often lack in social media tools — sales data. We realized it's a source of data that could give you a more complete picture of your brand:
Social + sales
Simplified Shopify reporting in your Buffer dashboard
"We usually cross reference metrics from Shopify and our social media analytics."
When we asked our customers how they figure out whether what they are doing on social is worth it, we heard several versions of the quote above. That's when we realized our customers have a problem we could solve.
With the new Shopify integration, you'll have your social media and Shopify data in a single place — Analyze. For this first version, we focus on a few key metrics you need and put them in the same dashboard as your social media data.
At the top of your Shopify tab, you can get a quick health check-in on your business. This is built for you to get a sense of your business health at a glance.
One of the metrics you'll get is your average customer lifetime value. This is an important metric to know because to have a profitable business, you generally want to spend less money on acquiring new customers and retaining them than they spend on your products.
You'll also get data to help you understand where your sales are coming from and what products are selling well.
Which channel drives the most number of customers or the highest sales?
Which channel brings in the most valuable customers?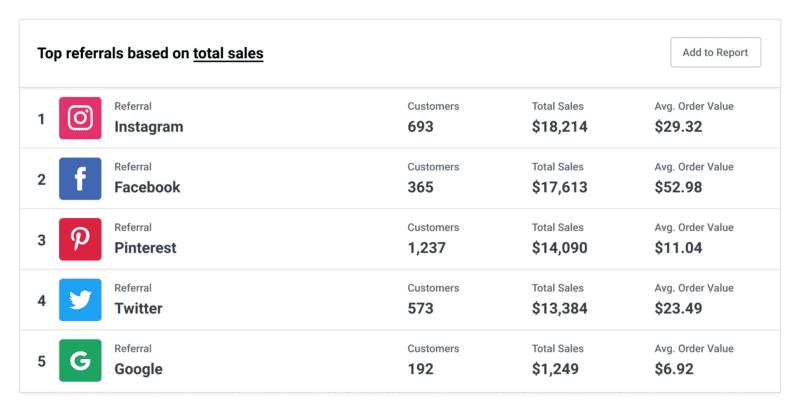 Which are my top products, and where are the sales coming from?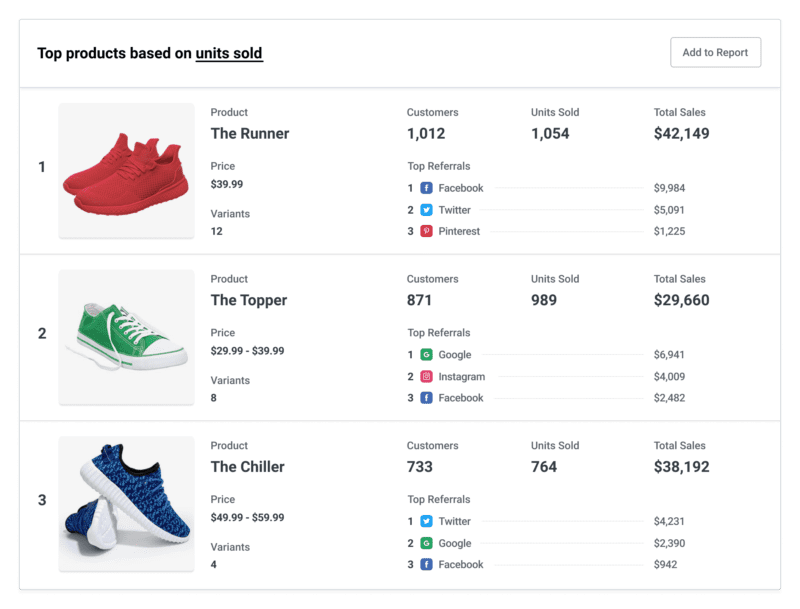 This additional data from Shopify in Analyze will give you a better picture of your business than having only social media data.
To make it easier for your reporting, you can add the tables to your reports in Analyze, download them as PDF, and share them with your team. Just like any other tables and charts in Analyze.
Connecting social media and sales
For a long time, marketers have struggled to show the impact of social media on the bottom line. Much of this data is not available in social media tools that marketers use to plan, optimize, and report their campaigns. It just felt off that marketers can plan and measure their social media campaigns in one tool but have to find another, often much more complicated, tool to know that the campaigns are selling products.
Now you can report how much sales your social media marketing strategy has generated for the business — using a single tool.
(These numbers do not include orders from customers who saw your social media posts and went to Google to search for your website and buy products. That is much harder to track right now. But you now know, at the minimum, how much sales came directly from your social media profiles and the actual impact is much higher.)
You no longer need to jump between tools to draw the connection between your social media efforts and your sales.
Hannah Pilpel, social project manager at MADE.COM, discovered that customers from organic social have a higher average order value than the site average. You can now see this for your business, too.
Gain a better understanding of your brand
Having more data and analytics is essential for realizing the full potential of your brand. It gives you insights to act on and improve your marketing campaigns so that you can grow your brand and your business.
This is just the first version of our Shopify integration, and we are keen to explore more ways to make it more valuable to you. For example, here are some of the areas we have been thinking about:
Per-post sales: Find out how much sales each social media post has generated
Campaign sales: Know how much sales your campaign has generated
Customer insights: Learn more about the social media users who are buying your products
Customer lifetime value: Calculate customer lifetime value for different segments
Product buzz: Get insights into who's talking about your products on social
For now, with your social media and Shopify data together in Analyze, you can already have a better understanding of your marketing and brand.
Give yourself an advantage today.