Have you ever discovered a life hack just when you needed to hear it? The timing and the solution perfect, and the next step so obvious that you acted immediately and have stuck with it ever since?
When it comes to health, sweeping life changes are especially difficult to implement and even harder to sustain. But in my experience, it's the small changes you adopt, maintain, and love that add up to a meaningful long-term difference.
I've been collecting a list of these kinds of fitness, diet, happiness, and sleep hacks for years. Here, for the first time, are my 43 favorite health hacks.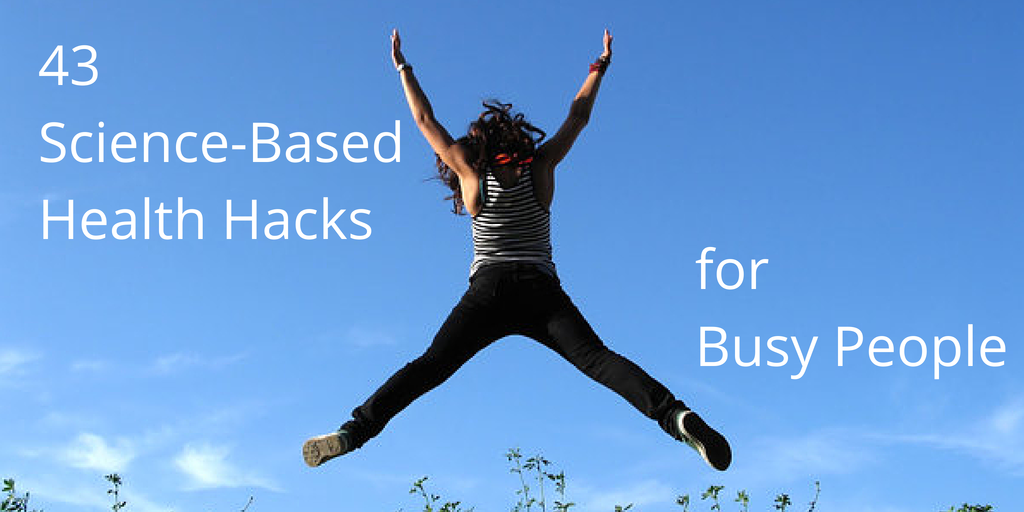 Fitness Hacks
There's no doubt one of the best things you can do for your overall health is to make fitness a regular part of your life. In fact, studies have shown that even moderate levels of exercise can increase energy and reduce fatigue, improve your focus and decision-making, and increase your creative potential.
Here's how to keep yourself motivated and make workouts work for you:
Follow a consistent workout routine. Research suggests that an early morning workout is best for establishing — and sticking to — an exercise routine. But don't sweat it if you're not a morning person. Your body can adapt to training at any time of day as long as you're consistent.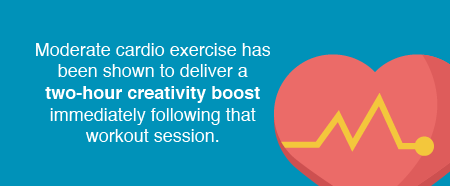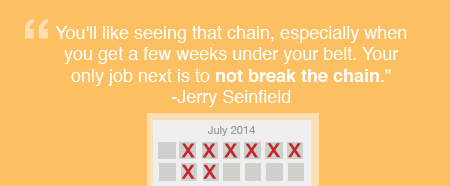 Try the Seinfeld method. Famous comedian Jerry Seinfeld once revealed the secret he used to become a better comic. Every day he wrote new material, he would make a satisfying red "X" on the calendar. After a while, the chain of Xs was something he felt compelled to continue. Every day that you make it to the gym (or any other habit you're trying to pick up), make a large red "X" on your calendar to hold yourself accountable and stay motivated.
Download NudgeMail. It's probably my all-time favorite free email reminder service that will notify you to train (or anything else, really) whenever you want it to. It's essentially like sending yourself an email, but you control its future delivery. I use it for everything from paying bills to giving myself a motivation boost every morning.
Buy an extra pair of underwear to keep at work. Taking the time upfront to think through reasons you don't follow through with healthy activities will pay off later. In my experience, buying a set of workout clothes to keep at the office, making sure you have a light gym bag, duplicating your toiletries, finding shampoo and deodorant you actually look forward to using, and addressing any other random (but important) excuses now rather than later make a small difference that adds up big time.
Diet Hacks
If you're trying to lose weight, the truth is that dietary changes almost always have an even bigger impact than exercise. You don't have to become a vegan or swear off carbs forever to see positive effects, though.
Instead, here are a few simple tricks for eating better:
Log the food you eat. Studies show that keeping track of your food intake can help you lose weight and keep it off. Tracking calories may be flawed, but it can work. Apps such as MyFitnessPal and Lose It! make it easy. Withings also sells a variety of products to monitor activity, vital signs, and sleep patterns.
Throw out the junk. Stop everything you're doing and ditch anything you don't really want (or need) to eat. If it's in front of me, I know I'm probably going to eat it. So get that stuff far, far away and instead opt for fresh fruits, veggies, and other nutrient-dense foods.
Don't drink your calories. Many beverages have sugars, dyes, and flavorings your body doesn't need. Even worse, it's super easy to pour on the pounds by choosing soda, juice, milk, alcohol, and other options over water. Even beverages sweetened in other ways ("zero calories") are increasingly linked to weight gain. Quitting soda is one of the easiest ways to improve nutrition.
Substitute cinnamon in your coffee. Rather than cream and sugar, try cinnamon for a flavorful kick to your coffee. Every Starbucks has some. Not only does it have fewer calories than your typical cream, but cinnamon also has numerous health benefits: It can reduce triglycerides, LDL (i.e., bad) cholesterol, and blood sugar levels. It also contains antioxidants to boost the immune system and may even improve brain function. I started putting cinnamon in my coffee years ago and never looked back. #CinnamonLife
Choose a smaller plate. Science shows that the plate you choose to eat from influences how much you put on it. Switch to a smaller plate, and you could reduce your calorie intake by 20 percent!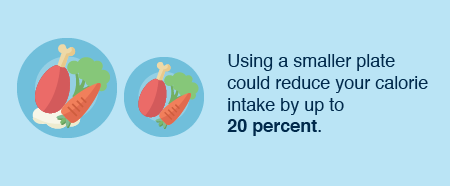 Choose fresh or frozen over canned. Vegetables, soups, and beans in cans contain higher levels of sodium. In addition, canned fruits are often packed full of excess sugar — negating most health benefits. Frozen fruits and vegetables maintain more of their nutritional value. This can help you get your smoothie, egg scramble, or snack without always shopping immediately.
Turn off the TV and step away from your computer when eating. Watching TV (and movies or TV shows on your computer) while eating is associated with overeating and poorer food choices. And the unhealthy food and drink commercials don't help either! So step away, and focus on your meal when you can.
Replace desserts with fruit. Fruit is generally a much better way to satisfy your sweet tooth than traditional desserts. As an added bonus, fruits can provide fiber and antioxidants, and they can help you avoid the dreaded after-meal sugar crash. It's also awesome and almost always available as an option when dining out.
Pace yourself. When we eat quickly, our bodies may not realize how full they are, which causes overeating. Most foods take at least 20 minutes to digest. So enjoy what you have, slow down, pause before you grab seconds, and stop eating when you feel full.
Stay hydrated. Drinking plenty of water has a surprising amount of scientifically proven benefits. It promotes weight loss by lowering your total energy intake and improving metabolism. An interesting study of soccer players showed those who drank hydrogen-rich water before heavy exercise also had more energy due to lower blood lactate levels, so you can think of this as a fitness strategy, too.
Fine yourself for bad behavior. Tell your friends to politely confront you when you indulge in bad habits, and pay them a dollar when you're caught. Your wallet will thank you for working out, laying off alcohol, and eliminating other behaviors you want to change.
Happiness Hacks
Research shows that your mental state can influence your health incredibly. Negative feelings like stress can actually suppress your immune system. When you're looking to improve your health, don't ignore how your brain could be affecting the rest of your body.
Here are some ways to make that easier: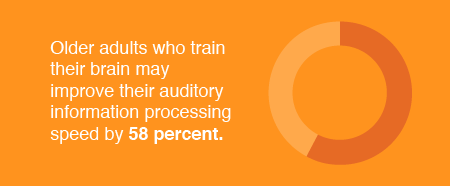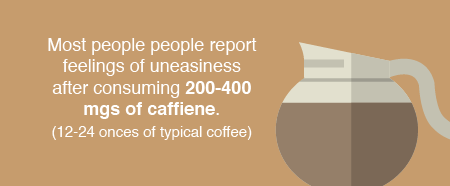 These are some of my favorite health hacks, but that doesn't mean they're all right for you or that you have to implement them all right now. Try out the ones that stand out, and come up with your own. As you change your habits, you'll be more fit, healthier, and happier than you'd ever expect.
What are your favorite health hacks? Let me know in the comments!
Derek Flanzraich is an entrepreneur on a mission to help the world think about health in a healthier way. He is the founder and CEO of Greatist, a media startup working to make healthy living cool.