Twitter has long been the place to turn for opinions on everything from who will win tonight's game to ideas for your next blog post.
And Twitter offers a fun feature that makes it super easy to gather opinions from your audience on Twitter: Polls.
With Twitter Polls, you can create super simple polls directly on Twitter with just the click of a button or a tap on your phone. We've been using Twitter polls a lot on Buffer's Twitter and it's a really fun and engaging feature that we recommend using.
Now you're probably wondering:
How can I get started with Twitter polls?
How do they work?
How can I use them to boost my marketing and my business?
In this post I'm happy to cover the ins and outs of Twitter polls, how to set them up, and nine engaging ways you can use polls today. Here we go!
First off: What are Twitter polls?
Twitter users can create their own four-option polls and gather votes from their audience. Polls are a native feature — meaning the polls are embedded directly into the tweets, rather than having to use Twitter Cards.
Here's how the feature looks on mobile: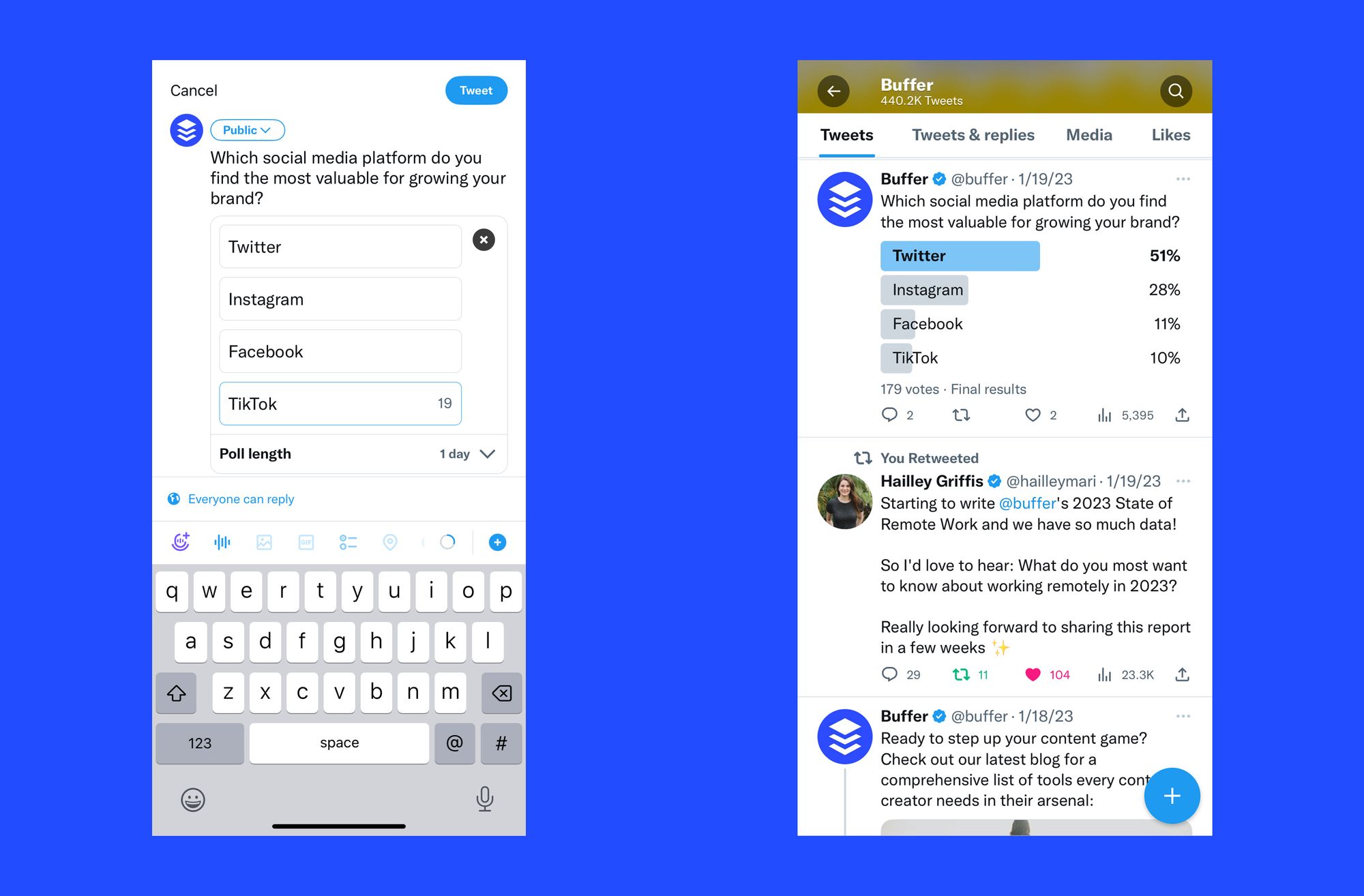 Twitter Product Manager Todd Sherman explains more about polls over at Twitter's blog:
If you want the public's opinion on anything — what to name your dog, who will win tonight's game, which election issue people care most about — there's no better place to get answers than on Twitter. For poll creators, it's a new way to engage with Twitter's massive audience and understand exactly what people think. For those participating, it's a very easy way to make your voice heard.
The nuts and bolts of Twitter polls
Twitter polls are limited to four answer options.
Each option has a 25 character limit.
Polls have a lifespan of up to 7 days, and tweeters are informed of how long is left to vote, and how many people have voted — as well as the results in percentage.
How you voted is not shared publicly (so no one else will be able to see which option you voted for).
Once a poll is completed the results can be viewed publicly.
Anatomy of a poll
Twitter polls are made up of a few key components: The four voting options, number of votes counted and the time left before the poll closes.
Before you vote, a Twitter poll looks like this:

Once you have voted in a poll you will see the results as they currently stand, the option you selected marked with a checkmark (only you will see this), the total vote count, and the remaining time left on the poll.

After a poll has ended, the results will update for all to see within the original tweet. Here's an example from Buffer:
Privacy
The fact that no one can see what you voted for is super interesting and means brands won't be able to target Twitter users based on their votes in polls. As Drew Olanoff explains over at TechCrunch:
Your participation isn't made public to anyone and I'm told that the data isn't being shared with marketing firms or brands. I would be really hesitant to respond to a "Coke or Pepsi" poll, for fear that I'd get spammed or targeted by either company.
How to create a poll
You can create polls on official Twitter iOS and Android apps, as well as on desktop at twitter.com.
To create a poll open up the composer and you'll see a 'Poll' button. Here's how it looks on desktop: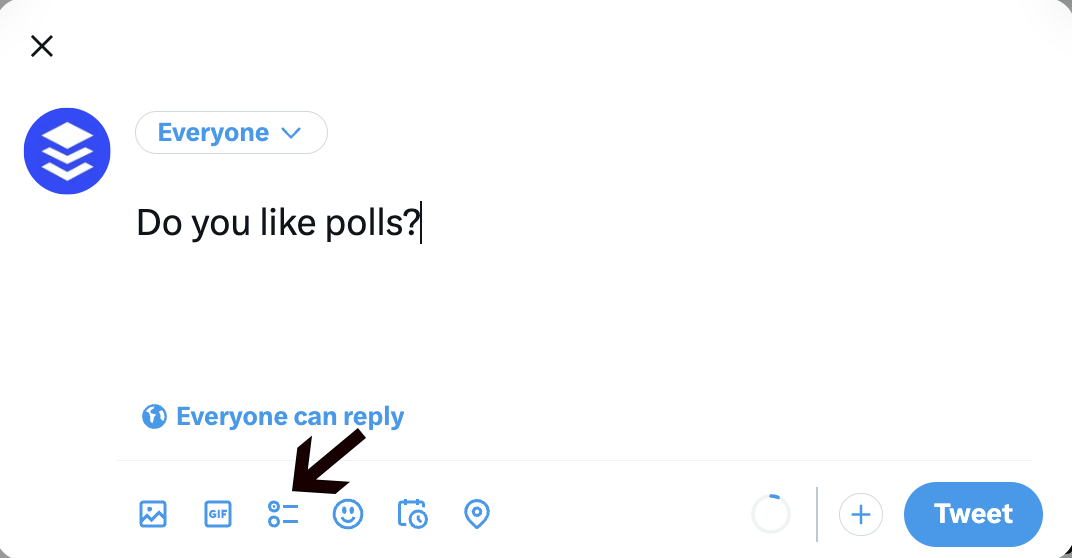 And on mobile: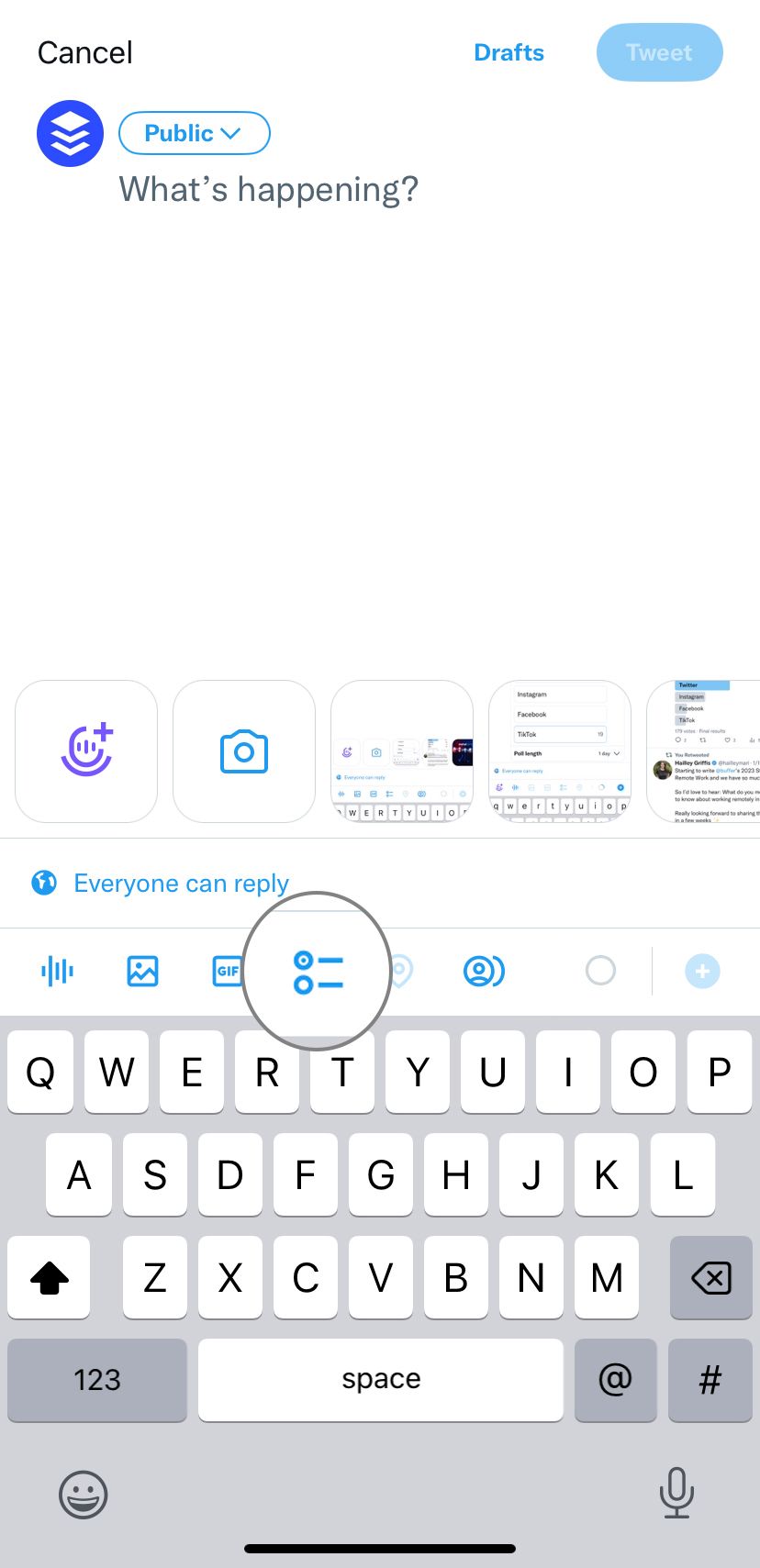 Once you've selected the Poll option, you'll be able to enter four answer options and ask your question in the text box (just how you'd normally write a tweet).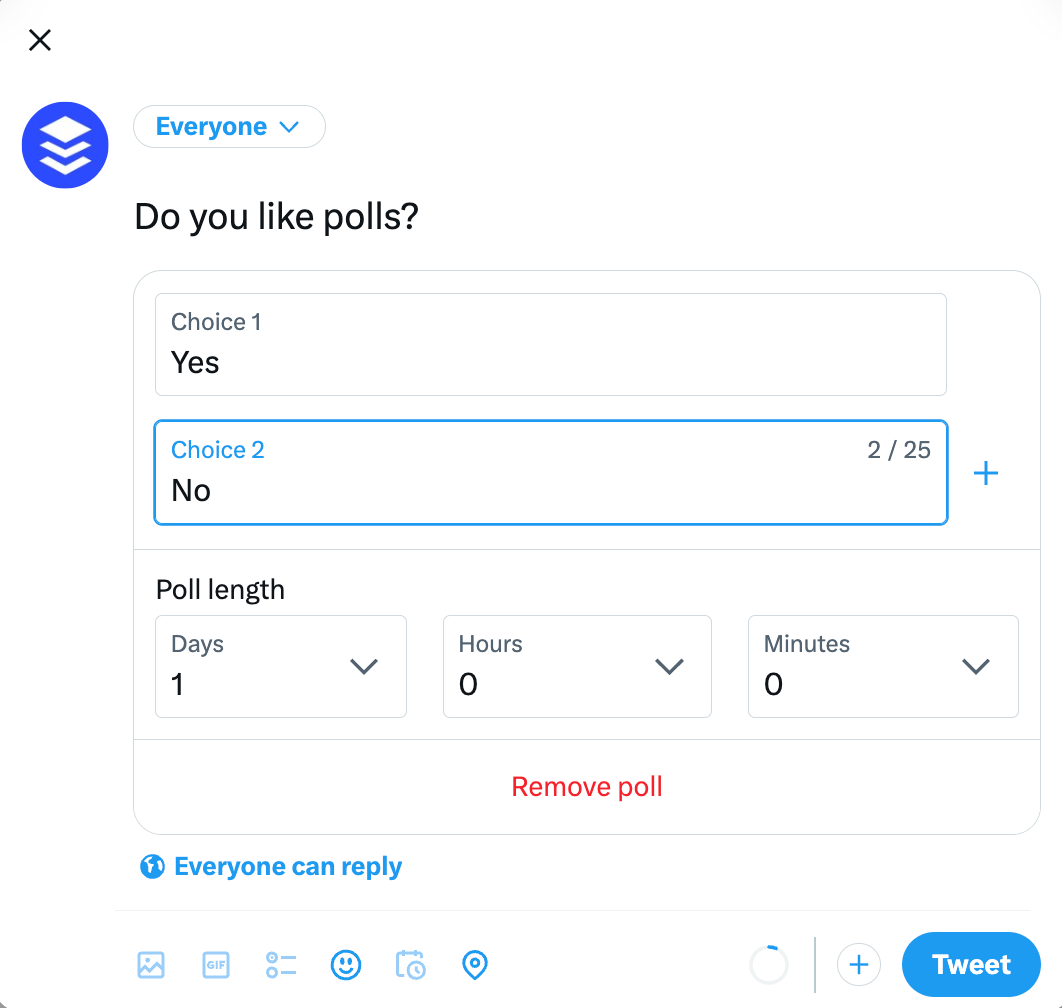 After you've written your question and answer options, you'll be able to share this with your followers.
Retweeting polls
When someone retweets a poll, it'll then appear in their timeline and be seen by their followers just like any other retweet. People can also vote in polls directly from a retweet.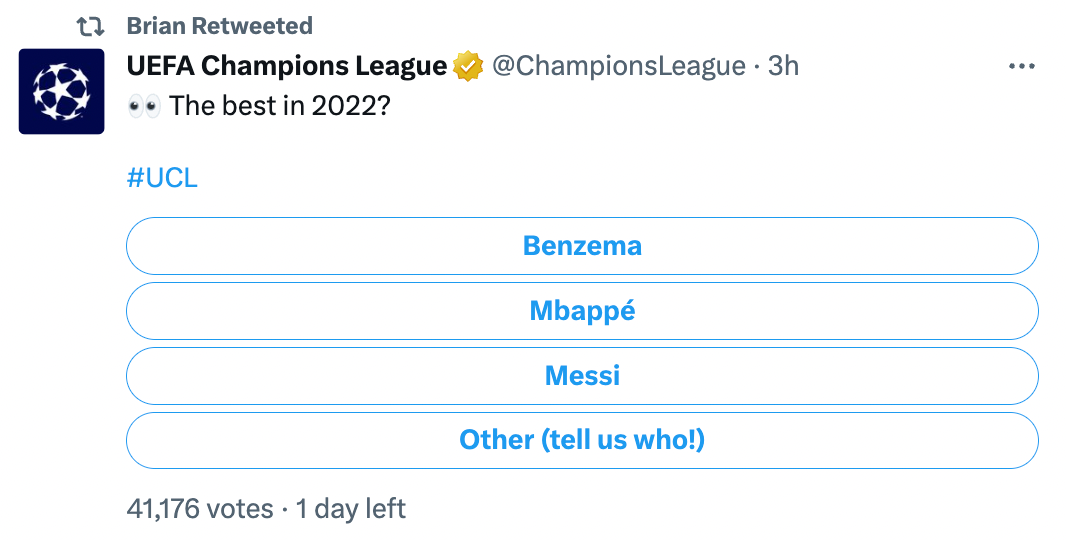 Pinning polls
If you want to get your poll some extra attention you could pin it to the top of your timeline – this is a great way to get some extra votes in and also display the results of your poll.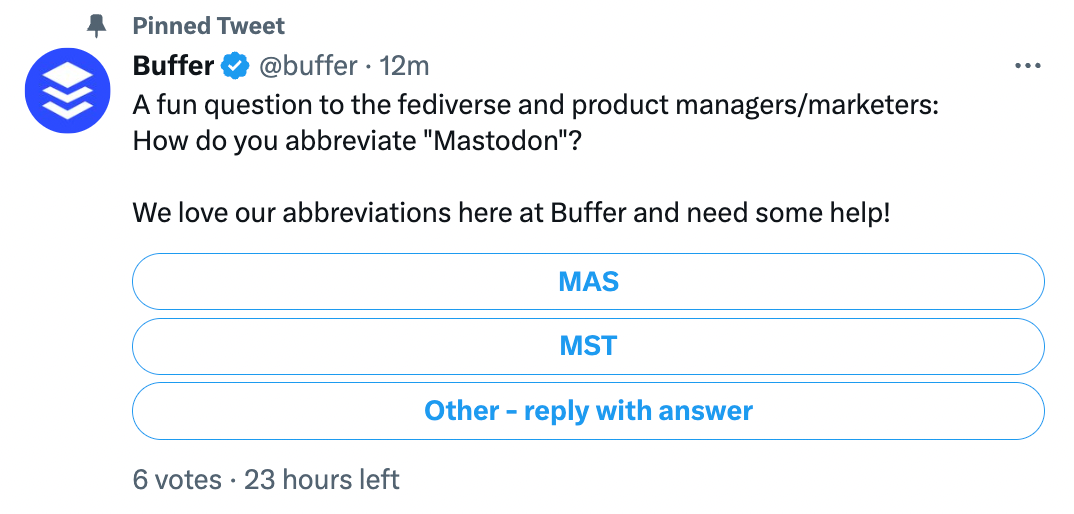 How you can use polls to boost engagement
Twitter polls are a great way to engage with your audience and make them feel like a part of your community. Many people are excited to give their input and share their opinions, plus, they enjoy seeing the results of active polls, which won't show up until after they've voted.
At Buffer, we aim to do at least one poll a week on our Twitter because it's a fun way to interact with our community and we also love to use it as a tool to gather feedback from our audience.
To help you get a head start, here are 9 ways you could use polls.
1. Letting followers vote on content
Polls can be a great way to not only create engaging content for your followers but to also involve your followers in the content creation process and allow them to play a part in deciding what content you publish.
Example: The NBA used a poll to let fans choose which player they'd like to see on an ISO-CAM from the @NBAonTNT Twitter account during the NBA All Star game.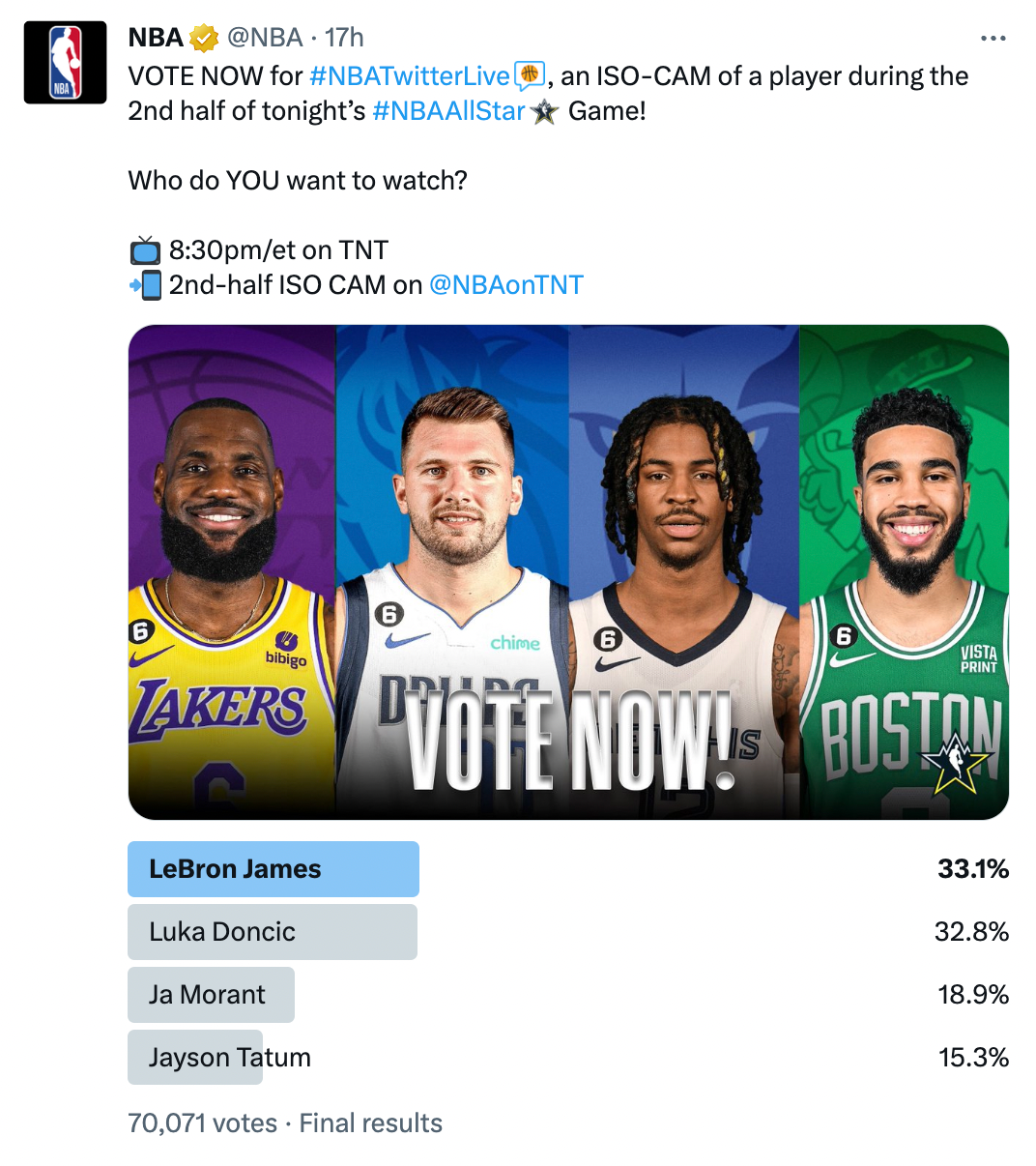 2. Asking for Predictions
Whether it's who will win the NFL game or who will come out on top in the latest TV talent show, predictions have been a huge part of Twitter conversations for many years. Polls provide a new, fun, and engaging way to ask for predictions from your audience and a platform from which to build conversation.
Example: Twitter Sports used polls to ask followers to make predictions on the College Football National Championship.
3. Having fun
Polls don't always have to be serious and using Twitter's new feature as a way to have some fun with your followers could be a great way to boost engagement.
Example: Here's a fun example from Walden University, asking the controversial question of whether pineapple belongs on pizza.
4. Requesting product feedback
Requesting feedback from customers can sometimes feel like a big ask. Polls could be a great way to get bitesize pieces of product feedback in a more fun, snackable way. Try to think about scenarios within your product, learnings you're after or hypotheses you're looking to validate that can be broken down into simple four-answer questions and put them out there as polls. Polls won't give you all the data you need to move ahead with big decisions, but they could help you to get the ball rolling. Example: Here's an example of a poll we ran to see how people would feel about us adding an AI feature in Buffer, which we were testing at the time.
5. Reacting to real-time events
Twitter is amazing for real time coverage and reaction to events, and polls add another layer to this real-time engagement. Instead of tweeting a question to your followers and trawling through hundreds of replies to gauge reaction, you can use a poll to check what your audience things. Example: Poll reactions to events during live sports events or television shows.

6. Gathering opinions for news stories
For years, news companies have polled opinions to sit alongside and support their stories. Twitter polls are a fantastic way to quickly see a snapshot, public opinion on a topic. If you're writing a news piece or even something for your blog, you could create a Twitter poll to include within your piece. Example: Below is an example poll we used to gather data for a blog post about Twitter's latest features.
7. Lean market research
Polls provide an awesome way to grab opinions from a snapshot of your audience. If you have a hypothesis floating around about your market, you could create a simple poll as a first step to validating your thoughts. This quick, lean approach will take minimal time and give you results in 24 hours or less. From your results you can then look at whether or not you'd like to further explore your original hypothesis. Example: A market research poll could look like this.
8. Feedback on what you post
Fans and followers love to feel connected to their favorite brands and individuals. Polls open up the opportunity to build even stronger connections. You could use polls to give your followers the opportunity to help shape your content strategy and provide feedback on what they'd like to see more (or less) of in one simple click. Example: SPCA of Texas asking what content their followers would like to see more of in their Twitter feed.
9. Embed polls in a blog post
Embedding your tweets is a great way to increase reach and drive more attention to your profile. Embedding tweets containing polls into your blog can add an interactive element too. This could be a great way to engage your readers and get them re-engaging with your content or Twitter account to discover the results. Once a poll within your embedded tweet is over, the tweet will show the results and still provide added value to your overall blog post. Example: Here's an example of an embedded tweet in this blog:
Over to you
Have you tried posting Twitter polls? Share them with us on Twitter!
Image sources: Pablo, IconFinder, Unsplash, Twitter
Brought to you by
Did you find this article helpful? You might also like our all-you-need social media toolkit.
Get started for free now