Summary
LinkedIn is a unique social channel. A successful LinkedIn strategy combines the power of company pages with employees' personal profiles. And in this post, you'll find out how to leverage LinkedIn for your business.
You will learn
How to use personal profiles and company pages to build your audience
The four types of posts to boost LinkedIn engagement
The power of analytics to optimize your LinkedIn strategy
Think of designing your LinkedIn strategy as you would prepping for a work presentation. Before you head into the conference room, you know exactly who your audience will be, which presentation style you'll use, and how you'll involve your coworkers in the conversation.
You can take the same approach to your LinkedIn strategy. A little preparation (and a lot of analysis) can ensure that you present your company and personal brands at their best on this growing social channel. Use these tactics to position your business as an authority in your industry and build your network in the process.
1. Use personal profiles and company LinkedIn pages to build your audience
Leveraging your personal social network for your brand can get complicated on other platforms. But LinkedIn is where personal social media and professional networking come together. A thorough LinkedIn strategy combines the power of company pages with employees' personal accounts.
LinkedIn company pages are useful for brand awareness and sharing company updates or articles.
"Our company LinkedIn page is mainly aimed at providing interesting and helpful content to other businesses and decision makers who may be interested in our products," says Peter Morrell, growth marketing at WizardPins, a company that produces custom promotional products.
Our company LinkedIn page is mainly aimed at providing interesting and helpful content to other businesses and decision makers who may be interested in our products.
He notes that people expect self-promotion from a company page, but he says that his personal page is geared toward helping people in his network, not directly promoting his company.
Company LinkedIn posts tend to get less engagement because people don't connect as easily with brands as they do with people. However, company pages offer more audience targeting and paid ad options. So if you're willing to put some money behind your LinkedIn marketing efforts, you can easily home in on your target audience.
Personal profiles put faces to ideas, which is why it's so important to incorporate personal accounts into your company's LinkedIn strategy.
"Company pages get very little viral reach compared to personal pages," says Katie Mitchell, head of marketing at continuous research platform UserLeap. "We prioritize all of our content on personal pages and try to flow traffic back to the company page," she says.
Gong also encourages its team to use LinkedIn to build their own audience on the platform. "Linkedin is one of our primary channels when it comes to content strategy," says Gong's content marketing manager Nehal Tenany. "It helps us target audience for better-qualified leads, establishes Gong and Gongsters [Gong's name for teammates] as thought leaders in the community."
Remember: A LinkedIn strategy is like preparing for a work presentation, so think of your company page like the elevator pitch. Use your company page to give people the high-level overview of company news and blog posts. Then, encourage your team to share updates on personal pages to dig deeper.
For example, if you're hosting a webinar, you can share announcements and a summary of what the webinar will cover on your company page. Meanwhile, your team members who will be presenting during the webinar can promote it by sharing more detailed teasers on their personal profiles. Not only does this extend your reach to your team's personal connections, but it also presents your brand as an authoritative resource.
It's hard to judge a company's expertise from a company page. But personal profiles allow people to look into others' professional histories and verify their knowledge and experience.
2. Get your team involved with your LinkedIn strategy
The LinkedIn algorithm thrives on interactions. Bringing your team in on your marketing efforts can make a huge difference in your reach and overall growth.
Encourage employees to post about their individual expertise on personal accounts—share their knowledge with the world (and associate that expertise with your brand in the process).
Plus, as Mitchell of UserLeap points out, it's a great way to leverage a personal audience and funnel them back to the company page.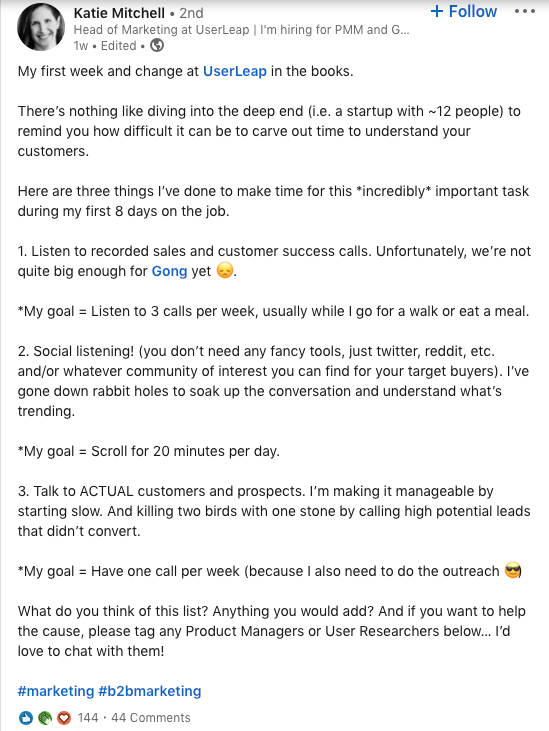 Consider your team's personal posts as different versions of your presentation. Each personal profile provides unique insights that leverage that person's skills and personality while still tying back to the key themes of your overall presentation.
Gong encourages its teammates to share the brand's LinkedIn content in their own unique way. "We follow the Gong tone, stick to the branding, add in a little bit of our personal flavor and interact heavily with each other," says Tenany. "We're a team at the end of the day, so when we have a win or a new piece of content or something exciting to share, the entire company is on it. Your entire newsfeed flooded by the Gongsters," she adds.
We're a team at the end of the day, so when we have a win or a new piece of content or something exciting to share, the entire company is on it.
How to involve your team in your LinkedIn strategy
Let's say you're promoting a report such as our State of Remote Work. You could ask your team to share their unique perspectives on the findings. For example, Tom, our product manager, might highlight that 10% of remote workers struggle with distractions at home. By itself, it's just a statistic. But paired with his personal story of working with a daughter running around the house, he'd drive the point home in a much more relatable way.
Your less-vocal team members can get involved with your LinkedIn strategy as well. Encourage your entire team to engage with both the company's posts and other team members' personal pages. LinkedIn company pages have a "Notify employees" option that sends a message to a "critical group of employees."

Unfortunately, LinkedIn gets to decide who the "critical group" is and also limits it to seven employees, so many companies rely on internal communication instead. Morrell of WizardPins, for instance, uses a company-wide Slack channel to ask his team to like and share posts.
However you choose to notify your team, make sure you do it quickly. On LinkedIn, early engagement is crucial. Posts that get engagement within 60 minutes of publishing are shown to more people and thus get more engagement overall.
Posts that get a mix of reactions (like, celebrate, insightful, etc.) and comments tend to perform the best, but LinkedIn's algorithm favors posts with comments. The platform is all about discussion, so getting comments and responding to each one can increase your views as much as 250%.
3. Experiment with different post types
When it comes to consuming content, everyone has their own preferences. Playing around with various post formats is a great way to cater to a wider range of people and narrow your focus on what your followers respond to.
4 LinkedIn post types to test out
1. Text-Only
Don't underestimate the power of text-only posts. Not everyone wants to click on a video or look at an infographic; sometimes text is enough to reel people in.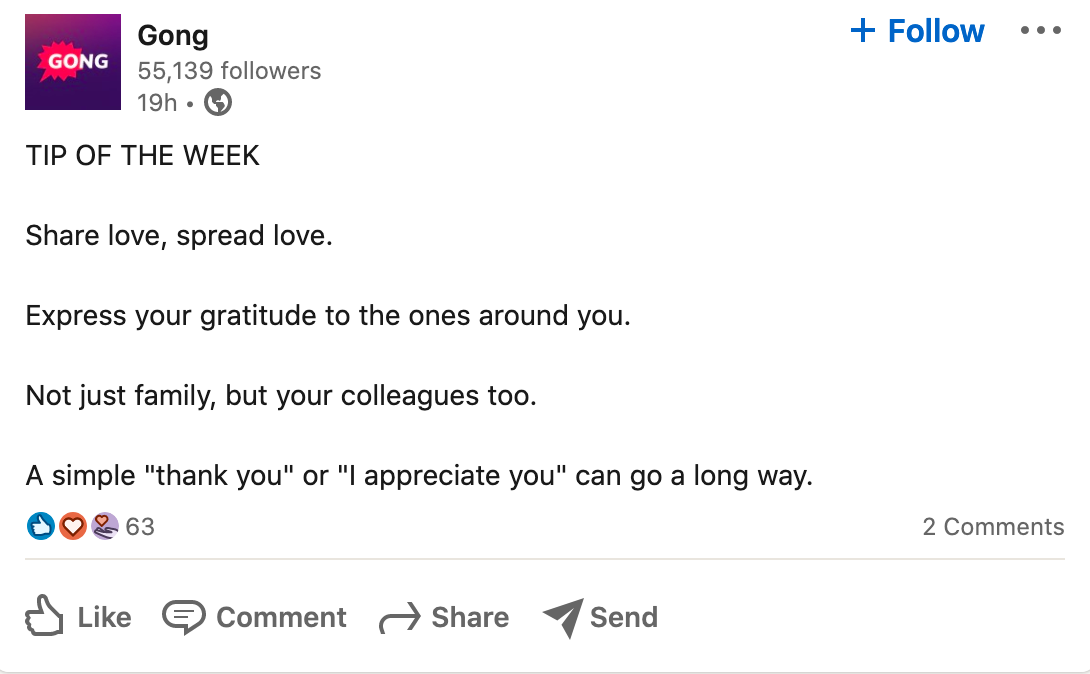 Text-only posts work well on LinkedIn because you do have some formatting options, both on company pages and personal profiles. You can make posts easier on the eyes by incorporating line breaks, as shown in the example from Gong's company page, above.
2. Long-Form Posts
LinkedIn company posts can be as long as 700 characters, and personal status updates can stretch to 1,300 characters. While you shouldn't treat every update like a blog post, there are advantages to going long.
Personal LinkedIn profiles are like portfolios: every post lives under your activity tab, so people can revisit your particularly insightful content. Detailed posts with expert insights make you appear more authoritative, positioning you as a credible resource or thought leader in your industry.
Gail Marie, director of content at content marketing agency Animalz, used a long-form post to share a learning experience specific to her industry.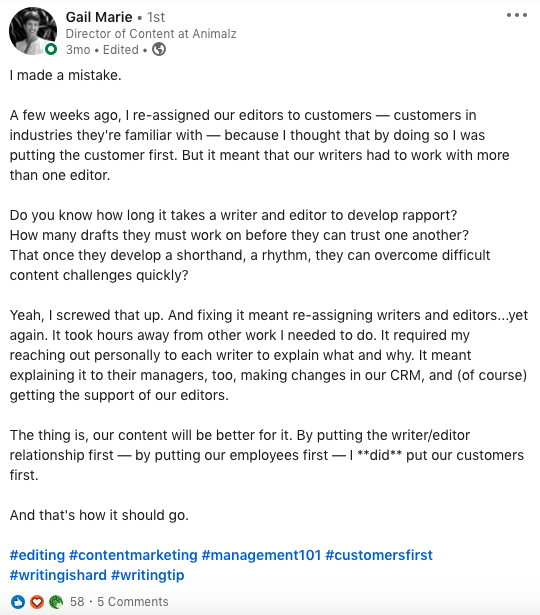 There's also an additional benefit to lengthier posts. Content cuts off at around 200 characters in your feed, prompting users to click "see more," which the LinkedIn algorithm counts as engagement.

And while some of the algorithm is a numbers game (engagement rates, number of impressions, etc.), humans still have a lot of say in what content wins and loses. Human reviewers love to see long, informative posts that spark conversations (or even debates). In fact, LinkedIn says longer posts have the chance to be marked as recommended posts or distributed in trending topics.
3. Multimedia
You can leverage images, video, and LinkedIn Live to grab people's attention as they scroll through their feeds.
LinkedIn's 2020 Sophisticated Marketer's Guide encourages the use of multimedia, noting that people retain 50% more information if a relevant image is included. Take a look at this example from internal communications email platform ContactMonkey.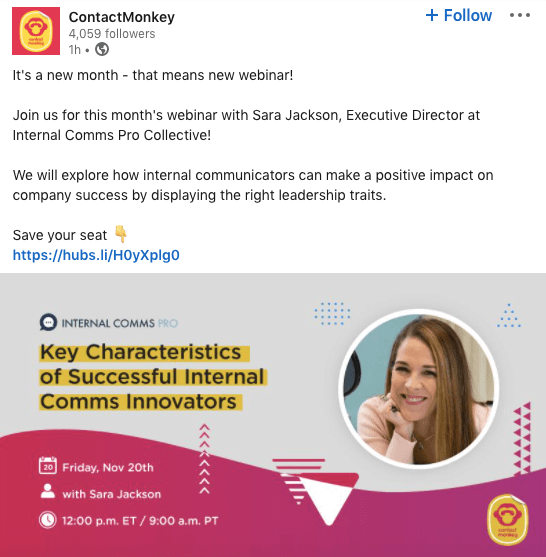 While someone might scroll right past the text, the associated image has all the key information about the upcoming webinar.
Videos and LinkedIn Live Video posts can be even more powerful. Compared to other post types, video updates receive 5 times more engagement, while LinkedIn Live Video gets 24 times more.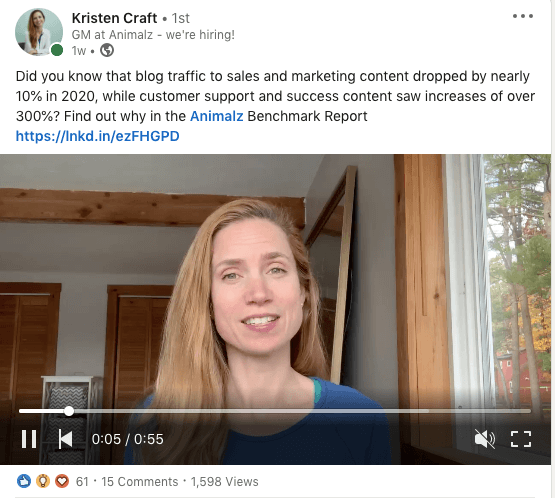 If you aren't great with video, don't panic: you can create short, impactful videos with a simple home setup.

"Light is the most important when it comes to video quality," says Kristen Craft, general manager at Animalz. "Choose a location where a light source is in front of you. Facing a window during the daytime is ideal."

Craft also recommends using a smartphone instead of your laptop's built-in camera, because smartphones produce higher-quality videos.

And if you'd prefer not to get in front of the camera, you can use your personal LinkedIn profile to re-share company videos, such as this one from Gong.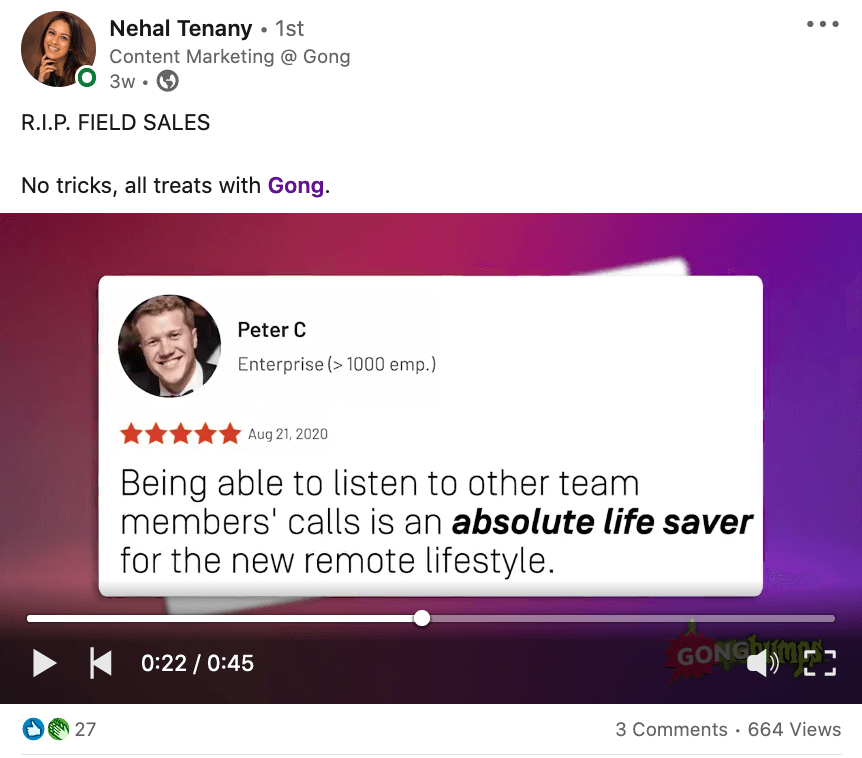 4. Stories
Stories are now available for personal and company pages worldwide.
The Instagram-like format enables you to post photos and videos (up to 20 seconds long). These posts are viewable for 24-hours from posting and can be created directly in LinkedIn's mobile app.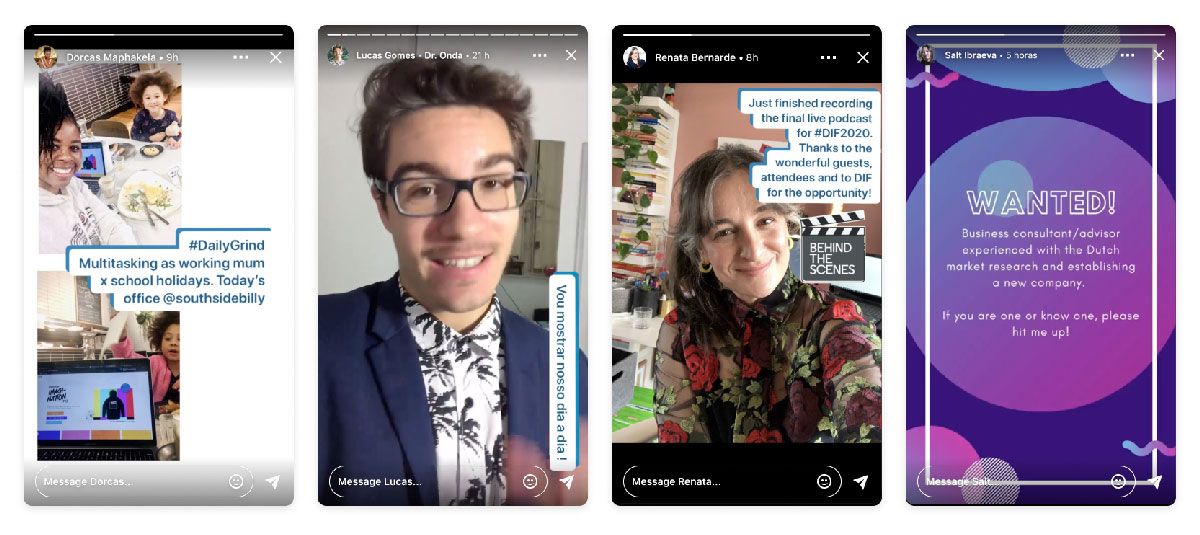 When the feature was in development, Tim Davies, former director of product development at LinkedIn, said that Stories "offer a lightweight, fun way to share an update without it having to be perfect or attached to your profile forever."
Davies goes on to explain the possibilities Stories open up on LinkedIn and how the format can lower the barriers to engagament and concversation starting. "The sequencing of the Stories format is great for sharing key moments from work events," he says. "The full-screen narrative style makes it easy to share tips and tricks that help us work smarter, and the way Stories opens up new messaging threads makes it easier for someone to say, 'and by the way… I noticed you know Linda, could you introduce me?'"
When you present at work, you don't stick to just PowerPoint slides without words, or copy without visuals. You mix it up to emphasize your points and keep people engaged. Varying your LinkedIn post styles works the same way.
4. Leverage LinkedIn analytics to optimize your content
To monitor what efforts are getting traction with your audience, you can track LinkedIn analytics directly within LinkedIn or with third-party tools.
To access your company page analytics on LinkedIn, click on Me (under your photo), select Company: [your company page name], and choose Analytics from the menu bar.
On the left-hand side of the LinkedIn analytics home page, you'll see the last 30 days of activity for unique visitors, new followers, post impressions, and custom button clicks. You can also scroll through individual  posts to view stats, including impressions, reactions, click-through rate, comments, shares, clicks, and engagement rate.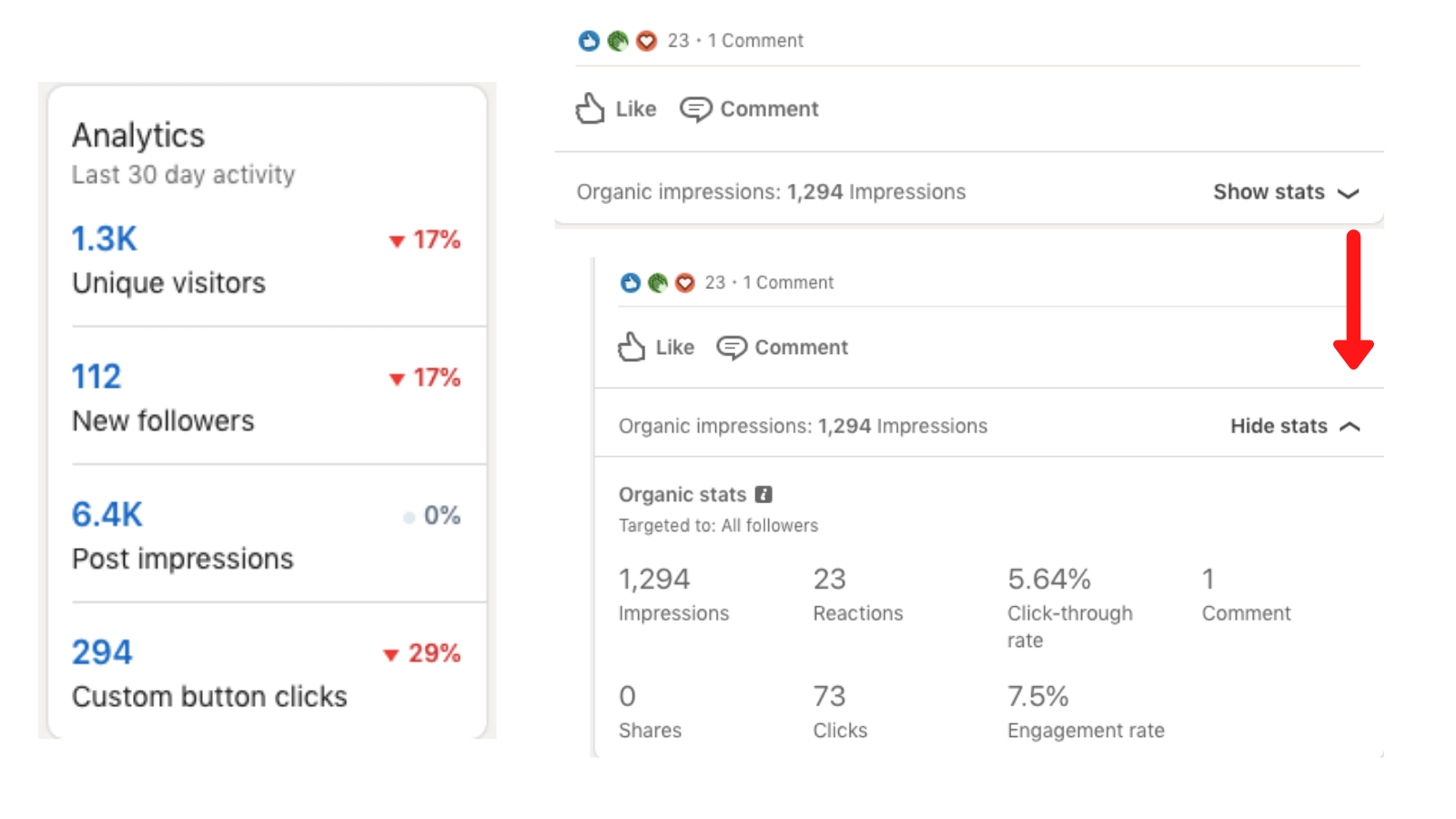 If you prefer measuring and reporting all your social media channels with a single tool, you might like tools such as Buffer. With Buffer, you can publish and analyze your social media performance on Facebook, Instagram, Twitter, and LinkedIn all in a dashboard. You can also easily find out what's working and create multi-channel reports in a few clicks.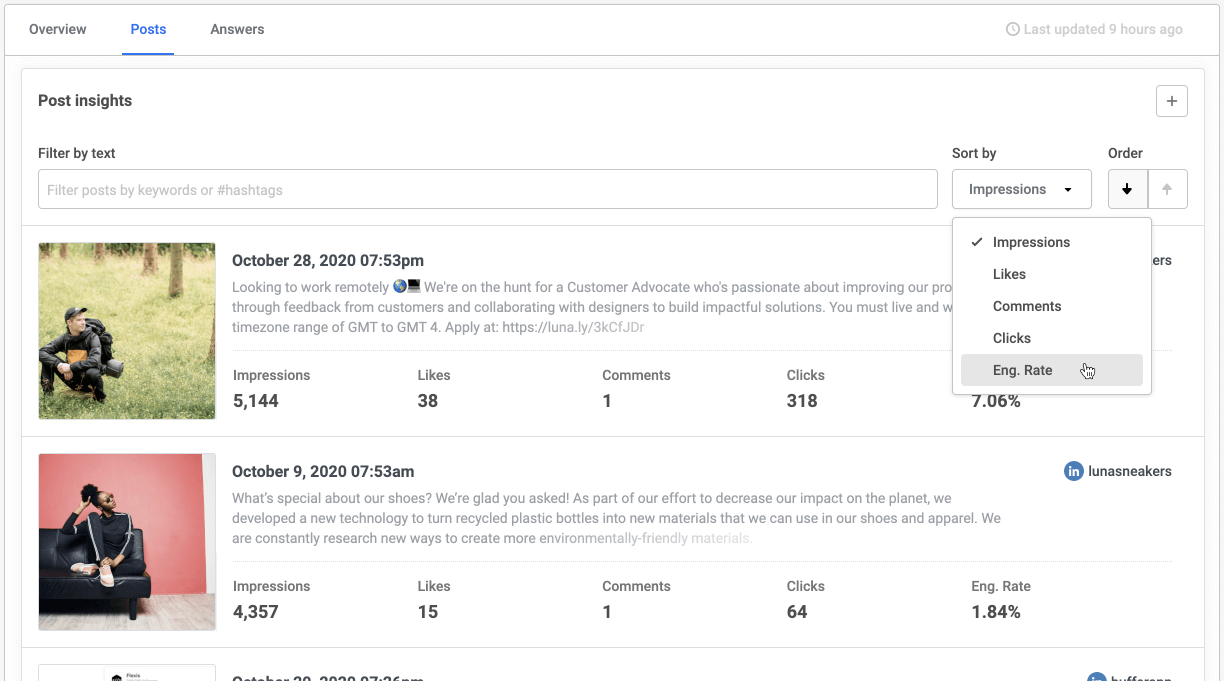 A clear LinkedIn strategy can pay off fast
LinkedIn is a unique social media platform in that it thrives on not only the amount of engagement you receive but also who that engagement comes from and when. You don't have to be a celebrity influencer or a well-known brand to gain traction on LinkedIn. Quality content that resonates with your followers early and often will go a long way.
"I personally built my own LinkedIn personal brand in  about five months," Mitchell says. "I went from 1,000 to 12,000 followers in that time. It doesn't take as long as you might think. Focus on a niche, let your personality shine, and engage with your audience!"
---
LinkedIn analytics can help you narrow down your audience's specific interests and discover ways to keep them engaged. Get started with a free 14-day Buffer trial, and take advantage of our LinkedIn analytics features.
Brought to you by
Did you find this article helpful? You might also like our all-you-need social media toolkit.
Get started for free now