If you're serious about promoting your brand or business on social media, chances are you've already realized the power of Twitter. With millions of active users and a unique real-time nature, Twitter can be a game-changer when it comes to reaching your target audience and engaging with your followers.
However, keeping up with Twitter's fast-paced environment can be a daunting task. With thousands of tweets being posted every minute, it's easy for your content to get lost in the noise. That's why scheduling your tweets in advance can be a smart strategy to post your tweets at the right time, space them out throughout the day, and save you time posting ultimately maximizing your impact on Twitter.
Here's exactly how to schedule your tweets, why it's worth scheduling them in the first place, and a few best practices for scheduling posts to Twitter.
How to schedule tweets on Twitter
You can schedule tweets right within Twitter. Here's how:
Open the Twitter website or app and log in. On the left-hand side of the page, select 'Tweet' and compose your message.
Write in the content you want to tweet.
Click the calendar icon to schedule your tweet instead of sending it immediately.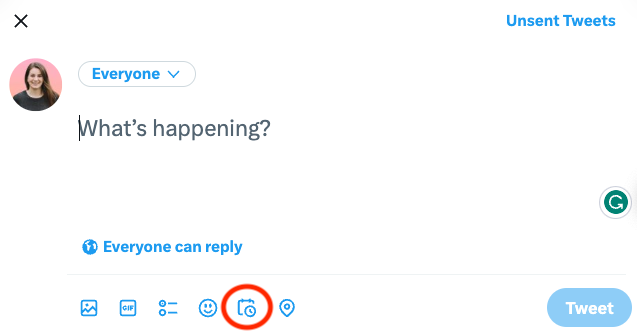 4. Choose the date and time you'd like to schedule your tweet to send at.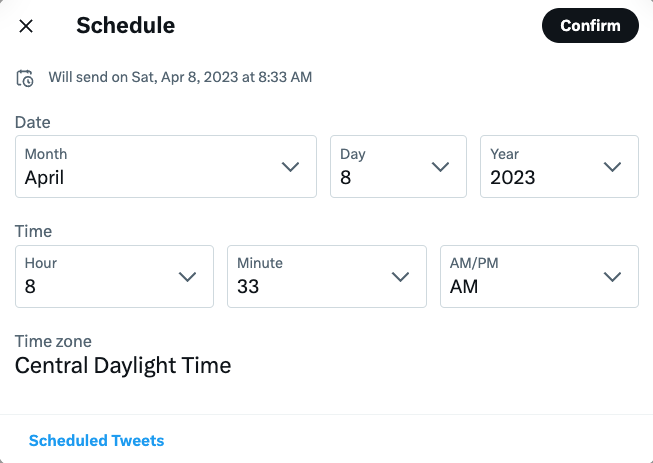 5. Press "confirm" to schedule your tweet. Your tweet will now be scheduled for the date and time that you specified.
This is a very manual process as you need to select the date and time every time you're scheduling a tweet. Luckily, there are plenty of tools available so that you can schedule tweets alongside your other social media content more easily.
How to schedule tweets with Buffer
You can schedule your tweets for free with Buffer, a social media management tool. With Buffer, you can easily add multiple tweets to your queue and set them to post at regular intervals throughout the day.
Scheduling tweets with Buffer using your browser
Here's how to schedule your posts to Twitter with Buffer from your browser.
Sign up for a free Buffer account. It'll only take a few minutes and our free plan is free forever, no catch.
Connect your Twitter account to Buffer.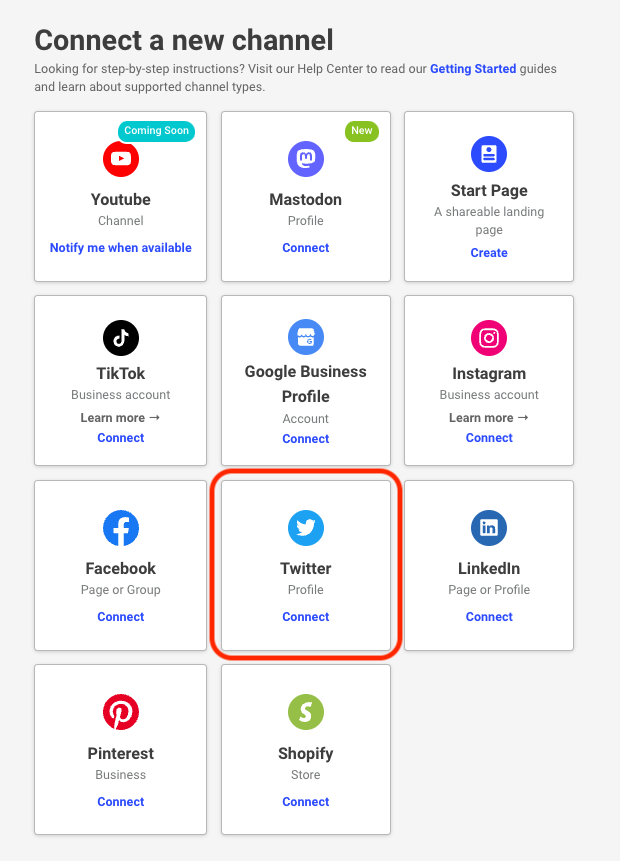 3. From Buffer, click 'Create Post' to create a new tweet. Here, you can compose your tweets and select when you want them to be posted.
4. When you are finished, click 'Add to Queue' and your tweet will be scheduled.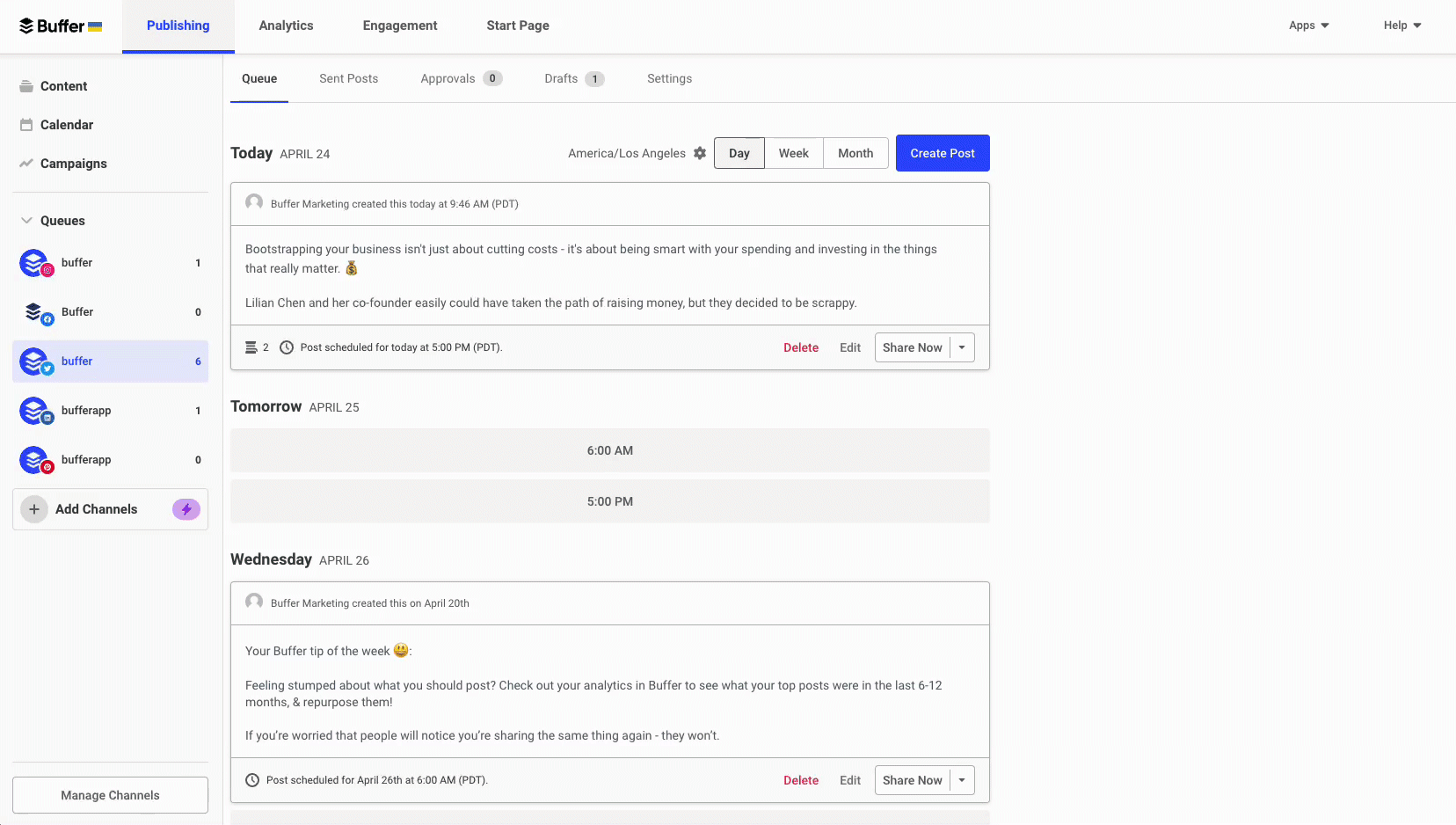 Scheduling Twitter threads with Buffer
You can also schedule your Twitter threads in advance with Buffer. When composing your tweet, simply hit "+ Start thread" in the bottom right to turn your post into a Twitter thread.
Scheduling tweets with Buffer from your phone
Scheduling your tweets from the Buffer app is just as easy as using your browser.
Make sure you have a Buffer account. You can sign up for Buffer for free.
Download the Buffer app for iOS or Buffer's Android app.
Select "Add a new Channel" and connect your Twitter account.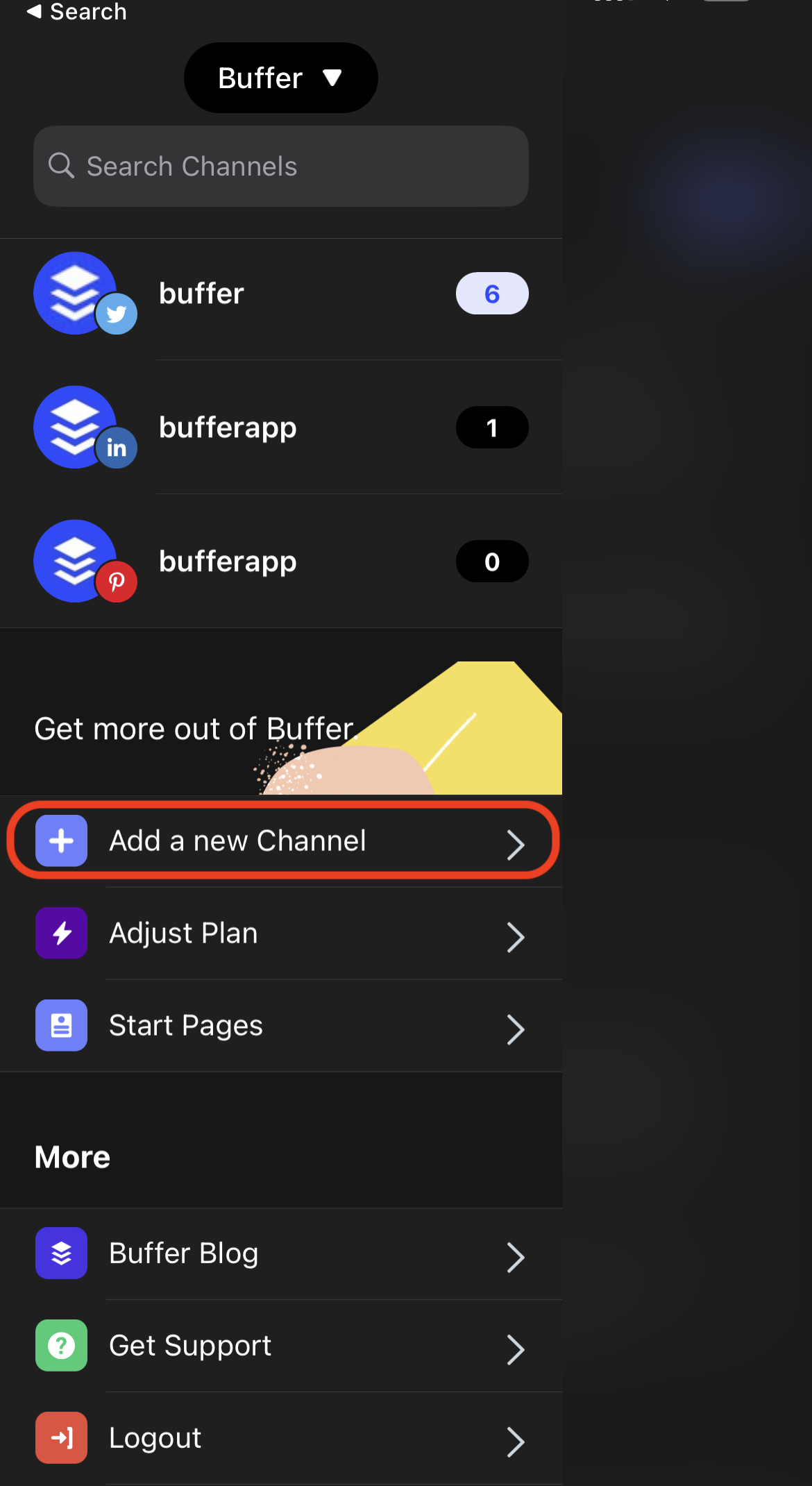 4. Hit the plus button at the bottom of the app to create a tweet.
5. Select 'next' when you're done drafting and then select when you want to post your tweet.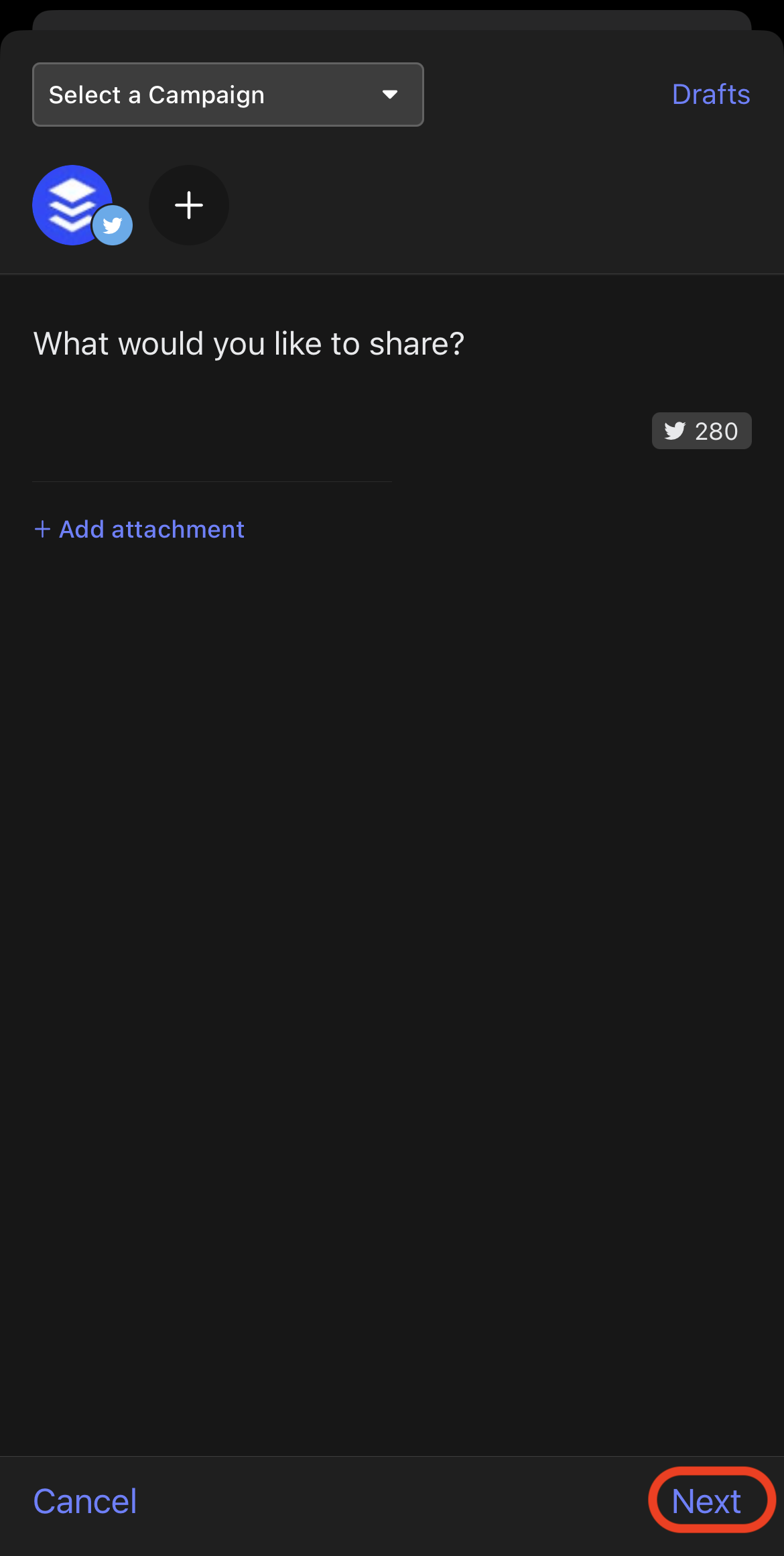 Should you schedule tweets or post natively?
Scheduling your tweets or choosing to post them doesn't anything when it comes to how your tweets perform, so it's really a personal decision.
Taking the time to schedule your social media posts in advance is a great way to:
Ensure you stay consistent
Post when your audience is online
Batch your work
Allow you to plan in advance
However, if you prefer the spontaneity of posting natively, it can be a great way to remain engaged with your followers in real-time. Ultimately, it is up to you to decide which method works best for your goals and audience.
Why should you schedule tweets?
There are a lot of great reasons to schedule your tweets in advance!
1. Scheduling tweets ensures quality and consistency
By scheduling your content in advance you can make sure that you're keeping up with a consistent posting schedule. This helps you stay on top of your social media strategy, but it also builds trust with your audience because you keep showing up.
Scheduling tweets is also great if you have an upcoming campaign, which you want to use Twitter to amplify. While you are planning your campaign, you can create and schedule all your tweets in advance. When comes launch day, you don't have to worry about the social media side of your efforts as your tweets will be posted smoothly at your chosen times.
2. Scheduling tweets allows you to reach a wider audience
Scheduling tweets is also a great way to ensure your content reaches the largest possible audience. By scheduling tweets at different times of the day, you can reach audiences in different time zones and start to learn the best time for you to be posting your tweets, which will ultimately help you increase your engagement and reach on Twitter.
3. Scheduling tweets lets you batch your work and plan in advance
It's a good best practice to tweet one to five times a day if you're working on growing your Twitter account. But that's just Twitter, most people are also posting to Instagram, LinkedIn, TikTok, sometimes also daily. Posting to social media manually is entirely possible, but it can eat up a lot of your productivity and time in a day.
By scheduling your tweets you can plan out your content to be posted without having to manually post the tweet. You can also do batch content creation, and write several days or weeks worth of tweets at once, and then schedule them and focus on engaging rather than needing to create new content every day.
Scheduling also helps you plan in advance. You can take a look at an upcoming social media calendar to see if there are any holidays to celebrate and plan that content out beforehand.
Best practices for scheduling tweets
If you are ready to start scheduling your tweets, here are a few best practices to follow before you get started:
Use a social media management tool to schedule your tweets in advance
We recommend setting up a free Buffer account, where you can start adding in all of the tweets you want to schedule.
Schedule your tweets for the times when your audience is on Twitter
Pay attention to the best time to post on Twitter, but also to when you are getting the most engagement and schedule your tweets to be sent out at those times.
Mix up your tweet content to keep it interesting
Try new things on Twitter, like scheduling your Twitter threads or posting videos if you normally post only text, to see how it all performs with your audience.
Don't rely solely on scheduled tweets
Don't "post and ghost" by scheduling all of your tweets and then not responding to any of the replies. Make sure that you have time set aside to engage with your followers when they reply to your posts.
Analyze your tweet performance
Make sure you are regularly looking at how your tweets are performing to see what's working and what's not and adjust your content strategy from there.
Scheduling tweets has saved us loads of time, we hope it can do the same for you! ✨
Brought to you by
Did you find this article helpful? You might also like our all-you-need social media toolkit.
Get started for free now