We've all gone for a real ride with Twitter verification over the last few years. Getting verified on Twitter — when someone has the blue check mark next to their profile — used to be how Twitter identified notable accounts, but it has since evolved and changed. It used to be that you needed to request verification on the social network; now, anybody with a Twitter Blue subscription ($11/month) and a verified phone number can be verified on Twitter.
In this post, we'll give you a quick overview of the history of getting verified on Twitter, walk you through the steps to get verified on Twitter in 2023 and dig into whether or not it's still worth pursuing verification at all.
A quick history of Twitter verification
Initially, the blue badge next to someone's profile was described by Twitter as a way to authenticate identity and voice. Twitter's verification process was open to anybody, and if they could prove their identity and noteworthiness, they might get that elusive blue check mark.
Over time, people assumed the verification meant that Twitter was endorsing a certain profile, which wasn't the case.
In 2017, Twitter paused its verification program altogether while it sorted out how to improve it. This project got deprioritized until late 2020, when Twitter reopened the conversation about account verification. In 2021, they opened up applications for anyone to request Twitter verification regardless of follower count.
A year later, in late 2022, after Elon Musk acquired the social network, the company changed how they do verification entirely. Now, anyone can be verified on Twitter if they use the company's subscription service, Twitter Blue, and verify their phone number. This new program hit some snags in the early days, with some users using the tool to impersonate public figures and other influential individuals on social media. Still, Twitter has seemingly ironed out some of the troubles with impersonation and fake accounts, and the public is now aware that the verification badge can be associated with any account (not only notable ones), so the check mark's perception has changed.
In 2023, Twitter decided to remove verification from for those who were verified through Twitter's legacy verification program. Meaning that only Twitter Blue accounts are verified going forward.
Next up, how do you actually get verified on Twitter?
How to get verified on Twitter in 2023
Although anyone can get the checkmark with Twitter Blue there are still several steps you need to follow to become a verified Twitter account.
1. You must be actively subscribed to Twitter Blue
To get Twitter Blue, simply click on the button for Twitter Blue once you're logged in. On web, it will be in the left-side menu, and on mobile it will be under your profile.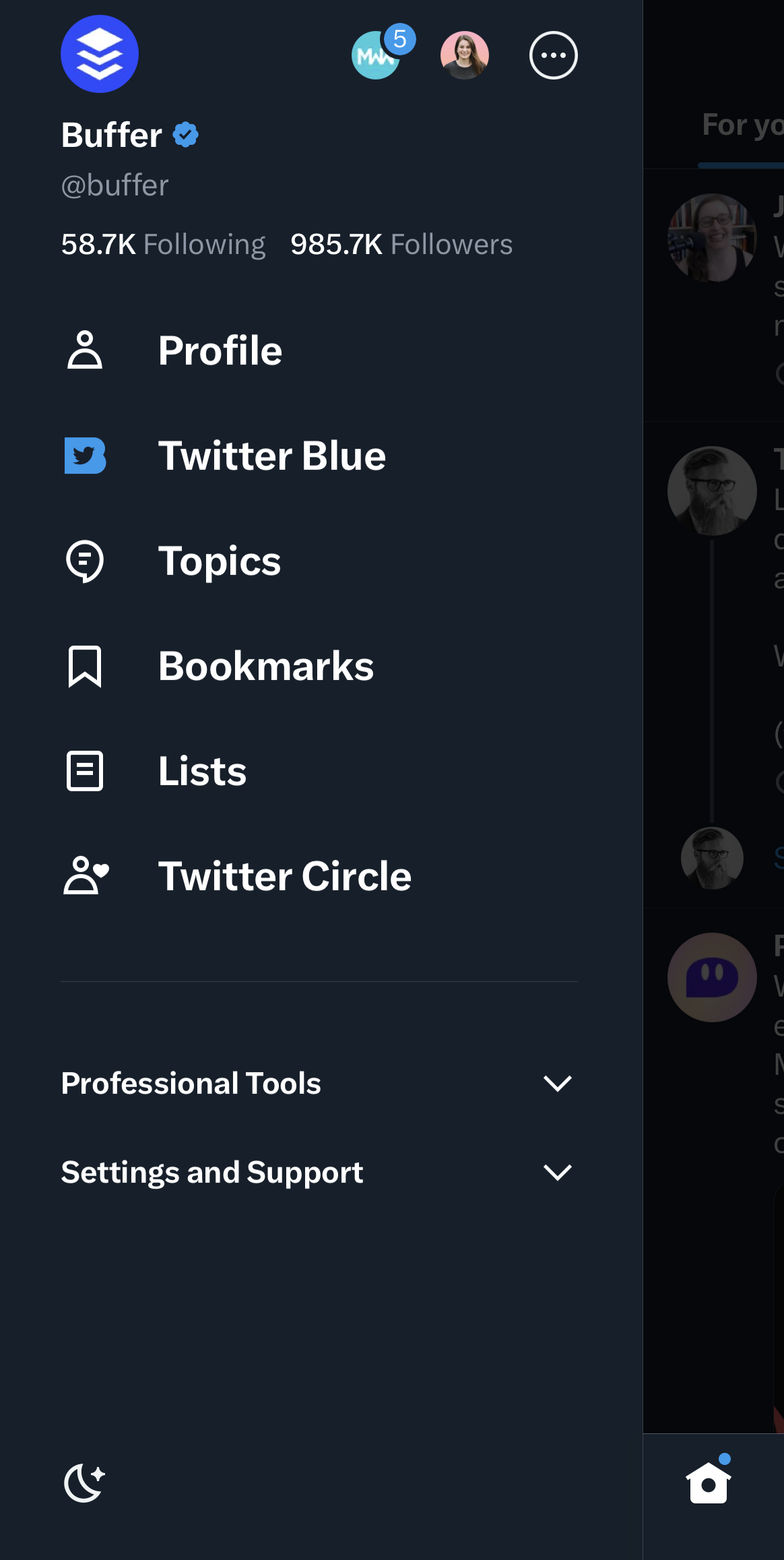 You can select to pay annually (for a discount) or monthly. The price of Twitter Blue depends on a few things.
Twitter Blue subscribers who joined for $7.99 on iOS will be notified by Apple that their subscription will be automatically renewed for $11/month or $114.99/year (or your local pricing) unless they choose to cancel their subscription.
Those who initially subscribed on iOS for $2.99 or $4.99/month will need to upgrade their subscription for $8/month or $84/year on web, or $11/month or $114.99/year on iOS (or the local pricing), or lose their subscription.
2. Your profile must be complete with a display name and profile photo
Next, you need to make sure your profile is eligible for Twitter's verification even after subscribing to Twitter Blue by having up-to-date and accurate account information.
Use your full name as your display name, and select a profile image so that it's clear that your Twitter profile is being used.
3. Your account must be active
Twitter's rules say they look for active accounts when verifying, so make sure your account has been active (posting, replying, liking) in the last 30 days.
4. Your account must be older than 90 days and have a confirmed phone number
Twitter has added a time element, so accounts must be over 90 days old to be verified. They also need to have a confirmed phone number — without this there is no way to get verified even with Twitter blue.
5. Your account must be non-deceptive
Finally, your account must be non-deceptive. Twitter asks that you not have recent changes to your profile photo, display name, or handle. They will look to see if accounts have been misleading or deceptive on Twitter, and they also look for signs that an account is engaging in platform manipulation or spam — if they deem that an account is deceptive it will not get verified.
After you apply: There is still a review process where Twitter's team determines your eligibility based on the above list before the blue checkmark will appear on your profile.
These are all fairly straightforward requirements — as long as you can meet them, you can get verified on Twitter.
Is it still worth it to get verified on Twitter?
Whether or not it is worth being verified or paying for Twitter Blue is up for much debate, and other social media platforms are getting in the mix with Meta announcing Meta Verified, their own subscription service for a verified badge on Instagram.
Ultimately, choosing to pay for that check mark is completely up to you.
On the one hand, being verified on Twitter has lost its special touch because anyone can have it, so it's no longer as much of a big deal as it used to be (I called my sister when I was verified!). On the other hand, being verified on Twitter is still a way to make your profile distinct, verify yourself as a real person, and make it clear that you're serious about engaging and creating content on Twitter.
For some, Twitter Blue might be worthwhile on its own for the features it provides. Twitter is constantly iterating on their subscription, but Twitter Blue subscribers can currently organize their bookmarks into categories and post longer videos, among other things. Twitter has already announced that Twitter Blue subscribers will soon see 50 percent fewer ads and — this is the big one — have their tweets prioritized in Twitter's algorithm. If Twitter is a key platform for your business or audience, then it could be worthwhile to subscribe to Twitter Blue to bolster your Twitter marketing efforts.
What a journey it has been to get verified on Twitter. What do you think will be Twitter's next feature? Send us a tweet!
Brought to you by
Did you find this article helpful? You might also like our all-you-need social media toolkit.
Get started for free now