Content marketing is a topic we're quite eager to learn about here on the Buffer blog, and it seems to be one our community is excited about as well.
We invited the team at Atomic Reach to share their insight in our weekly Twitter chat. The Atomic Reach team shared some amazingly useful tips on how to craft the most engaging content for your social efforts—plus dozens of their favorite content marketing blogs to bookmark!
Click here to see the full Storify recap.
Read below Atomic Reach's tips on content marketing and a collection of 34 must-read content marketing blogs.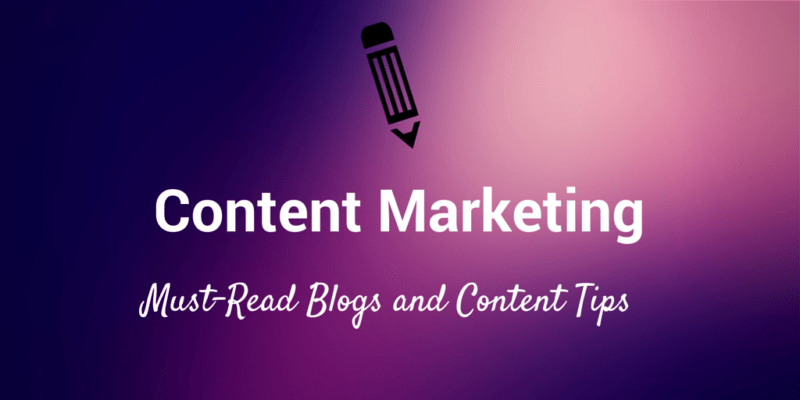 What is "content marketing" at its very core?
From Atomic Reach:
At its core, content marketing is the exchange of useful content to an audience in return for their attention.
That content can take on many forms from blogs, white papers, podcasts, things like this Twitter chat and much more.
The goal of a brand is to attract an audience interested in their content and ultimately their product or service.
More great insights:
What is "engagement"?
From Atomic Reach:
"Engagement" can be different depending on what's important. For us, it's all around CONNECTING with an AUDIENCE.
That connection can be measured in so many different ways depending on the platform, but more importantly your goals.
It's less about vanity metrics like likes & followers & more about things like shares, comments, sign-ups & conversions.
Great content marketers identify their engagement metrics and pursue them when crafting strategy.
More great insights:
"Engagement is interaction: comments, shares, likes. It's a great way to see your message being heard." @assistantsocial
"Engagement is intentioned response and dialogue between brand and consumer." @jayvig
"Engagement is people responding. You've successfully helped a member of your audience go from passive to active." @emilyacarlton
How can you identify and write for your target audience?
From Atomic Reach:
You need to UNDERSTAND who your AUDIENCE is and how content RESONATES with them.
That may be understanding their demographics. For us it's around knowledge & understanding of topic.
Resonance begins in the head and heart. If you understand something and/or it piques your emotion, you engage.
No matter what, remember, it's about your audience. ALWAYS.
Atomic Reach also shared this graphic that shows five types of readers who might engage with the content you create. For each type, there are specific adjectives describing their persona and the way you might frame the content you write.
Do any of these types resonate with you and your audience?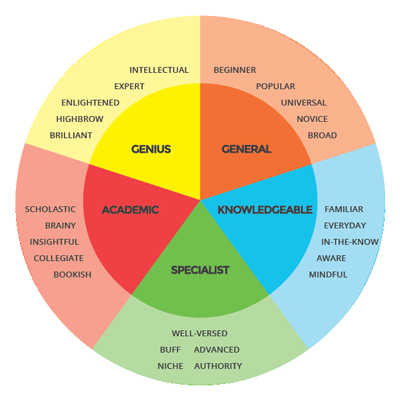 More great insights:
"Awesome question. I'd say start with 1 very specific person. Write an open letter to a real person who'd use your product" @ReferralCandy
"Use survey tools like @QualarooInc, ask your subscribers via email, ask your community on social! Dig into Google Analytics." @lil_tea
"Find keywords and sources, listen to social media, see who is talking and what they care about" @sMorac
What key analytics should you track to craft the most engaging content?
From Atomic Reach:
We think it's about ratios more than specific stats. We love pageviews/visits or on FB: "talking about this" and likes.
It starts with the key metrics: page views, unique views, time spent & social metrics around sharing & commenting.
We think you should track quality of content with Atomic Score ? to connect with a bigger audience http://ow.ly/EaTb2
"It shouldn't be about big data, it should be about the right data. BSBB." @irahaberman
Other great insights:
"Play to strengths of social media tools (twitter, fb, IG, etc). Stay on top of best practices for them and share accordingly." @abowersock
"In the simplest sense (on social), what's getting shared the most. What was valuable enough to tell a friend about?" @ChristinKardos
"Any measurement needs to drive behavior: Result A, Action A; Result B, Action B. A waste of resources w/o change" @d_scott
What kind of CTAs drive engagement?
From Atomic Reach:
Most effective to drive engagement: CTAs that are audience focused, clear, concise and definitive.
Don't badger your audience with multiple CTAs. Give them one at a time.
"Multiple Choice" is not a good CTA. That's bananas crazy and confusing. Keep it simple. Short. Make it easy to click.
Other great insights:
"Anything that offers value (different words depend on audience & purpose). "Learn" | "Win" | "Join" | "Free" … so many! " @ItsADinah
"Whatever the action you want them to do, make it clear and to the point" @_DanMessina
What is more important with content: quality or quantity?
From Atomic Reach:
QUALITY over quantity. Always.
If you are starved for resources, plan a few really great pieces, instead of scrambling to create sub-par ones.
Great content marketers can create the illusion of quantity by effectively repurposing quality content.
Make an awesome blog post, a cool infographic, a white paper and turn them into a series of blog posts.
Spend your time planning and effectively using resources for quality content.
Your audience will thank you by growing, connecting and creating community around your brand.
In the words of @annhandley on quality vs quantity: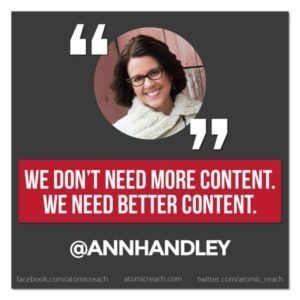 Other great insights:
"Quality definitely trumps quantity. Low-quality posts can be detrimental to business. But you should post consistantly" @capacitr
"Why not have both? Create a lot of great content that people can't live without." @joshstaubin
"Definitely niche specific – but I set a high quality bar and produce as much content as can consistently hit it." @abhaykhu
34 Must-Read Blogs for the Latest on Content Marketing
Atomic Reach was kind to share their go-to blogs for content marketing tips and resources, and the Bufferchat community chimed in with their favorites, too. All together, we ended up with 34 amazing blogs for you to check out.
See you at the next #Bufferchat!
Thank you to everyone who joined in, and big thanks to Atomic Reach! Catch #Bufferchat each Wednesday at 9 am Pacific/noon Eastern on Twitter. New to Twitter chats? Here is a helpful guide to get you started!
Image sources: The Noun Project, Blurgrounds, Startup Stock Photos