Greg McKeown, author of Essentialism: The Disciplined Pursuit of Less, stopped by #bufferchat this week to share his expertise and insights all about the concept of essentialism! We discussed what it means to be an essentialist, strategies for working toward this mindset, how to decide which things are essential in your life, and much more.
Read on to discover all of the amazing ideas and thoughts that were shared during the chat.
Catch our weekly Twitter chat, #bufferchat, at TWO times every Wednesday for valuable industry insights and networking with nearly 400 other smart marketers and community managers. Same topic, same place, just at different times – feel free to join in to whichever chat time works best for you!
For our community in Asia and Australia (or anyone in other timezones that like this time the best!): 4 pm AEDT (Sydney time)
For our community in North/South America, Europe and Africa (or others!): 9 am PT (California time)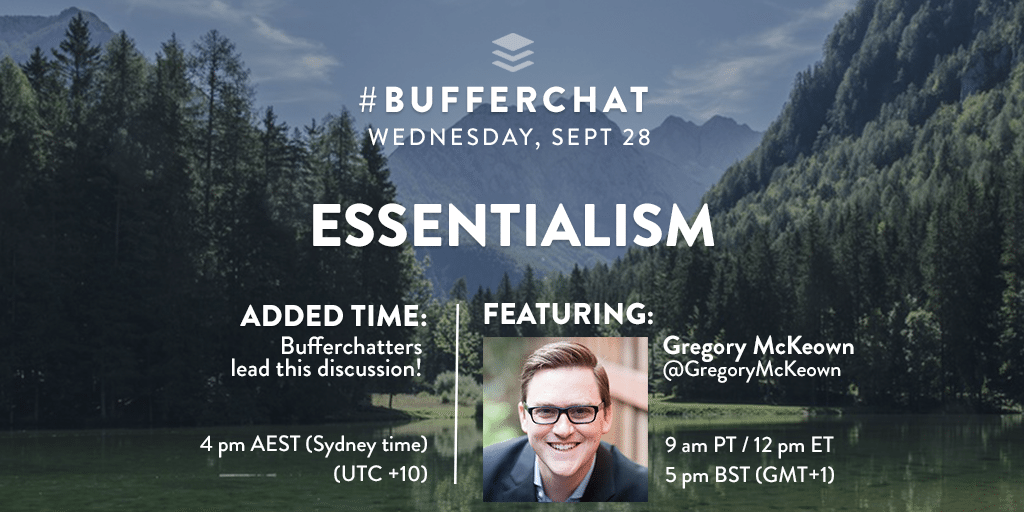 This week's stats:
1st Bufferchat: 80 participants; 210 tweets; reach of 935,775
2nd Bufferchat: 227 participants;1,366 tweets; reach of 1,306,175
Q1: How would you define "Essentialism?"
From Greg:
Essentialism is the disciplined pursuit of less but better.
Essentialism is not really about Essentialism… it is about you living your most meaningful life. Finding your highest contribution.
It's about becoming more of who you really are and less of who you really are not.
Discerning between the vital few and the trivial many.
From the community:
See all the great answers to question 1 here!
Q2: How can being an Essentialist impact our lives?
From Greg:
It helps us get better control of our choices.
Essentialism helps us to live consciously not compulsively.
Being an Essentialist is different to thinking about Essentialism occasionally. It means taking on a different way of doing everything.
The value proposition of Essentialism is really that we can break through to the next level personally and professionally.
From the community:
See all the great answers to question 2 here!
Q3: What are some strategies for Essentialism that have worked well for you?
From Greg:
Make a graphical to-do list where the most important item is given more space. I've been doing it recently and love it! (Like this.)
So you limit yourself to six important items for the day. Put them in priority order. And emphasize the first one first.
From the community:
See all the great answers to question 3 here!
Q4: How do you know which of your commitments to focus on and which to put aside?
From Greg:
You have to do it randomly, based on whatever email has just arrived… just kidding.
Use the 90-percent rule. Question anything that doesn't get you to a pretty definite yes. We get caught up in saying yes to things that are good (60, 70, 80 percent yes). Instead, we need to look for the things that are 90-percent or above "yesses."
Catch yourself saying, "I will do both" when faced with a tradeoff situation. Pick the priority.
Priority came into the English language in the 1400s and it was singular: the first or prior thing. Pluralized in the 1900s.
You don't bend reality by saying, "Here are my 20 priorities" you just end up making a millimeter progress in a million directions.
From the community:
See all the great answers to question 4 here!
Q5: What's an example of when less is more?
From Greg:
Working on the big "yes" project instead of being buried in email ALL day.
Eating the right delicious food rather than eating rubbish without really thinking about it. Conscious vs. compulsive.
I want to challenge the question a little though: the goal of essentialism is "less but better" it's quality vs. quantity.
It's me putting my email and phone away for 2.5 weeks on holiday (did not check once) and being really present with my family.
Less stuff; more memories.
From the community:
See all the great answers to question 5 here!
Q6: If you had more time to do what you enjoyed, what would you do?
From Greg:
I recently watched (an edited version) of "About Time" and loved how slow the father's life felt. He wasn't rushing.
Not just about what I would do with more time; it is about being in this moment to a greater extent. Diff presence not diff projects.
I love the book/treatise by Seneca "On the Shortness of Life" where he teaches we already have enough time. Just waste it.
Love the idea and practice of a theme for the year. Could use "rest" or "less" or "breathe" or "gratitude."
From the community:
See all the great answers to question 6 here!
Q7: What's one action step you can take this week to move toward being an Essentialist?
From Greg:
My advice to you is to run essentialist experiments and be gentle on yourself in the process.
Essentialism is a "disciplined pursuit" of less but better. So you won't get it perfect. Indeed, that isn't even the goal.
Rather, try something small and record your results in a journal. Every day capture every success: celebrate the tiniest progress.
You can't become an Essentialist in a nonessential way: that is, don't try to become an Essentialist by trying to get it perfect.
Treat every day like a prototype opportunity and learn from experimentation. Then celebrate. Then try again. Then celebrate again.
That's my advice to you in your marvelous ongoing adventure to design and live a life that really matters.
From the community:
"Start small. Cut out just one or two things that are currently "filling the gaps." Then go from there." @creativesclub
"Pare down your to do list! I found this Fast Company article helpful." @newmedian
"Not everything needs a reply or answer at that moment. Take time to process before answering requests." @JoeShowOnAir
See all the great answers to question 7 here!
---
Thank you so much to Greg for taking the time to share so many wonderful insights, and to everyone who participated in this chat!
Catch #bufferchat each Wednesday at 9 am PT, 12 pm ET, 5 pm BST (GMT+1)  OR at 4 pm AEDT (Sydney time). Join our Slack community with over 2,000 members to continue these awesome conversations all week long!
Do you have any comments or answers to these questions? Leave your thoughts in the comments! We'd love to hear from you!
Image sources: UnSplash