This week in #bufferchat we were joined by Buffer's very own social media manager, Brian Peters, to learn all about user-generated content! We discussed the various forms of UGC, how it can be valuable to a brand, why it's so influential, and much more.
Catch our weekly Twitter chat, #bufferchat, at TWO times every Wednesday for valuable industry insights and networking with nearly 400 other smart marketers and community managers. Same topic, same place, just at different times – feel free to join in to whichever chat time works best for you!
For our community in Asia and Australia (or anyone in other timezones that like this time the best!): 4 pm AEST (Sydney time, UTC+10)
For our community in North/South America, Europe and Africa (or others!): 9 am PT (California time)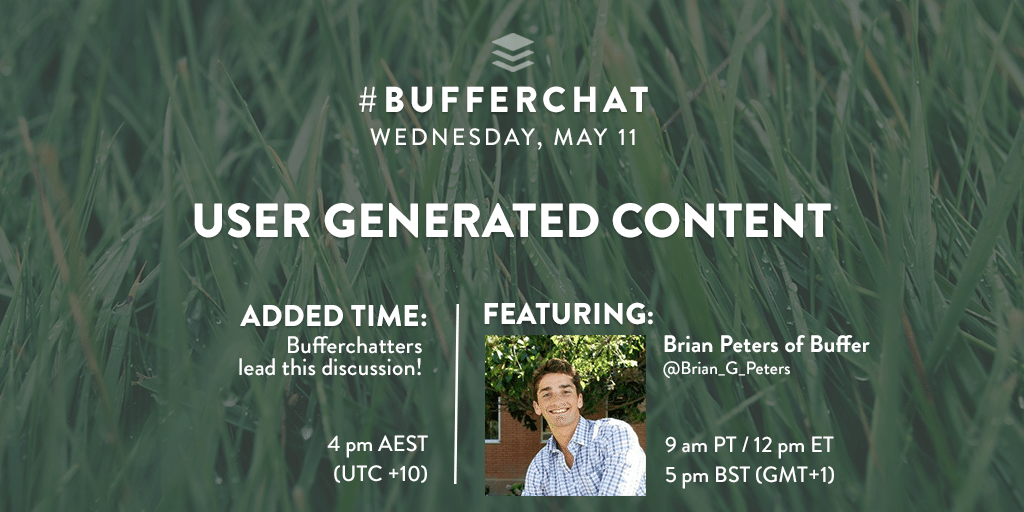 Q1: What are some examples and/or types of user-generated content?
From Brian:
Two great examples of UGC right now are Instagram "features" where brands curate images from users…
And companies telling authentic stories about their users/audience on their website or blog like Crew & Square!
There's also a ton of other options like reviews, check-ins, guest posting – you name it!
I'm hearing a lot of "create a brand hashtag" and I couldn't agree more. Right on! ?
From the community:
See all the great answers to question 1 here!
Q2: How might user-generated content provide value to your brand?
From Brian:
Love this! That's one of the best things about it – Studies show that people trust UGC 50% more than other types of media.
UGC helps to build trust and relationships with users in authentic ways. Brands go from brand-generated content…
to content made by the exact people they are trying to reach. The user becomes a real part of a real story.
From the community:
See all the great answers to question 2 here!
Q3: What strategies can marketers use to encourage people to create and submit content?
From Brian:
This is always tough at first! I encourage you to be patient with user generated content campaigns as they take time…
to build real momentum. But creating an awesome hashtag or photo contest idea and pairing that with a giveaway…
is a great way to get started. People love to submit content and they love free stuff from brands they follow!
From the community:
See all the great answers to question 3 here!
Q4: Have you ever shared your own content with a company or brand? What inspired you to do so?
From Brian:
Ahh yes! A few times as a matter of fact. @passionpassport does a lot of great stuff with UGC campaigns. They ran…
a recent one (#PPSkyline) that got me to submit a photo. I think great UGC campaigns are a mix of beautiful…
imagery plus a "fun" incentive. What can your brand showcase that's beautiful and something others would want to share?
For example, at Buffer we showcase #BufferStories. Telling the authentic stories of the people who use our product.
From the community:
See all the great answers to question 4 here!
Q5: What are some ways to collect and manage the processes of UGC?
From Brian:
This one is tough as I am still trying to figure out the best way to keep track of all of our community participants.
I use a good ol' Excel spreadsheet. But for finding potential UGC content for us to feature I use a mix of tools.
@iconosquare (for metrics + optimization) + @Crowdfire (for following) + @instagram (for hashtags and messaging).
Otherwise, it's me reaching out to awesome people everyday asking if they "would like to be a part of the Buffer Story."
From the community:
See all the great answers to question 5 here!
Q6: Why do you think UGC is so influential?
From Brian:
I think people have become a bit weary of brand-generated content. Maybe it's all of the social media advertising??
Or maybe it's in our human nature to trust others over a company that they barely know. Audiences are savvy.
They can see right through what's authentic and what's not. People who are creating this content have no ulterior motive.
Whereas many forms of content they see do… Authenticity is why I think UGC is so influential and powerful! ?
Hehe you can tell I'm a bit passionate about user generated content with brands ?
From the community:
See all the great answers to question 6 here!
Q7: What companies do you believe are creatively incorporating UGC into their marketing? How so?
From Brian:
@birchbox runs a few really great giveaway + UGC content campaigns that drive thousands of comments with each post.
Every single on of @REI's photos on their Instagram is UGC and they're crushing it with amazing engagement.
UGC captures the essence of a brand and the companies that are doing it well are guiding people through a story.
I encourage you to devise a plan and then embark on an awesome #UGC journey! What do you want your brand's story to be?
From the community:
See all the great answers to question 7 here!
—
Thank you so much to Brian for sharing his awesome insights and to everyone who participated in this chat!
Catch #bufferchat each Wednesday at 9 am PST, 12 pm EST, 5 pm BST (GMT+1)  **OR** at 4 pm AEST (Sydney time, UTC+10). Join our new Slack community with over 1,000 members to continue these awesome conversations all week long!
Do you have any comments or answers to these questions? Leave your thoughts in the comments! We'd love to hear from you!
Image sources: UnSplash