This week in #bufferchat, we discussed what the future of Twitter might look like with Buffer's very own content crafter, Ash Read! Our conversations explored what an algorithmic news feed would look like, what Twitter might be like without a character limit, and much more!
Catch our weekly Twitter chat, #bufferchat, every week on Wednesdays, 9 am PT / 12 pm ET / 5 pm UTC, for valuable industry insights and networking with nearly 400 other smart marketers and community managers. It's a fun time!
Exciting news: Starting with this week's chat, we will be holding a 2nd #bufferchat each week to involve our community over in APAC timezones! The discussion will be on the same topic as the usual chat, just at a more convenient time. Catch it every Wednesday, 4 pm AEDT (Sydney time, UTC+11)!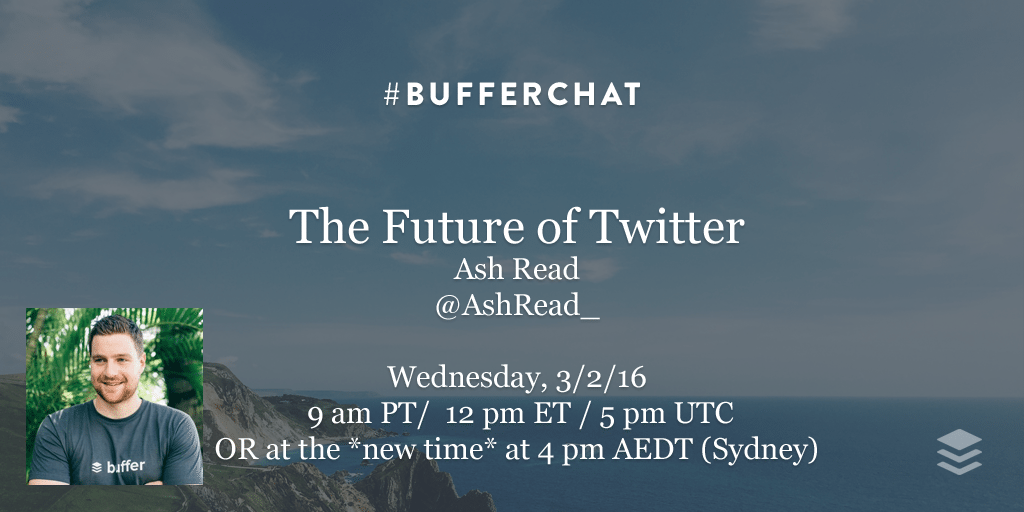 Q1: How has your usage of Twitter evolved over time?
From Ash:
It's stayed pretty consistent. It's still where I turn to for news & to follow stories in real time.
Since the character limit has been removed on DMs, I've started to use them a lot more too – great place to chat now ?
I also see incredible value in reaching out to people who tweet / share any of my blog posts – try to say thanks to everyone.
From the community:
See all the great answers to question 1 here!
Q2: There's a lot changing with Twitter lately – is there a particular change you're most excited about?
From Ash:
Favorites to Likes was a big, for me. More because it shows Twitter is willing to behave a bit more 'mainstream'.
It may feel like small one, but I'm more excited about the intention behind the update. Twitter needs to start growing.
believe Fav' to Likes is a sign of more radical changes ahead. Twitter needs something drastic to re-ignite the platform.
From the community:
See all the great answers to question 2 here!
Q3: How do you feel about removing the character limit? Yay or nay, and why?
From Ash:
This one excites me. I like the character limit, but feel it's harder for new users to adapt to. I'd say "Yay".
FB has a high character limit, and people still post tweet-sized updates. Removing the limit makes it easier for new users.
I'd like to see the timeline remain ~ 140 characters and 'expand for more' style functionality for longer tweets.
Twitter needs to make money too, and this could make way for more rich content adverts to drive the $$$.
From the community:
See all the great answers to question 3 here!
Q4: How would an algorithmic news feed affect how we use Twitter?
From Ash:
I'm excited by this. Social networks are successful when there's a tight bond between small groups of users.
This is why FB tries to prioritize content they know you'll like. Twitter needs to do more to cultivate relationships.
And an algorithmic feed could bring us closer. Currently it's too easy to miss the content that interests me on Twitter.
Logging in is almost like a lottery, you could see a post that'll make your day or 25 tweets you're not that into.
An algorithmic timeline could generate more engagement and tighten relationships. I'd see that as a huge win for Twitter.
It'd probably mean I'd use the platform more and have more meaningful interactions here (to answer the original Q).
From the community:
See all the great answers to question 4 here!
Q5: If you could change one thing about Twitter, what would it be?
From Ash:
I think it'd be privacy. Social conversations are starting to occur less visibly and more narrowly nowadays.
Whereas I used to write on a friends FB wall, I now contact them on Messenger. How does Twitter fit into this?
Twitter's open firehose style of communication is great but with more people communicating privately, that's a problem.
Not sure how I'd fix it, but I feel Twitter needs to encourage more private chats & stronger connections between users.
Twitter needs to find a balance between the unfiltered, real-time conversation and private conversation.
What makes Twitter great, could also be its downfall as more of us start sharing privately.
From the community:
See all the great answers to question 5 here!
Q6: What would you do in a world without Twitter?
From Ash:
Probably use Google a lot more. Or become a bit more narrow with the sources of content I read.
Without Twitter I feel I'd struggle to discover some of the amazing content that's out there.
I'd probably lean on Medium a lot more. Their 'Featured Tags' may become my sources of news.
I'm not sure where I'd turn to check what people are saying about sports in real-time. Love following games on Twitter.
From the community:
See all the great answers to question 6 here!
Q7: What do you think Twitter will look like in 10 years?
From Ash:
I don't think it will resemble the Twitter we see today. It's nearly 10 years old now (I think) and in need of change.
I hope it's still a place to discover and react to real-time news, sports and content.
From the community:
See all the great answers to question 7 here!
—
Thank you so much to Ash for sharing his insights and to everyone who participated in this awesome chat!
Catch #bufferchat each Wednesday at 9 am PST, 12 pm EST, 5 pm UTC **OR** at 4 pm AEDT (Sydney time, UTC+11). Join our new Slack community with over 1,000 members to continue these awesome conversations all week long!
Do you have any comments or answers to these questions? Leave your thoughts in the comments! We'd love to hear from you!
Image sources: UnSplash