This week in #bufferchat, we dove into the technical side of how to make great videos for social media. In the 2nd chat time, we were joined by Jenny Mudarri from Wistia as our special guest. We all discussed tips for shooting video on mobile devices, video editing, ensuring high-quality video while filming live, and much more!
Read on to discover all of the awesome knowledge and insights that were shared during the chat!
Catch our weekly Twitter chat, #bufferchat, at TWO times every Wednesday for valuable industry insights and to meet hundreds of other smart marketers and social media enthusiasts. Same topic, same place, just at different times – feel free to join in to whichever chat time works best for you!
For our community in Asia and Australia (or anyone else!): 4 pm AEDT (Sydney time)
For our community in North/South America, Europe and Africa (or others!): 9 am PT (San Francisco time)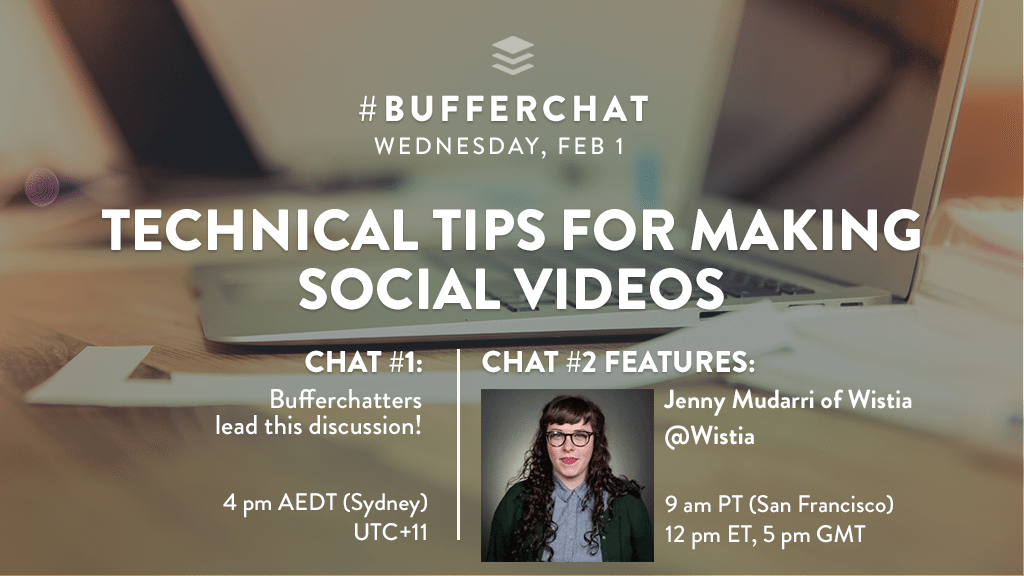 This week's stats:
1st Bufferchat: 33 participants; 309 tweets; reach of 1,232,904
2nd Bufferchat: 145 participants; 1,417 tweets; reach of 1,546,660
Q1: What are some ways that social videos can fit into a brand's marketing plan?
From Jenny:
There are tons of use cases! Building brand awareness and showing the human side of your business is always.
Video is also great for lead gen. Content teasers are perfect for driving people to landing pages.
Using video + email is also super powerful. We cover this topic in depth over in our Library! http://wi.st/videmail
From the community:
See all the great answers to question 1 here!
Q2: What are tips for shooting video on a mobile device? Any particular apps to use?
From Jenny:
Always avoid the temptation to use the iPhone's built-in camera zoom – things will get pixelated fast!
If you're indoors and don't have access to supplemental lighting, face a window and take advantage of natural light.
Pro-tip: use the exposure focus lock if you're shooting video with a phone. This will keep the focus and exposure constant!
One last super important tip – put your phone on airplane mode. You don't want a phone call to interrupt your shot!
From the community:
See all the great answers to question 2 here!
Q3: Editing can make or break a video! What are editing techniques that make videos more engaging?
From Jenny:
Always keep the social platform top of mind – cater to the silent autoplay when editing Facebook video, for example.
Grab your viewer's attention with enticing visuals right at the beginning of your video so viewers stick around longer.
Resource alert! We break down the editing process for social videos, step-by step, right here: http://wi.st/socialedit
From the community:
See all the great answers to question 3 here!
Q4: If you're new to making social video, what are apps or tools that can help you edit videos? (adding captions, music, etc)
From Jenny:
If you're just getting started, consider using iMovie or Windows Movie Maker – they're super lightweight and easy to use!
When we like to add fancy captions to our videos, we use Adobe Premiere. This program is awesome for animations!
The iMovie app for iPhones is great to use when you're on the go — learn more here. [Post: Editing Basics for Business Video]
From the community:
See all the great answers to question 4 here!
Q5: When going live on Facebook, Periscope or other platforms, what can you do to ensure high-quality video?
From Jenny:
Troubleshoot from your own account before going live from your brand's handle – catch those technical issues early!
Ensure a steady shot by mounting your phone on a tripod. This works really well for interviews or stationary shots.
Nothing is more scary than when the wi-fi cuts out!
From the community:
See all the great answers to question 5 here!
Q6: What are great CTAs (call-to-actions) that you can include at the end of your videos?
From Jenny:
Including "sign up" or "learn more" tends to work well. Positive, actionable language works FTW!
Use psychology to your advantage and add persuasive words such as "free" & "you" – encourage that valuable click!
From the community:
See all the great answers to question 6 here!
Q7: What's an example of an awesome social video you've seen (or made!), and why do you like it?
From Jenny:
From the community:
See all the great answers to question 7 here!
---
Thank you so much to Jenny and to everyone who participated and helped each other in this chat!
Do you have any comments or answers to these questions? Leave your thoughts in the comments! We'd love to hear from you!
Image sources: UnSplash