Lately, I've been thinking a lot about the time I learned to tie my shoes.
It came up because of a tweet from my friend Jeff.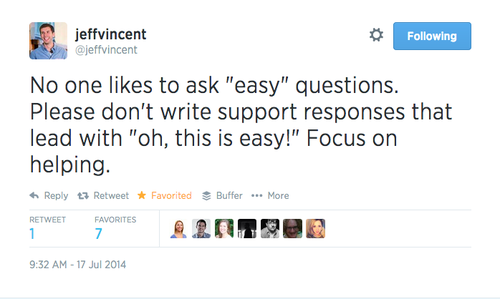 I thought of a study that I remembered from college; kids who were told that it's hard to learn to tie shoes persisted longer than the ones who were told it was easy. Jeff's point, of course, directly relates to customer service, which is where I spend a lot of energy. So it got me thinking.
Over time, this example has grown into something bigger for me.
As a bit of background, I should share that I value self-improvement (and I share this value with my coworkers). At Buffer, we are encouraged to build time into our day to focus on our improvements, even scheduling daily meetings where we cheer each other on and discuss challenges and progress. This is a huge blessing, and helps me make my own development a central theme of my life.
We focus on a variety of things, from small things (drinking a glass of water before bed) to big things (changing how I treat people or see the world). Some of these big things feel really, really hard. :)
Changing my heart, with no Velcro
I am sometimes reminded of the time I struggled to tie my shoes. At the time, I didn't want to learn. I negotiated with my parents to let me keep my Velcro shoes instead. I won't ever need this skill, I reasoned. Why should I spend my time practicing something that's so hard when there's a perfectly good alternative?
But I learned. And in the 20+ years that I've been tying my shoes, I've probably tied my shoes over 15,000 times. How glad I am now that I practiced, and persisted. Looking back now, of course, it seems easy.
Nowadays, the things I practice are a bit different. I want to learn to always give the benefit of the doubt. I want to learn to forgive easily and completely. I want to learn to assign positive traits in others to personality, and negative ones to circumstance. I want to learn to listen more, listen better, with more focus, and to remember more. I want to practice complimenting my friends and loved ones more on the quality of their hearts, and less on the trendiness of their outfits. I want to choose to always see the good.
Sometimes, I feel like that little girl, negotiating with myself.
This is so hard. Why should I practice? There's a perfectly good alternative.
But I look down at my sneakers and think, "When I look back at this moment, will I wish I had worked at this? Or will I be comfortable with the Velcro alternative I allowed my heart to settle for?"
I hope I look back and feel thankful that I did not give up.