This week, #bufferchat was all about how to keep your customers through awesome social media customer support. Jay Baer, author of Hug Your Haters and founder of Convince & Convert, stopped by the chat to share his strategies for providing top-notch social customer care! We discussed our top tips for responding to unhappy customers, how to turn customer service into customer loyalty, the right metrics to track to evaluate the success of your customer support, and much more.
Read on to discover all of the awesome ideas and insights that were shared during the chat!
Catch our weekly Twitter chat, #bufferchat, at TWO times every Wednesday for valuable industry insights and networking with nearly 400 other smart marketers and community managers. Same topic, same place, just at different times – feel free to join in to whichever chat time works best for you!
For our community in Asia and Australia (or anyone in other timezones that like this time the best!): 4 pm AEDT (Sydney time)
For our community in North/South America, Europe and Africa (or others!): 9 am PT (San Francisco time)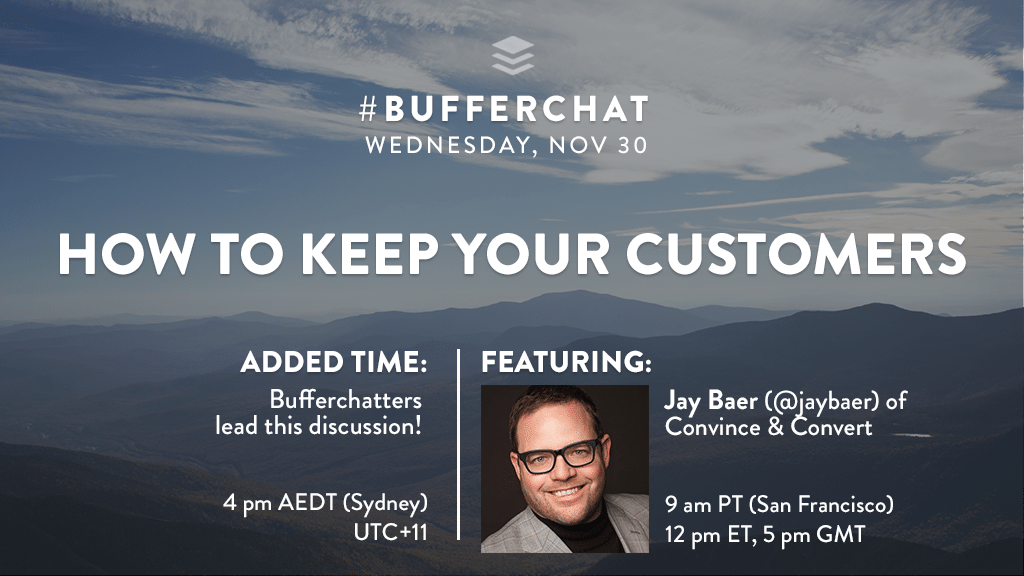 This week's stats:
1st Bufferchat: 75 participants; 223 tweets; reach of 940,199
2nd Bufferchat: 279 participants; 1,765 tweets; reach of 1,754,752
Q1: Should a company provide support on as many social channels as possible, or a select few, and why?
From Jay:
We must provide support in the channels our CUSTOMERS prefer, not the channels WE prefer.
My team @convince & I advise to be in all channels where you can provide great support. If you can't do it well, don't do it.
And if you are going to be active in a channel for marketing but NOT for #customerservice make that clear in your bio.
From the community:
See all the great answers to question 1 here!
Q2: What metrics are key to look at when evaluating your customer service on social media?
From Jay:
I covered this in Hug Your Haters ($15 now on Amazon!). Most #customerservice metrics suck because they measure volume.
My favorite #customerservice metric is "effort score" : On a scale of 1-100 how hard was it to get the help you needed?
And of course, the best measure is to track $$$ and advocacy after a customer service interaction.
I also look at response time, but not in a vaccum. A fast, crappy reply isn't really the desired outcome!
From the community:
See all the great answers to question 2 here!
Q3: What are 1-3 rules for handling social customer service well?
From Jay:
My #1 social #customerservice rule is BEET: Be Empathetic Every Time
Also, never reply more than twice in public. Two exchanges, then take it to DM, email, phone.
Never channel shift on first reply. When you tweet "sorry, please call us at…" and the person already called…uh oh.
From the community:
See all the great answers to question 3 here!
Q4: In your opinion, is there a particular aspect of customer service on social media that many companies could improve upon?
From Jay:
#1 issue w/ social #customerservice is that most companies undervalue & under-resource it. Phone/email still often rule.
I agree w/ @rivaliq that running away from negativity is an issue too. We should run toward complaints. Praise is OVERRATED!
Customers who have a positive service experience buy MORE & are more loyal than those who never have a problem.
From the community:
See all the great answers to question 4 here!
Q5: What's the best way to turn customer service into customer loyalty?
From Jay:
Research in Hug Your Haters says #1 criteria for satisfaction in customer service is SPEED. (why self-service can be great)
It surprised me, but the data says speed is more important than politeness, friendliness, and even accuracy.
From the community:
See all the great answers to question 5 here!
Q6: What's your #1 tip for dealing with unhappy customers?
From Jay:
Download "13 Words You Never Use When Replying to a Customer." New stuff, not in my book.
Let's remember that increasingly, customer service is a spectator sport. People are watching how you handle your business.
Do. Not. Take. It. Personally. When we confront negativity, our brain chemistry actually changes. Take a breath, be calm.
Remember there is no such thing as a "bad customer" just a difficult situation.
Also track & analyze what people complain about. Smoke = fire. Only 5 out of 100 unhappy customers complain so pay attention.
From the community:
See all the great answers to question 6 here!
Q7: Do you think customer support on social media will change in any way in the future? If so, how?
From Jay:
Massive changes coming via use of bots and apps to handle routine service queries, and self-service via communities/forums.
Also look for continued proliferation of vertically-specific ratings/reviews sites. VERY important 4 reputation/retention.
And, we're going to see a lot more use of video in #customerservice. See what @southwestair did with FB Live during crisis.
From the community:
See all the great answers to question 7 here!
---
Thank you so much to Jay for taking the time to share so many awesome insights, and to everyone who participated in this chat!
Do you have any comments or answers to these questions? Leave your thoughts in the comments! We'd love to hear from you!
Image sources: UnSplash