This week in #bufferchat, we discussed the future of hybrid jobs in the tech world with the women at the helm of 2020Shift, Ariel Lopez (founder and CEO) and Janel Martinez (co-founder and CCO). In the conversation, we defined what a "hybrid job" is, how hybrid skills impact how we work, strategies for increasing our skill-sets, and more!
Catch our weekly Twitter chat, #bufferchat, at TWO times every Wednesday for valuable industry insights and networking with nearly 400 other smart marketers and community managers. Same topic, same place, just at different times – feel free to join in to whichever chat time works best for you!
For our community in Asia and Australia (or anyone in other timezones that like this time the best!): 4 pm AEST (Sydney time, UTC+10)
For our community in North/South America, Europe and Africa (or others!): 9 am PT (California time)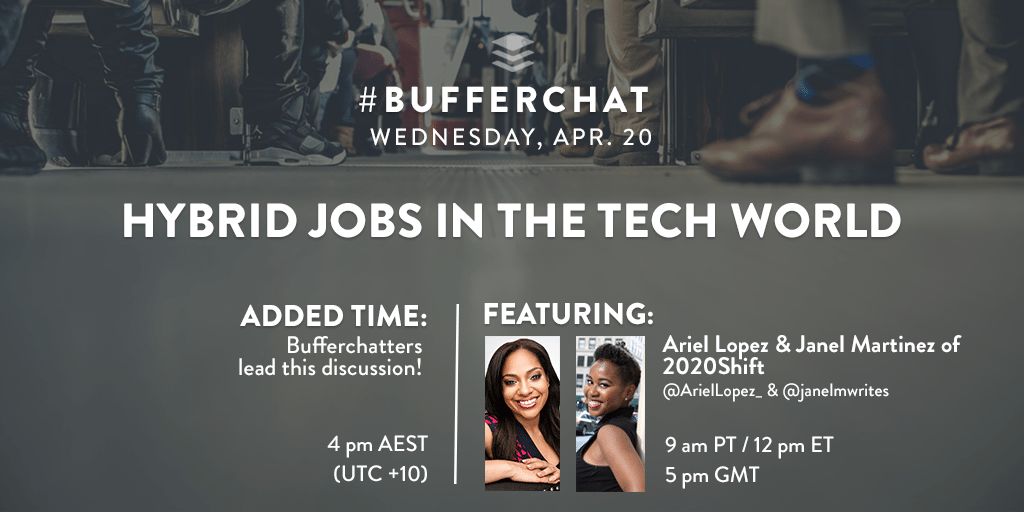 Q1: How would you define a "hybrid tech job" and what might it look like?
From Ariel & Janel:
Ariel: A hybrid tech job is one that is non-engineering yet still technical. Examples: product, design, digital marketing and more.
Ariel: There's a misconception that you have to be a coder or have a CS degree to work in #tech. So NOT true.
Ariel: Hybrid jobs are growing fast! Over 250K have been created in the last year alone. They're essential to all tech companies.
Janel: A hybrid tech job fuses technical skills and soft skills (communication, collaboration, problem solving, etc.)
Janel: Hybrid tech positions incld project manager, digital marketer, user experience designer, social media editor, data analyst.
Janel: More than 250,000 positions were open in the last year for these hybrid tech roles.
From the community:
See all the great answers to question 1 here!
Q2: How can having a hybrid set of skills impact how you work?
From Ariel & Janel:
Ariel: It makes you more of an asset imo. A product manager understands the intersection of tech/design/business. Very unique skill.
Ariel: Also more strategic. Sales/Marketing people keep businesses alive, while Designers make sure consumers are happy.
Janel: Having a hybrid set of skills will benefit employees tremendously. Not only will it allow for ppl to merge their passions…
Janel: …but require less technical training than CS degree, pays well and are in high-demand.
From the community:
See all the great answers to question 2 here!
Q3: What are strategies for increasing and diversifying your skill-set?
From Ariel & Janel:
Janel: Diversifying your skill set makes you more marketable and increases your value.
Janel: Be open to continuously learning. The tech space is constantly changing, so be open to learning a new way of doing things.
Janel: Carve out time daily to learning something new. It could be via a book (reading hack @audible_com) or articles online.
Janel: Take that learning one step further and apply what you've learned. Application of the new skill is important.
Janel: Take a course. Through @2020Shift , we're teaching hybrid tech skills via #MoreThanCode. Deets here: http://bit.ly/MTCsign
From the community:
See all the great answers to question 3 here!
Q4: What's one hard or soft skill you've learned that has significantly benefited your career growth?
From Ariel & Janel:
Ariel: I always stand by strong communication skills, it's been the secret sauce to my success thus far.
Ariel: Also sales. As a recruiter I was forced to sell opportunities and deal with rejection- it's made me a better entrepreneur.
Janel: I'd say the ability to problem solve. It's an invaluable skill. There's always a solution; it's about perspective.
Janel: During my time @NewhouseSU I couldn't stand graphic design class. :/ Learned Adobe Suite and visually what looks good.
Janel: Howev, basic design skills have helped me as an editor and now as an entrepreneur.
From the community:
See all the great answers to question 4 here!
Q5: What are great places/resources for increasing one's knowledge in various areas of tech?
From Ariel & Janel:
From the community:
Here's a sampling of the resources mentioned during the chat!
Media:
Courses/Education:
See all the great answers to question 5 here!
Q6: What's one new job skill you'd love to learn or improve moving forward?
From Ariel & Janel:
Ariel: I plan on attending several of our digital marketing and design classes lol. I would also love to learn HTML/CSS.
Janel: I'm organized but wld love to strengthen my organization skills. Also, as a leader, always looking to enhance those skills.
Janel: If anyone wants to share apps/platforms that help them stay organized, I'm all ears. TY!
From the community: (check out this amazing diversity of interests!)
See all the great answers to question 6 here!
Q7: How could a tech community with lots of hybrid roles impact the future of tech?
From Ariel & Janel:
Ariel: The tech community has and will continue to have tons of hybrid jobs because tech companies are constantly changing.
Ariel: Tech is the only industry that touches every other one (finance/fashion/music/health). It requires diverse people and skillsets.
Janel: Hybrid roles are the future.
Janel: I see hybrid roles as an opportunity to bridge the current gap that exists in the space. Simply put: Access.
From the community:
See all the great answers to question 7 here!
—
Thank you so much to Ariel and Janel for sharing their awesome insights and to everyone who participated in this awesome chat!
Catch #bufferchat each Wednesday at 9 am PST, 12 pm EST, 5 pm GMT **OR** at 4 pm AEST (Sydney time, UTC+10). Join our new Slack community with over 1,000 members to continue these awesome conversations all week long!
Do you have any comments or answers to these questions? Leave your thoughts in the comments! We'd love to hear from you!
Image sources: UnSplash