Founder of the Twitter chat, #Twittersmarter, Madalyn Sklar, stopped by #bufferchat to share her insights on how to grow your Twitter network.
Catch our weekly Twitter chat, #bufferchat, every week on Wednesdays, 9 am PT/Noon ET/4 pm GMT, for valuable industry insights and networking with nearly 400 other smart marketers and community managers.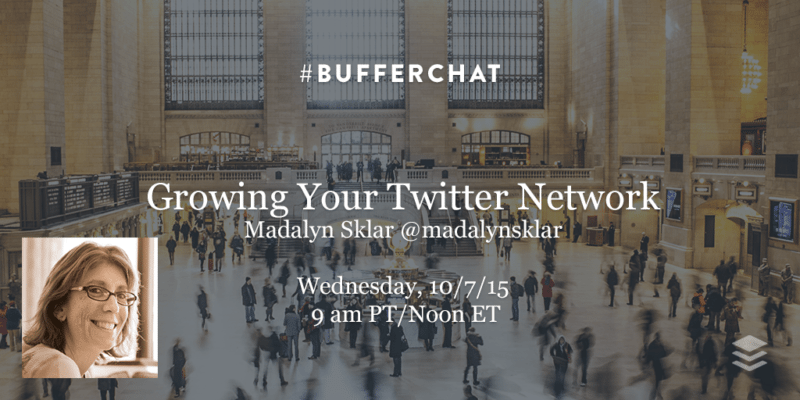 What got you started on Twitter?
From Madalyn:
I first heard about Twitter during SXSW Interactive back in 2008. Everyone was talking about it. It was the big buzz!
I love being an early adopter. I'll get on the app when it's new and first starting to grab a buzz with the techies.
I fell in love with how simple Twitter is. 140 characters. I dig that! I prefer short and to the point vs long and wordy.
From the community:
"As often seems to happen, Twitter was for pleasure and fun first, and then I found business applications. Now it's my job." @benbrausen
"I got started because of the short, status-update style posts. Never thought it would be such a crucial platform for news." @margotcodes
"When I became a recruiter. I had the account but never used it until this year. Great way to interact with candidates!" @josewats
See all the great answers to question 1 here!
What are your go-to Twitter tools?
From Madalyn:
From the community:
See all the great answers to question 2 here!
What is your favorite thing about Twitter?
From Madalyn:
My favorite thing about Twitter is the connections I make. Every day I meet cool, new, interesting people.
We call Twitter the cocktail party of social media. I have met more people here than any other platform.
Many connections I've made on Twitter have turned into business for me. I do coaching/consulting. I have online courses.
From the community:
"It is also my favorite place to go for big events! Award shows, SXSW, Presidential Election, you name it!" @lafitara
"I love how Twitter challenges you to be more creative w your writing & thoughts. It pushes you to be concise & interesting." @nataliebergen
"Twitter is instant messaging for the world. You could send a message to anyone on Twitter and make an impact." @morganandrewv
See all the great answers to question 3 here!
How do you build meaningful connections on Twitter?
From Madalyn:
You build meaningful connections on Twitter by being real and transparent. I meet so many people because I open the doorway.
It starts with the content I tweet. I share good, quality info. I engage with people. I participate in chats regularly.
Whenever someone compliments me or shares my content I give thanks with a tweet, RT or favorite. It's important & impactful.
And you have to be consistent on Twitter. Use it daily. Post good, relevant content at least 3 times a day minimum.
From the community:
"Acknowledge originality (even if person is a stranger). Share more of other people's work than your own. No quid pro quo!" @jgombita
"Actually engage with other users. Retweet, reply, and favorite and those who know how to use the network will reciprocate" @socialeyze
"Transparency is key. Have a personality. Be authentic. Be timely in responding. Stop broadcasting and actually engage." @katloughrey
See all the great answers to question 4 here!
What advice do you have for growing your following?
From Madalyn:
Here are several ways to grow your Twitter following: Twitter chats, engaging with people and sharing great content.
Twitter chats are a great way to get yourself in front of lots of people at once. This will help you grow your following.
You'll increase your following when you take the time to engage with people because it shows you care.
Posting good, quality content regularly will increase your followers dramatically. Become a trusted source of information.
Be consistent and be visible. You will grow your followers exponentially when you do this.

From the community:
"Be yourself, engage and get involved with twitter communities" @sales_prodigy
"Follow & engage w/people & brands who genuinely interest you, see who they engage with, & engage w/your followers." @bengibbons
"Don't focus on numbers, just on quality. Share great content + engage and it'll grow organically!" @jakeapeters
See all the great answers to question 5 here!
What advice do you have for growing your following?
From Madalyn:
Find Twitter chats that resonate with you and then take the plunge and jump right in. Don't be afraid to participate.
So many people "lurk" in Twitter chats. They are afraid to participate and share their two cents. Don't be afraid!
Participating in Twitter chats is like speaking at the podium and having everyone's attention when sharing your knowledge.
During last night's #InfluencerChat, I talked about the importance of visibility. This applies to chats. Be seen!
Mark Schaefer talked about Twitter lists on my #TwitterSmarter podcast. http://bit.ly/twittersmarter
From the community:
"You have to be fast! Use #TweetDeck when you can, it allows you to multitask your streams & keep up a little better." @deespeciale
"Gotta borrow from Nike on this one. Just Do It. Also, be sure to engage w/others and not just shout out your own stuff." @weitraubl
"Be real. Help. Think of others, don't just mirror your thoughts."
See all the great answers to question 6 here!
How did you decide on your twitter bio?
From Madalyn:
From the community:
"Short, simple, and to the point. It will likely be updated every few months to keep it fresh." @yung_adQ
"I followed some advice from the people @buffer & some other community building experts AND it's always a work in progress." @noordinaryrenee
"I thought about what I wanted to convey to those visiting my profile! Just wanted it to be as much of me as possible!" @joelrrenner
See all the great answers to question 7 here!
Thank you so much for everyone who joined in on this great chat!
Catch #bufferchat each Wednesday at 9 am Pacific/noon Eastern and join our Google+ community for the latest news. We also have launched a brand-new Slack community to continue these awesome conversations all week long! Join 500+ people there!
Do you have any comments or answers to these questions? Leave your thoughts in the comments! We'd love to hear from you!
Image sources: UnSplash