This week on #bufferchat, we celebrated the 3rd birthday of our beloved #bufferchat! We decided to celebrate what makes the chat so meaningful and fun each week — the incredible #bufferchat community. We asked some silly questions, some thoughtful ones, and learned what makes each #bufferchat community member unique. ?
Catch our weekly Twitter chat, #bufferchat, at TWO times every Wednesday for valuable industry insights and to meet hundreds of other smart marketers and social media enthusiasts. Same topic, same place, just at different times – feel free to join in to whichever chat time works best for you!
4 pm AEST (Sydney time)
9 am PT (San Francisco time)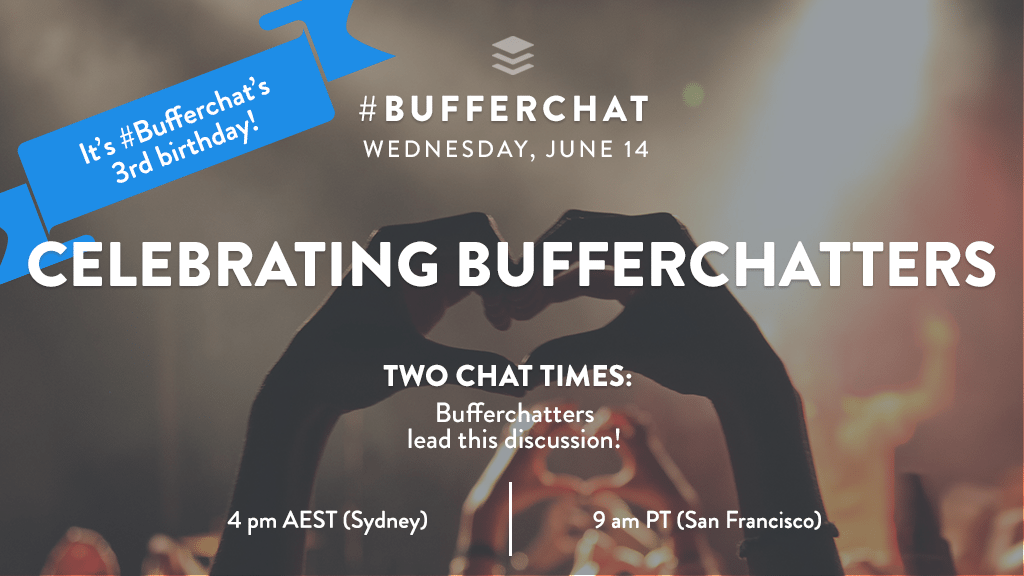 This week's stats:
1st Bufferchat: 33 participants; 167 tweets; reach of 1,020,795
2nd Bufferchat: 129 participants; 814 tweets; reach of 1,220,540
Q1: What is your favorite thing to nerd out about? (As in your biggest passion, something quirky you love, etc!
From the community:
Check out what makes our community members unique!
Q2: What keeps you coming back to #bufferchat? Or, if this is your 1st one, what brought you here today?
From the community:
See all of the amazing responses to question 2 here!
Q3: If you had one, what would be the title of your autobiography?
From the community:
See all the creative autobiography titles here!
Q4: What's something you're grateful for today?
From the community:
See what everyone was grateful for here!
Q5: What's one of your proudest achievements from the past year?
From the community:
Check out the amazing achievements of our community members here!
Q6: Spread the love: give a shout out to someone who's inspired you in some way recently!
See who everyone shouted out to here!
Q7: When are you the happiest?
From the community:
See all the great responses to question 7 here!
---
Thank you so much to our awesome community for celebrating with us this week!
Do you have any comments or answers to these questions? Leave your thoughts in the comments! We'd love to hear from you!
Image sources: UnSplash