This week in #bufferchat, we discussed the steps for aligning reputation and brand and managing both. Along with our expert guest, Aaron Friedman, we talked about how to perceive your company's reputation, the differences between proactive and reactive brand building, what to do when your company's reputation and brand are out of alignment, and much more!
Read on to discover all of the awesome ideas and thoughts that were shared during the chat!
Catch our weekly Twitter chat, #bufferchat, at TWO times every Wednesday for valuable industry insights and networking with nearly 400 other smart marketers and community managers. Same topic, same place, just at different times – feel free to join in to whichever chat time works best for you!
For our community in Asia and Australia (or anyone in other timezones that like this time the best!): 4 pm AEDT (Sydney time)
For our community in North/South America, Europe and Africa (or others!): 9 am PT (San Francisco time)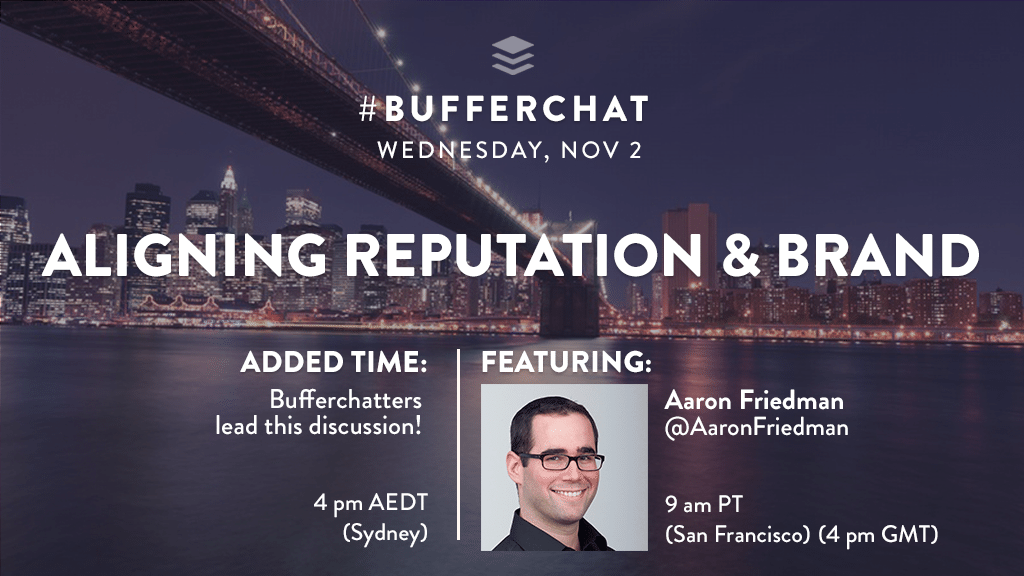 This week's stats:
1st Bufferchat: 94 participants; 271 tweets; reach of 868,909
2nd Bufferchat: 317 participants; 1,968 tweets; reach of 1,721,075
Q1: How do you know if your brand message is clear?
From Aaron:
Well, thats a super broad question. I guess you know if you are getting the "attention" you want.
Meaning,are you targeting the right audience? Driving business? Are people responding well?
Or are you just getting a lot of people asking if you do XYZ and the audience is confused?
You sort of should understand why someone is connecting with you. It should make sense based on your messaging.
From the community:
See all the great answers to question 1 here!
Q2: How can you better understand how others perceive your online reputation?
From Aaron:
First of all, part of this is intuitive. The same way you take social cues in real life, those exist online.
Pay attention to how people interact with you or talk about you online. What they say about you or don't say means a lot.
Then, keep tweaking your message until you get the results you want. And after that, keep improve more. Never stop.
A stale neutral reputation is not something to strive for. Strive for greatness and strive to keep being better.
I'm loving that lots of these answers have to do with listening
From the community:
See all the great answers to question 2 here!
Q3: What can "proactive" brand building look like, as opposed to reactive brand building?
From Aaron:
Proactive is an advanced form of reactive in some sense, but it's the good kind.
Getting your brand positioned well online serves 2 purposes, both equally important.
1) It tells your story so you are in control of your message.
2) Prevents others from putting up information about you that you don't control.
Proactive is also based on community and wanting to be better.
From the community:
See all the great answers to question 3 here!
Q4: What can you do if your reputation is not aligning with your personal or company's desired brand?
From Aaron:
Change it! Try to understand what about it isn't aligned and work to better align them.
I.e. does social say something different than your website, which is different than your marketing collateral?
Once you know that, it shouldn't be hard to get everything lined up.
From the community:
See all the great answers to question 4 here!
Q5: Do you think it's possible to prepare your brand's reputation? As a brand, is this under your control?
From Aaron:
It's not just possible to prepare your brand's reputation, it's the only way. Brand reputations aren't an accident.
Your brand reputation is usually because of something you did or did not do right.
Obviously there are situations out of your control. You need to anticipate & understand what shows up for your brand online.
Audit competitors, analyze conversations. Decide what steps you will have to do to make it the way you want.
From the community:
See all the great answers to question 5 here!
Q6: How difficult is it to erase something negative once it's online?
From Aaron:
Erasing negative content is hard, & often not worth the trouble. But pushing it down is very possible.
By creating positive information and identifying ways to promote it online.
That said, sometimes with some savvy social engineering, you can get it removed, and it can be super effective ?
Everyone seems to think it's not possible. It is. It's just difficult and not always the best way, leading to more problems.
From the community:
See all the great answers to question 6 here!
Q7: Does brand reputation impact levels of engagement? If so, how?
From Aaron:
I think it does impact levels of engagement, which could obviously be a bad thing too.
When your audience values you, engagement can be great fun and positive.
But when your audience is pissed at you for chopping down a rainforest, that tends to drive lots more of engagement.
Moral of the story is, don't chop down rain forests.
SUMMARY: If I had to sum up this #bufferchat it would be: Listen, be genuine, Monitor, set building blocks.
From the community:
See all the great answers to question 7 here!
---
Thank you so much to Aaron for taking the time to share so many awesome insights, and to everyone who participated in this chat!
Do you have any comments or answers to these questions? Leave your thoughts in the comments! We'd love to hear from you!
Image sources: UnSplash