Now with 5+ places to share "Stories" across social media, how can we differentiate between each platform? This week on #bufferchat, we discussed the current state of Stories, our predictions for how Stories could impact the rest of social media, and much more!
Read on to discover all of the awesome insights that were shared during the chat!
Catch our weekly Twitter chat, #bufferchat, at TWO times every Wednesday for valuable industry insights and to meet hundreds of other smart marketers and social media enthusiasts. Same topic, same place, just at different times – feel free to join in to whichever chat time works best for you!
For our community in Asia and Australia (or anyone else!): 4 pm AEST (Sydney time)
For our community in North/South America, Europe and Africa (or others!): 9 am PT (San Francisco time)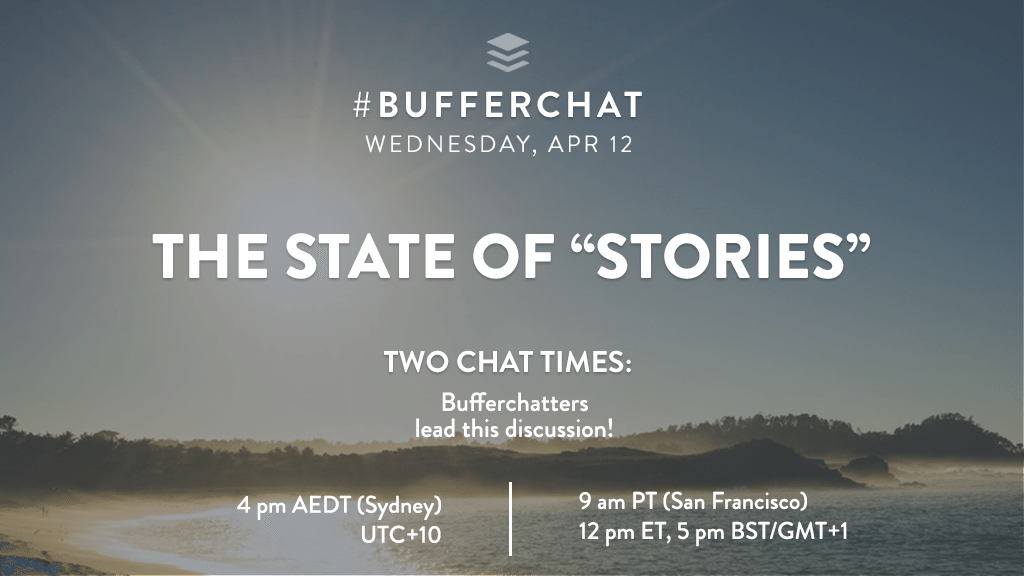 This week's stats:
1st Bufferchat: 22 participants; 156 tweets; reach of 997,614
2nd Bufferchat: 107 participants; 670 tweets; reach of 1,338,681
Q1: Which of the 5+ brands of Stories is most valuable to you/your brand and why?
From the community:
" Facebook! That is where a vast majority of our audience is. Because people are so familiar with the platform, it's easy!" @ChrisThames29
"My go-to right now is @instagram! My audience craves interactive 2-way #communication w/ visual appeal, so this works best." @kaitlynuy_
"Snapchat. Not just because they were the first but they have nailed down the fun and real time element. Filters rock too!" @xanthestudios
See all the great answers to question 1 here!
Q2: How do you decide what story to tell on each Stories platform?
From the community:
See all the great answers to question 2 here!
Q3: What is your creative workflow for producing Stories content?
From the community:
"The key is to actually tell a short, succinct and interesting story (I see a lot of 1-image "stories" = not the point!)" @darcyschuller
"I gather ideas & snippets of a day/roadtrip or just walking the streets, then I think of format & get creative." @ZalkaB
"Spontaneity! The best content is created on impulse or without much planning and forethought. It makes you seem more human." @ForresterHinds
See all the great answers to question 3 here!
Q4: Do you repurpose content across Stories platforms? If so, how?
From the community:
"Yes, especially if the content is not time-sensitive. You just need to present it in another way or a different view." @StraightArrowPH
"In an effort to keep things fresh, I stick to the same theme, but always vary what's focused on and how it's delivered." @griffinkelton
"It's boring when I see folks post the same thing across all SoMe. I like to cont. themes but offer new bits of info on each." @MegAHakey
See all the great answers to question 4 here!
Q5: How do you make sure you tell a captivating story through any Stories platform?
From the community:
"Stories should pull your audience in so treat it like scenes in a movie. Don't go right to the point, show how you get there." @itsJeffHiggins
"Have an answer to "Why? Who cares?" In the sea of global info, your audience is checking on you. Make it worth their while." @JeremyDBond
"We share the day to day, so our personalities are on show: and there is always a little story hiding in the mundane." @weardulo
See all the great answers to question 5 here!
Q6: How do you think Stories could influence how the traditional "news feed" is used on each platform?
From the community:
"Strong stories will lead every news feed. News feeds are becoming less valuable (too much meaningless clutter)." @jeremypmurphy
"I think people are posting more polished content in the permanent news feed, I know that's what I do. Stories are more fun." @unfinished_book
"Stories are "exclusive" content. If you don't see them in that 24hr period, oh well. News "feeds are (almost) "timeless"." @Anne_E_Mercer
See all the great answers to question 6 here!
Q7: Do you think all of the different Stories will last? Will one prevail?
From the community:
See all the great answers to question 7 here!
---
Thank you so much to everyone who participated and helped each other in this chat!
Do you have any comments or answers to these questions? Leave your thoughts in the comments! We'd love to hear from you!
Image sources: UnSplash