This week on #bufferchat, we explored the relationship between mental health and social media with our guest, Danielle Kerani of AKKerani. The community discussed how we can use social media to better support our health, what habits we can change to use social media in a healthier way, how we can support others on social media, and much more.
Read on to discover all of the awesome advice that was shared during the chat!
Catch our weekly Twitter chat, #bufferchat, at TWO times every Wednesday for valuable industry insights and to meet hundreds of other smart marketers and social media enthusiasts. Same topic, same place, just at different times – feel free to join in to whichever chat time works best for you!
4 pm AEST (Sydney time)
9 am PT (San Francisco time)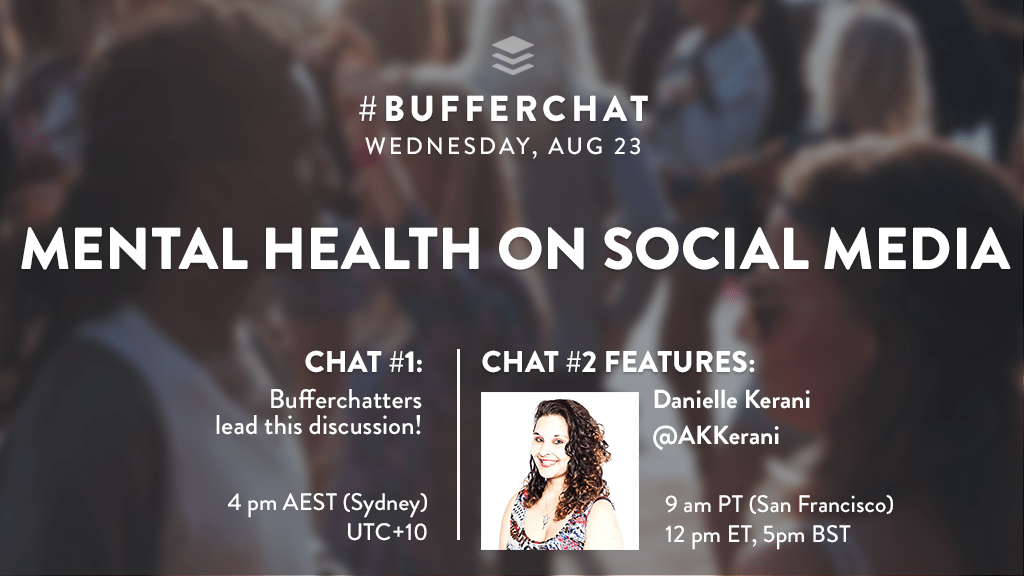 This week's stats:
Bufferchat #1 (4 pm AEST): 25 participants, reach of 1,161,271
Bufferchat #2 (9 am PT): 133 participants, reach of 1,429,462
Q1: How comfortable do you feel talking about your mental well-being through social media?
From Danielle:
I wish I felt more comfortable! I'm often insecure that I come off as self-centered instead of as an advocate.
I definitely go through spurts of sharing and periods in which I'm less open. Good to be flexible and sensitive to ourselves ?
I try to incorporate mental health talk into my casual conversations on social media. It doesn't have to be a heavy topic.
From the community:
"It's hard to talk about it, due to the stigma associated but I think it's important to do so. It's how to raise awareness." @aumsome
"I'm comfortable with it. We all have battles we fight. We're all human, and if we work together, and keep it ?, we all win." @hirenoah
"If I can be an example for others to face their mental health challenges, then let the conversation begin." @ShannonRenee
See all the great answers to question 1 here!
Q2: How do you incorporate self-care into your days?
From Danielle:
I engage with one or more of my go-to outlets: running, writing music, #knitting among others.
Getting immersed in an activity helps, whether it's reading for school or running for fun – the union of mind and body.
From the community:
"I write poetry (for myself) or find time to read/relax some other way — especially when I start to feel overwhelmed/anxious." @kathrynelainewh
"I rock climb twice a week and it helps me to solve internal issues that would otherwise build up." @spammantha
"Reading. Or just quiet time away from everyone. I find that it helps me de-stress & find my inner centre of strength." @Feistyluv
See all the great answers to question 2 here!
Q3: What are ways that social media can be used to support our mental health?
From Danielle:
It provides a constant and ever changing space to connect with others over similar interests and common experiences.
If you're not ready to share yourself, you can still easily access other people's stories and resources on social media.
From the community:
"Connects you to those with similar experiences, as long as we're able to be honest & open. I love Instagram for this." @megankarman
"Once I talked about therapy, friends asked questions and got professional help. It's all about starting a conversation." @daniellenkelley
"Best part of social media is the community. Reminds us we're not alone." @daniellewriter
See all the great answers to question 3 here!
Q4: What are thoughtful ways we can support others on social media?
From Danielle:
If you see someone being brave and candid about their experience, give them a shout out. It means more than you know.
Use social media as a gateway into deeper conversations about mental health, either in DM or through another channel.
It's scary to be vulnerable on social media. If you don't reach out, the person will not know they impacted you.
Social media is a two way street! If you see someone putting out meaningful content, engage with them!
It's great to tell me in person you read what I posted but that defeats the point of engaging with the post in some ways.
Remember, there are so many ways to give affirmation and support without opening up yourself if you're not ready.
From the community:
"Ask first before offering solutions. Most of the time we just need to feel listened to, and solutions come via conversation." @dancecile
"A personal comment or thank you goes a long way. Too much silent content consumption. Let's thank the people that create." @warwickabrown
"Supporting someone means we encourage and try not to FIX them. Be a good listener. Kill the judgments." @focusonyou_
See all the great answers to question 4 here!
Q5: Which people or companies are embodying mental health well on social media, and how?
From Danielle:
@SayftyCom fosters a wonderful international community that collectively tackles issues of domestic violence and abuse.
@RachelintheOC fearlessly talks about her experiences and encourages others to do the same through a variety of chats.
From the community:
See all the great answers to question 5 here!
Q6: Do you know of any great articles or resources about mental health and social media?
From Danielle:
When in doubt, there's always @PsychToday. Social media's impact depends on how we use it.
From the community:
See all the great answers to question 6 here!
Q7: What habits can we change to use social media in a healthy way?
From Danielle:
Stop comparing ourselves to others whether it's body image or professional prowess. It can be harmful and a waste of time.
Share positive media. It's tempting to complain about what's wrong in the world but it produces/emits negative energy.
From the community:
"Put the phone down before bed. Sleep is a powerful way of letting your mind declutter from social noise/obsessions." @SocialDadUK
"Killing the notifications is a must. Approach platforms on YOUR OWN terms. Not when it asks you to pay attention." @dtpennington
"Be kind to each other! Don't judge – you never know what someone else is going through." @KristinaAurelia
See all the great answers for question 7 here!
---
Thank you so much to Danielle and to our awesome community for sharing such great insights in this chat!
Do you have any comments or answers to these questions? Leave your thoughts in the comments! We'd love to hear from you!
Image sources: UnSplash