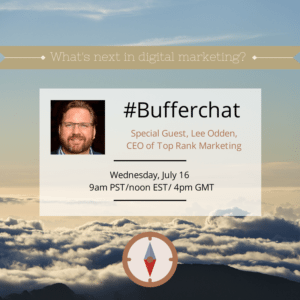 In this week's #Bufferchat, Lee Odden, CEO of Top Rank Marketing and expert on all things marketing, joined us to share his thoughts and lead a discussion on "What's next in digital marketing?"
Inspired by the voices of experts in Lee's post on Top Rank Online Marketing Blog, "21 Digital Marketing Trends and Predictions for 2015," the #Bufferchat reflected many of these predictions and spurred some incredible conversations.
Check out the full Storify recap here!
How do you define digital marketing?
Will 2015 be the year of paid amplification?
What does it mean to push the boundaries of "brands as publishers?"
Does mixing paid and owned media accelerate content distribution?
How will sales use marketing tactics to reach new audiences?
What's ahead in measuring digital marketing?
A very special thank you to Lee from Top Rank Marketing for joining us for this chat!  Join us every Wednesday at 9 am Pacific, noon Eastern, 4 p.m. GMT for #bufferchat! To keep connected with #bufferchat in between the chats, check out our
Google+ Community
! Topics and questions will be shared on the Google+ community before each chat.
What do you think is ahead for digital marketing? What responses above resonated with you?  Let us know in the comments! P.S. If you liked this post, you might enjoy our
Buffer Blog newsletter
. Receive each new post delivered right to your inbox, plus our can't-miss weekly email of the Internet's best reads.
Sign up here
.