This week on #bufferchat, we discussed how social media can influence the customer journey. In the 2nd chat time, we were joined by Shayla Price as our guest, to share her expertise and insights!
Read on to discover all of the awesome knowledge that was shared during the chat.
Catch our weekly Twitter chat, #bufferchat, at TWO times every Wednesday for valuable industry insights and to meet hundreds of other smart marketers and social media enthusiasts. Same topic, same place, just at different times – feel free to join in to whichever chat time works best for you!
4 pm AEST (Sydney time)
9 am PT (San Francisco time)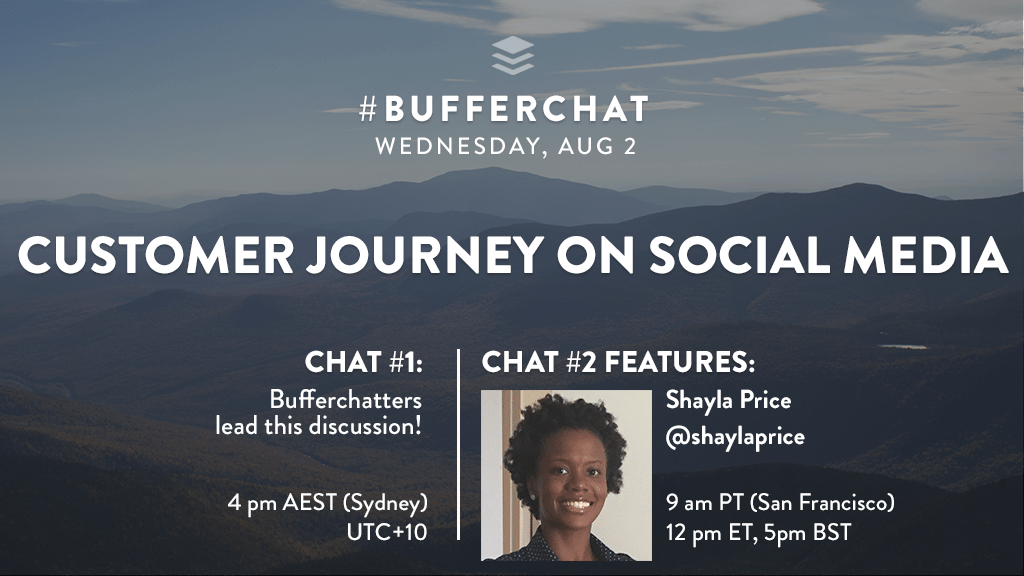 This week's stats:
Bufferchat #1 (4 pm AEST): 38 participants, reach of 1,007,216
Bufferchat #2 (9 am PT): 140 participants, reach of 1,432,333
Q1: In what ways do you think social media has changed the traditional customer journey?
From Shayla:
Social media has changed how people research products in the customer journey.
Now, buyers can find the latest products and share reviews on social media.
Because of social media, the customer journey is more human and personal.
From the community:
"Customers can now look up reviews, research the company/product. It lengthens the funnel, in my opinion." @MaggieBizz
"I think the biggest thing is that customers now expect more transparency and instant feedback from companies." @tammier33
"Brands have access to more of customers' time; previously limited to traditional mediums at peak times, now omnipresent." @ARoberts021
See all the great answers to question 1 here!
Q2: Do you think social media is a vital part of the customer journey these days? Why or why not?
From Shayla:
Yes! Social media plays an important role in the customer journey (for the brand & customer).
Fo brands, social media is a research hub for buyer personas, product development, & purchasing habits.
For customers, social media is a resource for product trends, customer service, and peer reviews.
From the community:
"Most definitely. From research to purchase to post-purchase and retention, social can be used at every step of the way." @JessChild15
"Yes. It's become a norm, especially for consumer facing companies. Customers expect to find you on social channels." @MichaelAltiero
"I'd suggest "supplemental," but not vital. We could certainly live and make good purchases without it." @SocialGamePlan
See all the great answers to question 2 here!
Q3: How can you use social media to better understand your customers/users?
From Shayla:
Social media is an effective tool for observing your customers' behaviors.
You get a front-row seat to customers' lifestyles, from favorite music to career goals.
Pay attention to key phrases used by customers. See what posts they engage with the most.
Take advantage of your analytics dashboard to spot brand opportunities.
From the community:
"Talk WITH them, not AT them. Proactively reply and engage, instead of always asking Qs and making them respond." @martinlieberman
"Data. We can produce content faster and receive numbers in real time. Those numbers provide insight on what customers want." @WHATITISJAACKIE
"Don't silo social media to just your marketing team or just your #CustServ team. Both need to be involved & listening!" @emilytlentz
See all the great answers to question 3 here!
Q4: What kind of social media content might work well for growing awareness of your brand?
From Shayla:
The best awareness content grabs customers' attention and shares an insightful resource.
Possible awareness content: GIFs, memes, funny video clips, and of course, live chats!
I love this #B2C example from @Adidas. [See tweet here]
From the community:
"I like the Twitter chat format as a way to get people involved in the conversation." @Adrienne_GenPop
"Video! Get the "why" of your brand on lock. Live video, too. That can help build awareness and humanize the brand, too." @theDRIVEblog
"Ultimately, shareable content. So anything that adds value to someone or is fun enough to get someone to share." @steveTjohnson
See all the great answers to question 4 here!
Q5: What kind of social media content might work well to connect to potential customers in the "consideration" phase of buying?
From Shayla:
For the consideration stage, it's important to nurture consumers and highlight why your product is the best fit.
Possible consideration content: Testimonials, Q&As, Checklists, and Guides.
Here's a great #B2B example from @IBM [See tweet here]
Prove your brand's worth; don't sell it.
From the community:
"Use cases and user stories, reviews, detailed info tailored to features that tackle key needs and problems." @maikegrk
"Content that answers FAQs and shows off testimonials without being too pushy or salesy." @_lblake
"VISUAL content works wonders to coerce an interested party into a purchase. As the saying goes, SHOW me, don't tell me." @ArrowDigitalAU
See all the great answers to question 5 here!
Q6: How can you increase customer loyalty using social media?
From Shayla:
Engagement is key when it comes to customer loyalty.
Reply to your customers. Ask them questions. Send them a DM to redeem a free sample/trial.
Customer loyalty means transparency, too. Be honest about product delays and brand mishaps.
From the community:
"Share some user generated content! Nothing helps customers feel more connected to a brand than getting recognized." @anne_ks08
"Respond to negative AND positive comments. A thank you goes a long way. Be helpful on here and you'll build a community." @lissmcintyre
"Communities love interaction, and everyone loves a giveaway. Be generous with your following and they'll become loyal." @TheMikeyDunn
See all the great answers to question 6 here!
Q7: What are some strategies for fostering strong brand advocacy on social media?
From Shayla:
Promote brand advocates who exemplify your company's mission and values.
Launch a #UGC campaign by creating a clever hashtag and encouraging customers to post content w/your product.
Brand advocacy = relationships. Do what it takes to foster that connection.
From the community:
"Give the people valuable content and a valuable experience! Encourage UGC as well, make people feel like they're involved." @magn3tic
"Consistently produce positive experiences – in real life and online. This will motivate customers to become advocates." @ChrisMedici
"Effectively communicating your brand values/mission is what aligns with people. They believe in you, not just your product." @sincerelyloewe
See all the great answers for question 7 here!
---
Thank you so much to Shayla and our awesome community for sharing such great insights in this chat!
Do you have any comments or answers to these questions? Leave your thoughts in the comments! We'd love to hear from you!
Image sources: UnSplash