Kim Reynolds is a key part of the team behind the yearly Social Media Marketing World event hosted by Social Media Examiner – and she stopped by #Bufferchat to share some of her expertise in using social media to publicize an event or product release.
Check out a the full recap here!
What are the most important things to know when first promoting an event/launch?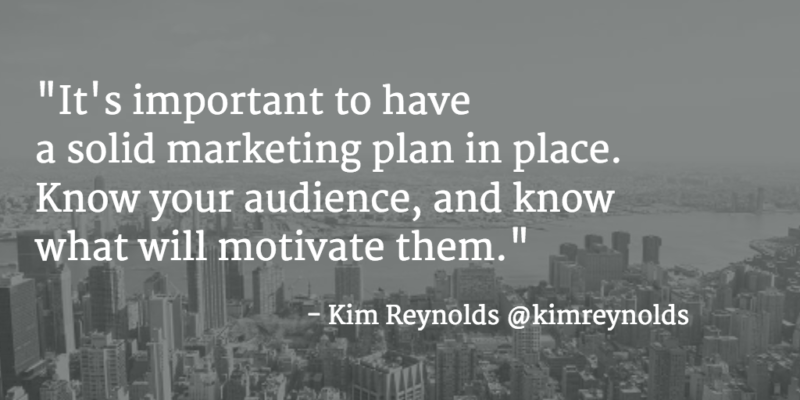 From Kim:
It's super important to have a solid marketing plan in place. Know your audience and know what will motive them.
The value proposition is key. Make sure your audience knows WHY they should participate.
More great insights:
"Have confidence in your audience as well. Word of mouth
#marketing
is powerful!" @dswebsme
"Keep your audience involved in the process. Create an event or product they'll love based on their feedback." @ThinkSEM
"Before promoting an event, I ask myself the good ol' 5 W's. Specifically: WHO is my audience, WHY should they attend." @ayylookitstoni
How do you determine when is best to start publicizing an event or product release?
From Kim:
For an event, timing depends on the size of the event. For #smmw15 we actively market starting about 6 months out
However, we start planning almost a year ahead of time. For smaller events, lead time is little more flexible.
The type of event/launch matters also. For a new movie (which is like an event/launch), start at least a year out.
More great insights:
"Challenge is surfacing above all of the noise. Announce asap, but look for current trends to help craft memorable promos." @FelixSTL
"If the event includes corporate attendees, publicize well in advance to allow for budget and travel approvals!" @Jane_Hare
"Timing is key – too late and too early are both problematic! As always, listen to your audience." @berlintern
What websites or tools are best for gathering information or RSVPs?
From Kim:
That absolutely depends on the type and scope of your event. Facebook Event pages are very handy for RSVPs
Google events and communities and LinkedIn groups for your event are all great ways to keep the excitement level up.
More great insights:
"For an event that one of the organizations I volunteer with is hosting, we're using @tikly. So easy to use!" @danielleirogers
"The Chimera of MailChimp/Facebook Events/Eventbrite. It covers all the bases and integrates together" @johnsies
"Eventbrite works for smaller events – bigger events we have no control so it's Ticketmaster or the like" @stratrev
"Choosing a tool also depends on related goals. Eventbrite and others are super handy, but don't send traffic to your domain." @SES_Elizabeth
What are some useful tools to help with social media promotion for an event?
From Kim
More great insights:
What are some best practices for the day of an event or launch?
From Kim:
Monitor your hashtag! Maybe even set up a special dedicated hashtag for people to use if they need support/help.
Make your audience feel involved and welcome. Walk up and thank them (if it is a non-virtual event)! Take pics & share them!
Have extra staff around to draw out attendees who are shy or feel lost. Put yourself in their shoes…be a friend.
More great insights:
"Ensure to record the event and share. Helps draw audience for next events and for those who miss, easy catchup!" @_peregrine_
"Continuously acknowledge and thank sponsors, presenters, volunteers, etc. Appreciation goes a long way!" @samdunsigner
"Have a back-up plan and don't stress to much when things don't go perfectly. And have lists lists lists! Oh and coffee." @LauraA87
What sort of follow-up or analytics do you track that you might improve upon?
From Kim:
If it is a recurring event, how many people sign up right away for the next one, Twitter stats like @TweetBinder.
Post event survey, general feedback from attendees, presenters, sponsors.
The most important to me is human intel. Talk to attendees. Sit at the bar afterward and listen to what they have to say.
More great insights:
"I'd suggest tracking signups and analyzing tweet volume, text, and sentiment related to your event/product!" @JulHeimer
"Surveys paper ones and electronic ones (depending on event type). get staff/volunteer reactions too" @cathywebsavvyPR
"Use Google Alerts to keep track of press mentions post-event!" @jessherbs
Any final advice on promoting an event or product launch?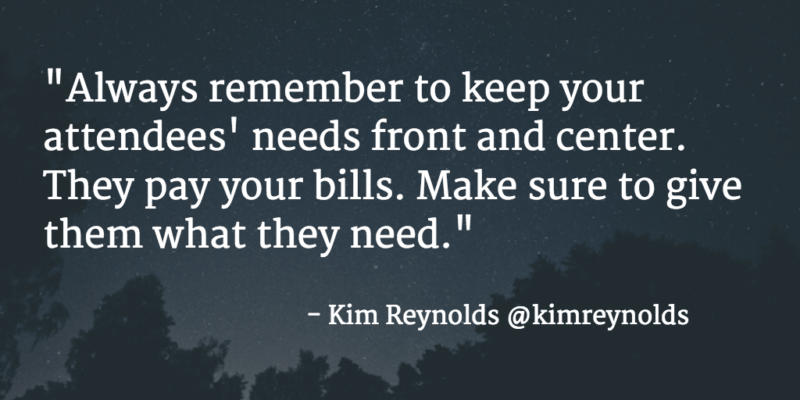 From Kim:
Always remember to keep your attendees' needs front and center. They pay your bills, make sure to give them what they need.
If it is a physical conference, consider having a virtual component so more of your community can participate.
If it is virtual, think of ways to facilitate mini-meetups IRL. Bring both groups together with one unified hashtag.
More great insights:
Thank you so much for everyone who joined in on this great chat!Catch #bufferchat each Wednesday at 9 am Pacific/noon Eastern and join our Google+ community for the latest news.
Do you have any comments or answers to these questions? Leave your thoughts in the comments! We'd love to hear from you!