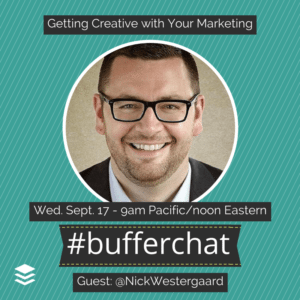 The owner of Brand Driven Digital and founder of the Social Brand Forum Conference, Nick Westergaard, stopped by #Bufferchat to talk about how to get creative in your marketing.
Check out the Storify recap here for the full conversation and even more amazing insights from the #Bufferchat community.
What are some marketing practices that are always good to follow?
From Nick:
"It sounds trite but the more things change the more they stay the same … strong brands, great stories matter."
"Marketing best practices? If you can't tell by the fact that #branding is a part of almost everything I name…"
"I worry tho that #branding and #storytelling are abused by biz & have become things we just nod along w/instead of doing."
is HUGE especially today and few people are connecting their dots online and off"
"Actually REPURPOSING is a great best practice/tip/trick. Re-imagine EVERYTHING. Get more than one thing out of all content."
"Other best practices? Not forgetting about offline touchpoints. We get so focused on the online that we forget instore, etc"
What are some good ways to go beyond the expected?
From Nick:
Not sure where this falls in but so many times you can win big by asking customers, community what you could do more of."
"Go beyond the expected by being UNEXPECTED. I <3 strategy but you can overthink. What would be a random thing we could do?
"
"How to exceed? Quit moping that you "aren't in a cool industry." "
"You can do awesome things whether you are a small non-profit or a garage door spring manufacturer (I've done work for both)"
"Part of the amazing time we're working in is that you don't have to be a car co or cool tech co to do amazing things."
Good examples of creative marketing:
From Nick:
Maybe the label "creative marketing" is changing. Used to mean ad creative but I think it's more relevant & personal today."
@

benandjerrys
did an awesome personal and relevant (creative!) campaign around
#CaptureEuphoria
"
Take the Oreo Super Bowl Blackout thing? Creative marketing but more a function of CULTURE."
Unexpected? I spoke at
@

amaiowa
last week and they sent me CHOCOLATE COVERED BACON! It lasted about 3 mins here."
Where do you go for inspiration?
From Nick:
"Inspiration for marketing? OUTSIDE OF MARKETING."
"I wrote about being in the "Idea Business" a little while back
http://www.
branddrivendigital.com/the-idea-busin
ess/
…
"
"Focus on how you can drop that idea into your industry. Why can't a small manufacturer create social graphics like Oreo?"
Kidding aside being a well rounded person is underrated. I'm a better podcaster b/c of the non-mktg shows I listen to."
"For inspiration I also unplug. Go on a walk. WITHOUT YOUR PHONE. (Oh my!) It will be there when you're back w/ideas."
"I also love longhand note taking and sketching. I carry a ratty red notebook in my back pocket. Always."
Business Book Recommendations from Nick:
Thank you to Nick for sharing such great expertise with #Bufferchat!
Catch #Bufferchat each week at 9 am Pacific/noon Eastern/4 pm GMT with different guests and topics.
Join the Google+ community
to keep up on the latest news.