Instagram has fast become one of the largest, most lucrative social networks: 400 million people use the app every day, more than 15 million businesses use Instagram and Instagram's users spend more in purchases than any other major social network.
That's a huge audience and a huge opportunity!
We're thrilled at the chance to help you succeed there.
There are many different tactics and strategies for finding success on Instagram—timing, consistency, hashtags, links, and more. Being able to act on these strategies and to do so in a streamlined way alongside your other social media marketing can be a huge difference maker as you seek results on Instagram.
We're so excited to announce today that we're setting out to help you achieve this with the launch of Buffer for Instagram!
As you may know, Instagram does not allow outside apps to post directly to Instagram. So while Buffer can't do the posting for you, we're excited to help you at every step. Buffer for Instagram works by sending a notification to your phone when it's time to post.

1. Find your best time to post to Instagram
Like most other social networks, two of the most important factors for success with Instagram content are …
When you're posting
How consistently you're posting
With Buffer for Instagram, you can make good on both (read more about consistency in point #2 below).
Here's how to find your best time to post to Instagram, with Buffer:
Visit Buffer's Analytics section for your Instagram profile
Click on the Posts tab
Click to sort your Instagram posts according to the Most Popular (a combination of likes and comments)
The sorting works just like Buffer's support on our paid plans (Awesome & Business) for networks like Facebook and Twitter. With Buffer for Instagram, you can sort every post by the most popular, most likes, and most comments. You can also select any custom timeframe or choose from presets like 7, 30, or 90 days.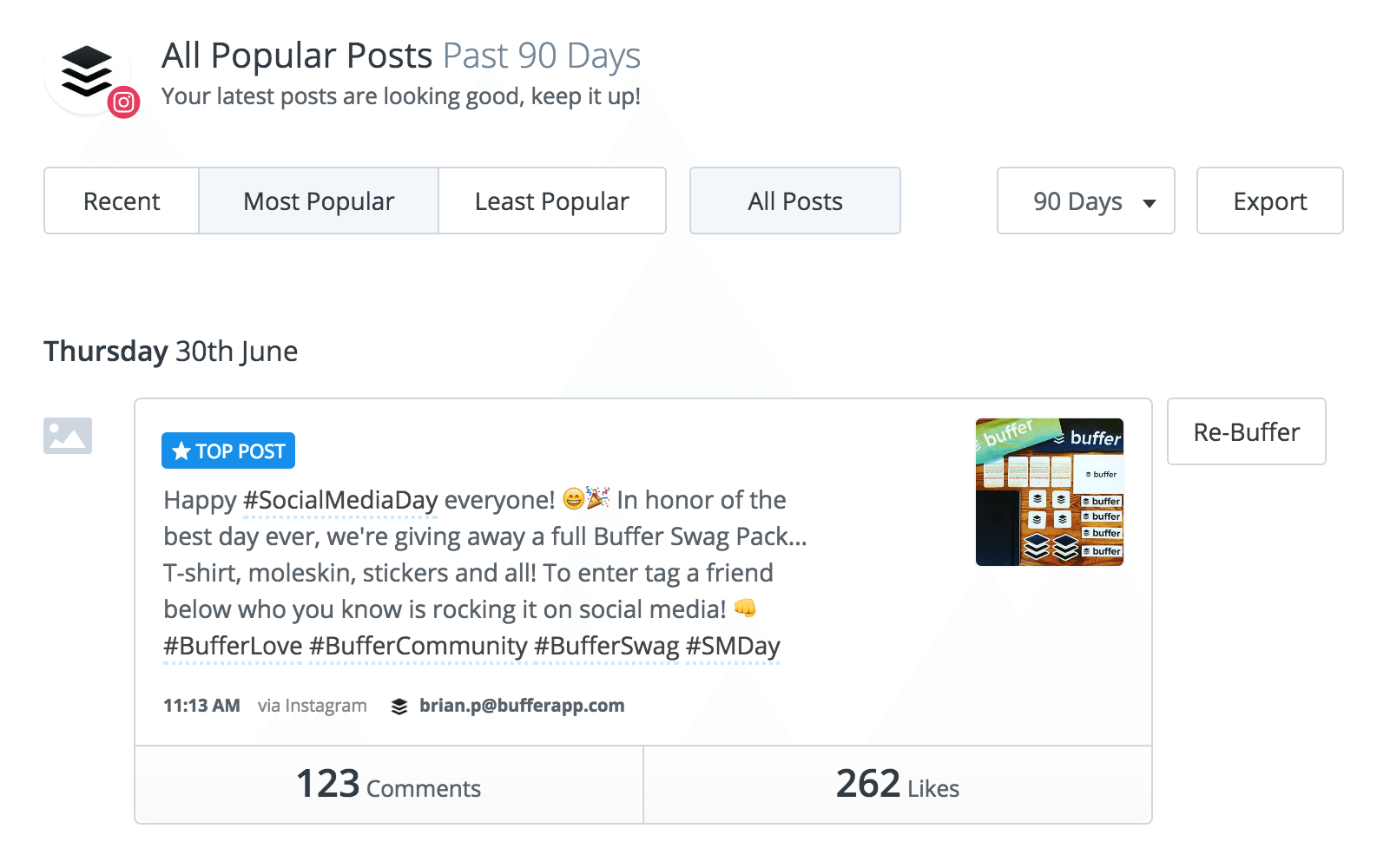 Once you've sorted, do you notice any trends?
If the same time keeps coming up on your top posts, you can feel confident knowing this might be a time to focus on with your future posts. This tip works great when you test multiple times, say a best practice like 8:00 to 9:00 a.m. Eastern plus an outlier like 9:00 p.m.
Using this method, we've found that our best time at Buffer is 11:00 a.m. Pacific.
2. Post consistently to Instagram
After timing, the next consideration to make is how to post consistently.
What feels best for a consistent rhythm on Instagram?
Union Metrics put together data on brands and Instagram (note: data came prior to the change to an algorithm), finding that most brands post 1 to 2 times a day on Instagram (the actual average was right in the middle, 1.5), and — this was really interesting — that there was no correlation between increased frequency and lower engagement, meaning brands that posted more than twice per day didn't see any ill effects.
The takeaway: Post often on Instagram. Brands that get in a regular flow with Instagram posts tend to see the best results.
To post consistently with Instagram, we schedule Instagram reminders in Buffer. Here's the process:
Find, edit, and upload a beautiful picture to Buffer. Add a caption with hashtags, @-mentions, and emoji. Schedule for the ideal time.
Receive a push notification from the Buffer mobile app at the scheduled time.
Open the notification, select Open in Instagram. This loads the photo into Instagram, with the caption saved to the phone's clipboard, ready to be pasted.
Make any final edits (filters, geolocation) and share from the Instagram app.
The Instagram API doesn't quite allow scheduling, so Buffer has made it possible to plan in advance by adding a post through the Buffer dashboard on web or mobile and having a reminder pop up on a user's phone when it's time to send it out.

Here's a look at how things appear from the web dashboard: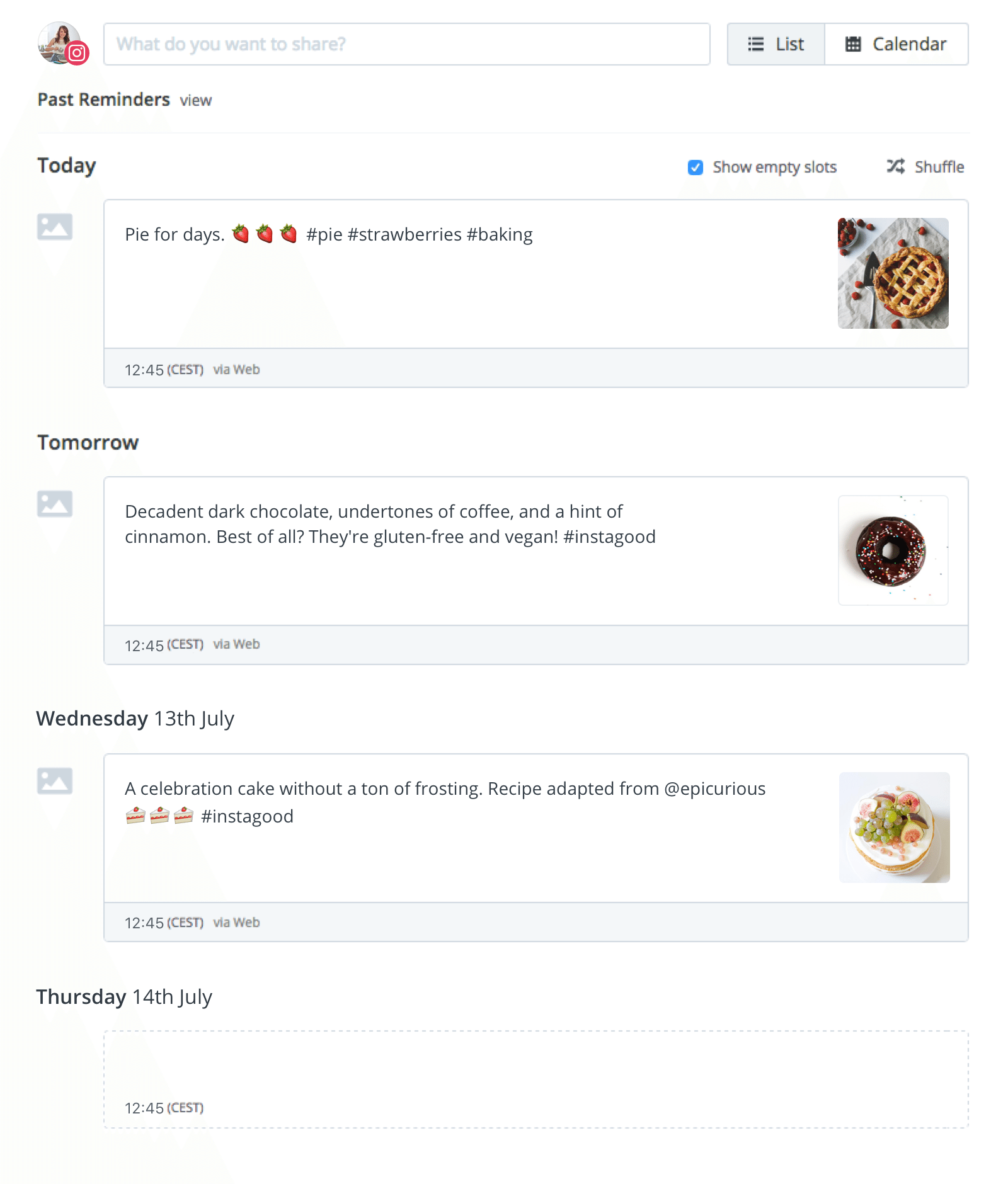 And this is the look from a mobile device: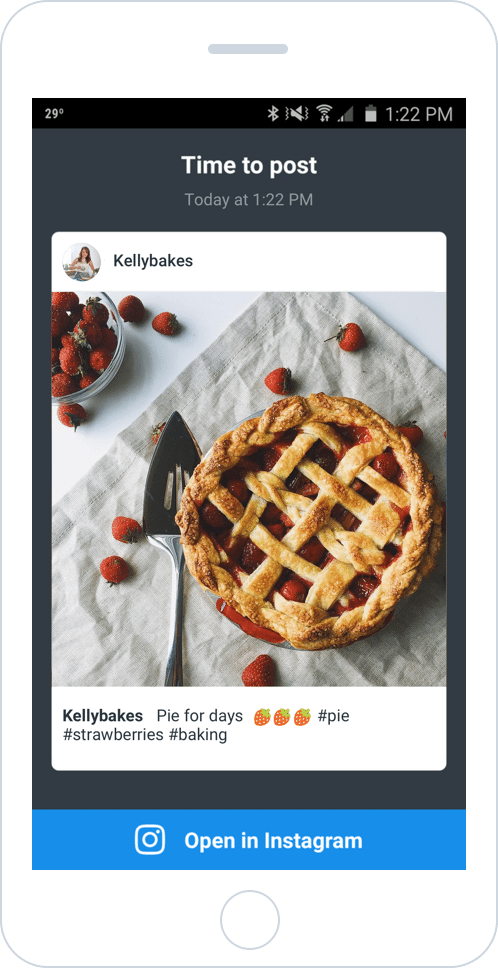 To see the effect of a consistent Instagram presence, you can dig into the advanced analytics for your Instagram account in Buffer (available on our Business plans). Here's how:
Visit Buffer's Analytics section for your Instagram profile
Click over to the Analysis tab
View Posts Per Day plus Likes or Followers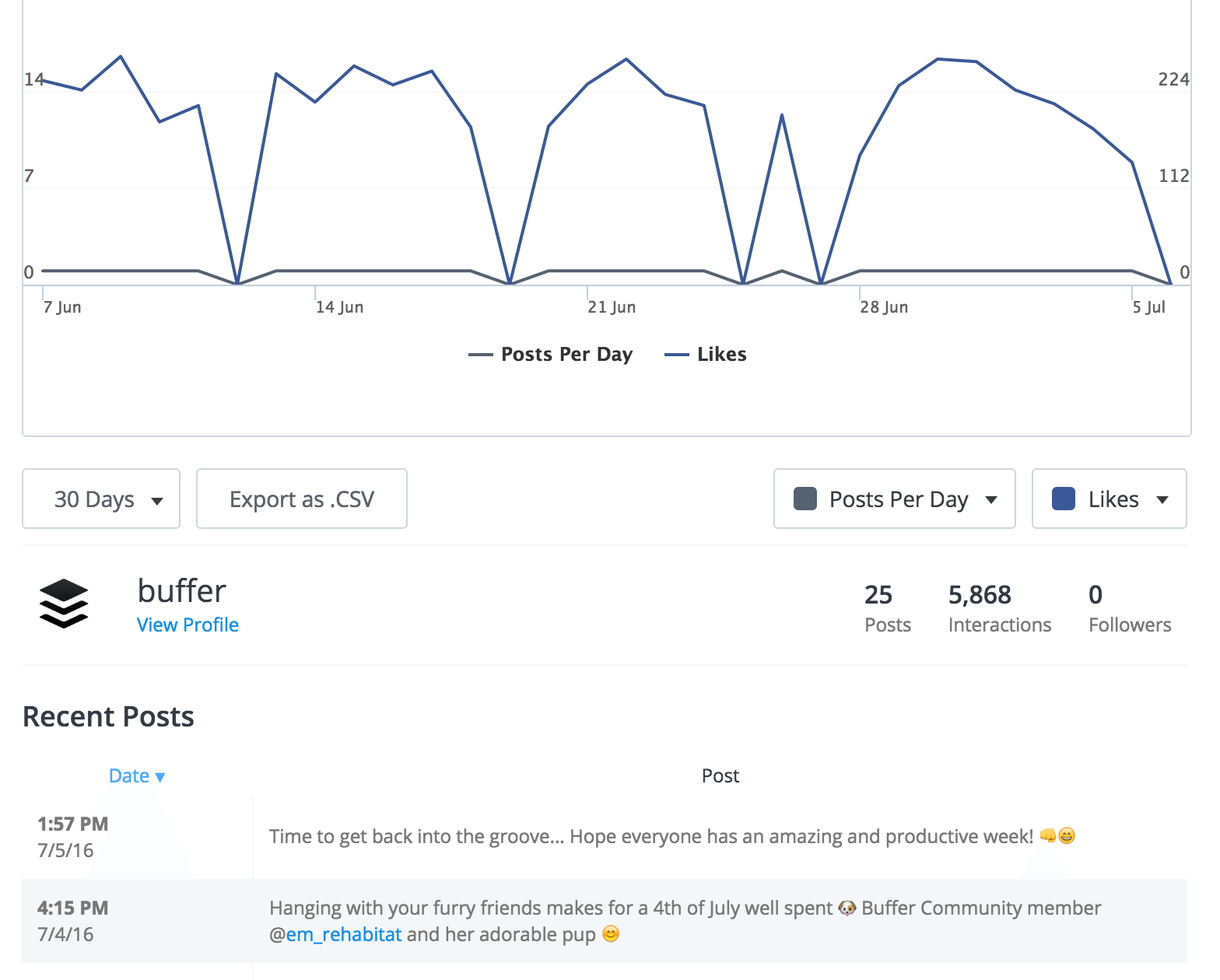 The combination of these stats can help you judge the effect of a consistent schedule on important Instagram metrics like likes and followers. If the spikes in engagement match the spikes in posting, you can have visual evidence of a strong correlation between the two.
3. Track and sort through your Instagram history
Right now, when you connect an Instagram account to your Buffer, all of your past Instagram posts will appear in your analytics dashboard, giving you loads of great data on what's working best for you on Instagram.
Then each successive time you share to Instagram, all your stats will be integrated directly into the Buffer dashboard where you can sort, compare, and analyze.
What this means: You don't have to wait until a week from now to start analyzing what's been working for you on Instagram.
You can get insights, today, on what's worked well yesterday, last week, last month, and beyond.
When I connected my Instagram account, the first thing I did was visit my analytics and sort my past photos to see my most popular Instagram posts. Having that knowledge helped me prep and plan for the next one (in my case, hashtags proved quite key).
Speaking of hashtags …
4. Add a hashtag (or 11) to your caption
Buffer for Instagram cannot post directly to the app for you — but it can get you 95% of the way there!
You can plan nearly every detail from the Buffer dashboard, including the full caption you wish to use with your photo. And as part of this caption, we've found that hashtags work extremely well on Instagram.
Hashtags have become a uniform way to categorize content on many social media platforms, especially Instagram. Hashtags allow Instagrammers to discover content to view and accounts to follow.
Research from Track Maven found that posts with over 11 hashtags tend to get more engagement.
To find your best hashtags, we recommend a tool like hashtagify.me, which ranks and analyzes all sorts of different hashtags. This is what we typically look for:
Hashtags used by others in your industry
Hashtags that are the most popular (by volume of posts)
Hashtags that are the most active (trending)
When you've chosen your hashtag, you can add it to your caption and set your Instagram notification in Buffer. Later, when it's time to post, you can open the reminder notification from your phone to have your photo automatically added to Instagram and your full caption copied to your phone's clipboard.
5. Include emoji in your caption
Along with hashtags, you can also include emoji in your captions (there's even a bonus 3rd thing you can include, if you keep reading).
Why might you go with an emoji? Well, they're popular, they're expressive, and they might just be the new way we communicate online.
Plus, they're a key part to the language of Instagram, so much so that Instagram itself commissioned an emoji study on their network. What Instagram found is that many popular emoji have meanings in-line with early internet slang and have been adopted as a way to replace these words.
Here are a few emoji and the slang Instagram found them to represent:
? : lolol, lmao, lololol, lolz, lmfao, lmaoo, lolololol, lol, ahahah, ahahha, loll, ahaha, ahah, lmfaoo, ahha, lmaooo, lolll, lollll, ahahaha, ahhaha, lml, lmfaooo
?: beautifull, gawgeous, gorgeous, perfff, georgous, gorgous, hottt, goregous, cuteeee, beautifullll, georgeous, baeeeee, hotttt, babeee, sexyyyy, perffff, hawttt
?: #keepitup, #fingerscrossed, aswell, haha, #impressed, #yourock, lol, #greatjob, bud, #goodjob, awesome, good, #muchlove, #proudofyou, job, #goodluck
If you're keen to get emoji into your next Instagram caption, we have a couple quick ways to do it from a desktop:
Cmd+Ctrl+Space on a Mac
Windows touch keyboard on a PC
6. Reference the link in your bio
There's only one place on Instagram where you can add a link: in your bio.
The way that savvy marketers have skirted this limitation is by changing that bio link often, and referencing the bio link in the caption of new photos. It's as simple as writing a caption like this:
"… Click the link in our bio to read more."
"…Check out the link in our bio!"
(or the super short Gary Vaynerchuk method)
"… Link in bio."
This tip works even better if you use a shortened URL with tracking information as the bio link. Tools like bitly let you shorten a URL that contains UTM parameters: you can track the links to your bitly URL and also analyze the UTM information in Google Analytics for deeper insights.
We manage all this via Buffer for Instagram by using the "link in bio" language in the captions that we compose. The Buffer app notification to post also serves as a reminder to update our bio!
7. Post the same picture + native content to each network
Many brands choose to post natively to Instagram, opening the app each time they wish to send a message.
This was the way we had done it for quite some time at Buffer, too.
We're happy to be using a more streamlined workflow now. All of our Instagram posts begin in the Buffer dashboard, right alongside our posts for Facebook, Twitter, Pinterest, LinkedIn, and Google+.
One key benefit we notice from this: We have a coordinated presence on all networks while also being free to honor the individuality of each.
Let's say we have a team photo that we'd love to share with our social media followers. We can share it to Facebook, Twitter, and Instagram all from the same dashboard without needing to log in to any extra places. We can coordinate the time so it all posts in sync. Plus, we're able to create custom messages on each network, speaking in Instagram's language (hashtags + emoji) on Instagram, speaking Twitter on Twitter (brief + 140 characters), and Facebook on Facebook (personal + fun).
8. Mention other users
A lot can happen in an Instagram caption, and we're excited to let you do it all. In addition to hashtags and emoji, another key inclusion for growing your Instagram marketing is to use @-mentions in your caption.
Every time you @-mention a brand or person (for example, @buffer or @kellybakes), they receive a notification. This has a number of neat effects:
It feels good to be mentioned! When you're acknowledging a contributor, partner, or friend in your feed, you're passing along a bit of social media karma.
It might help your post spread! There's a bit of viral "pay it forward" when it comes to @-mentions. Many influencer strategies start by mentioning the influencer in a post.
To add an @-mention to your Buffer for Instagram caption, simply type it as you would any other text, and when pasted into Instagram's text field on your device, Instagram will recognize it as a mention.
Questions and Answers on Buffer for Instagram
Is this for all users or is it a paid feature?
This feature is for everyone! Any user can connect one Instagram account. The Awesome plan and above lets users connect more than one account.
What happens if I miss a reminder?
If for whatever reason you miss a notification, you will be able to find the posts you missed by clicking on the "View past reminders" link in your Buffer dashboard, and you'll still be able to share them on Instagram or reschedule them from there.
How can I access Instagram reminders?
This feature has been rolled out to everyone! If you are already a Buffer user, you can head to your Buffer dashboard here, and if you haven't yet signed up, you can do so here. Composing a post for Instagram is available on the Buffer web app, as well as Android and iPhone apps.
How do I add a post?
You can add an Instagram Reminder from within the Buffer dashboard on the web (https://buffer.com) or from any mobile device. Since Instagram is a mobile-first social network, to complete the process of posting to Instagram, you'll need to have a mobile device with the Buffer app (for receiving reminders) and the Instagram app (for posting).
Any restrictions on content?
The content shared to Instagram through Buffer still needs to comply with both our own terms at Buffer, and Instagram's own terms around content.
Get Buffer for Instagram! Start amplifying your Instagram marketing today
With Buffer for Instagram, we're excited to be giving you the power to manage your social media marketing from one central location, and we're eager for you to have the tools you need to plan, track, and amplify your Instagram marketing.

We'd love to hear what you think!
We'll be hanging out in the comments here to answer any questions, and you can get in touch with us any time at hello@buffer.com.
Happy Instagramming!
You might also enjoy these
Instagram marketing
resources:
A Complete Guide to Instagram Marketing: Get the Playbook That Drives Results
How to Repost on Instagram: Introducing Instagram Reposting by Buffer
How to Create Beautiful Instagram Stories (and 10 Amazing Templates to Use)