We're excited to announce a new partnership today between Buffer and Mention to make monitoring and reacting to mentions of your brand, competitors or industry-related keywords a breeze.
How Buffer and Mention complement each other
Many people have asked us about Buffer's commitment to being the most simple yet powerful publishing tool for social media, without adding a stream to view new posts on social networks. We're excited to continue down this path and focus our efforts on publishing, but we understand that this means you'll probably need to use other tools to keep track of what people are saying about your brand around the web.
Mention covers this area so well that it makes perfect sense for us to team up. You can now monitor mentions of your brand and share them to all of your social accounts via Buffer. With our recent announcement of Buffer for Business plans, we hope that this will be especially helpful for those of you managing business social media accounts.
What is Mention?
Mention is a great tool to help you keep on top of your brand all over the web. It lets you monitor mentions of your brand specifically, as well as industry keywords, competitors and more. When you sign up for an account, the first thing you'll want to do is create a new alert. This is as simple as naming your alert and adding any keywords you want to monitor: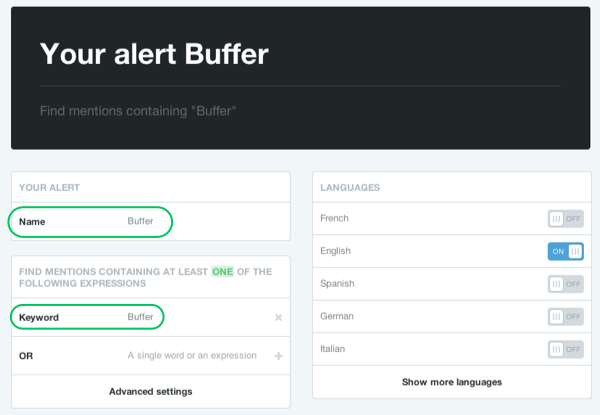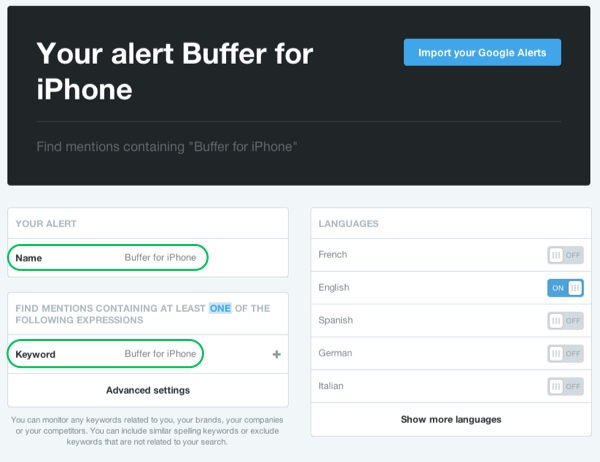 You can even add extra keywords or phrases to monitor: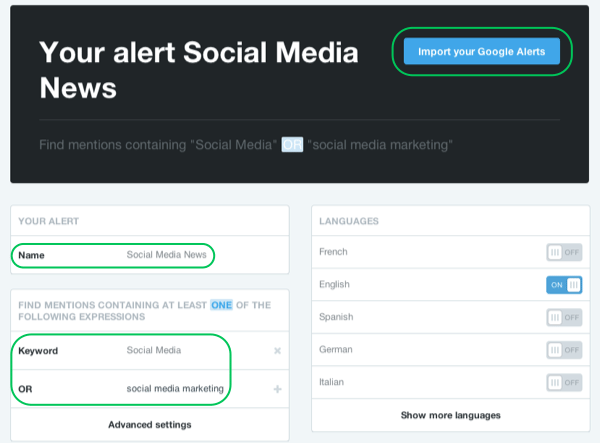 Mention then pulls all of the matching results into a kind of inbox view for you, where you can view, favorite, archive and delete each one. You can even create tasks for your team members to respond to particular results. In the list of results, Mention has some really useful markers to help you understand each one, such as icons for where they came from (e.g. Twitter, blog comments, Facebook), color-coding to show if a mention is particularly positive or negative, and flags for important mentions:

When you click on each result in the list, you'll see a detailed view on the right, including any threaded replies (e.g. if it's an ongoing Twitter conversation), plus information about the author if it's a social media post at the bottom: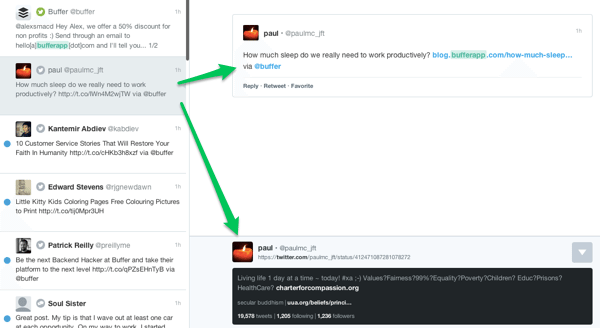 You can even get blog comment results, which load the original blog post in the detailed view: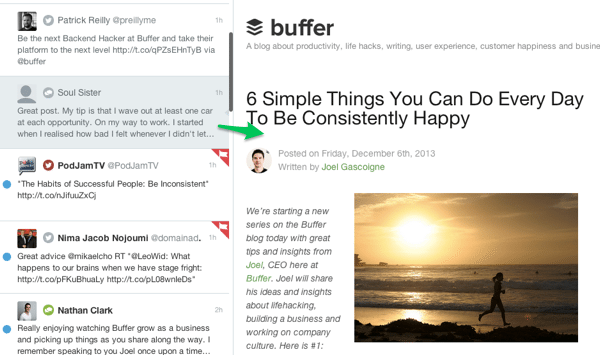 Mention also provides some really useful stats about mentions of your business online, including where you get mentioned most often and sentiment analysis: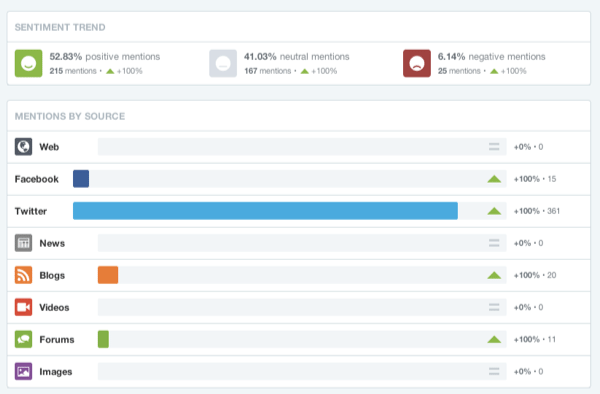 How to combine Buffer's publishing power with Mention
To get the most out of this awesome new integration, you can now add your Buffer account to your Mention alerts so you can publish results to social networks. You can do this when you create a new alert, as well as adding your Facebook or Twitter accounts: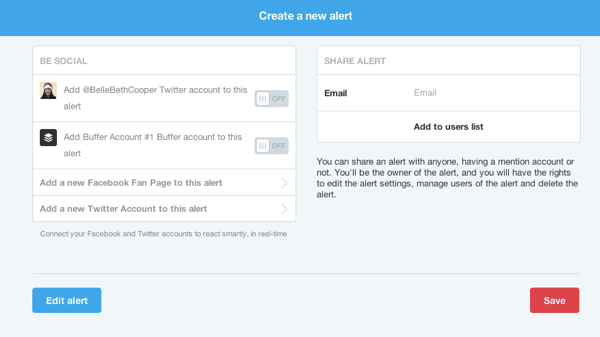 Once you've set up an alert, you can also add new social accounts to it: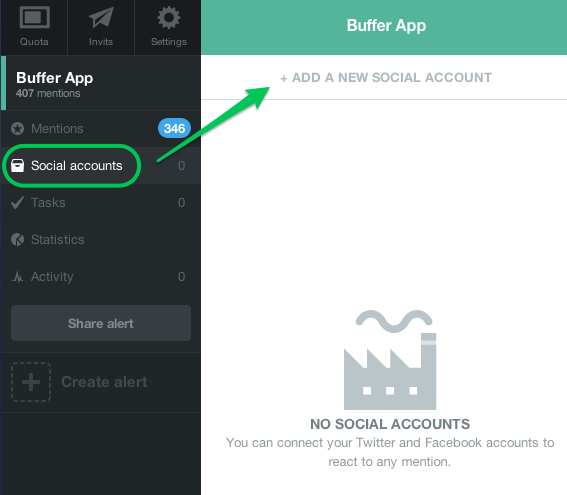 If you add your Buffer account, you'll be able to publish to all of your connected social profiles and pages, just like you can from the Buffer dashboard or browser extensions. And once you've added a social account, it only takes one click to include it in any new alerts you create: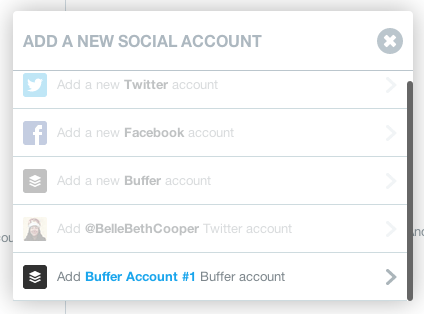 Inside your alert results, you can filter by source including images, blogs, Twitter, Facebook, videos and more. If you choose blogs, you can find some great content to fill up your Buffer account: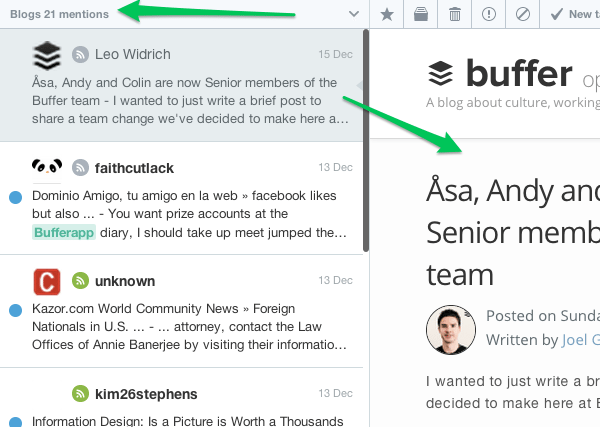 Once you've found a post that you want to share, just click on the "React" menu and choose "Add to Buffer":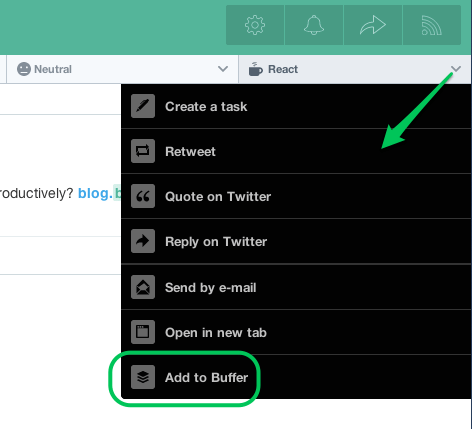 If you've used our browser extensions before, the Buffer post will look familiar. You can choose which accounts to send it to, whether to send it now or add it to your queue, and preview what the post will look like: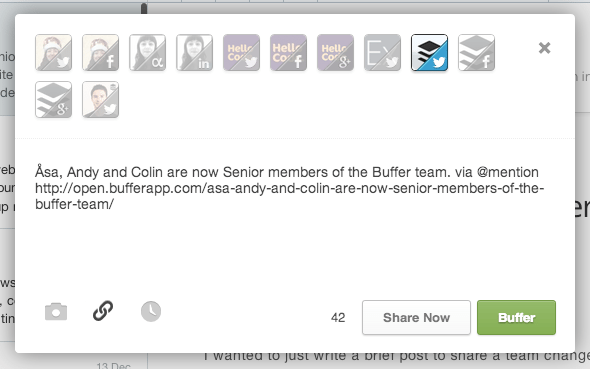 You can even view your Buffer queue from inside your Mention account: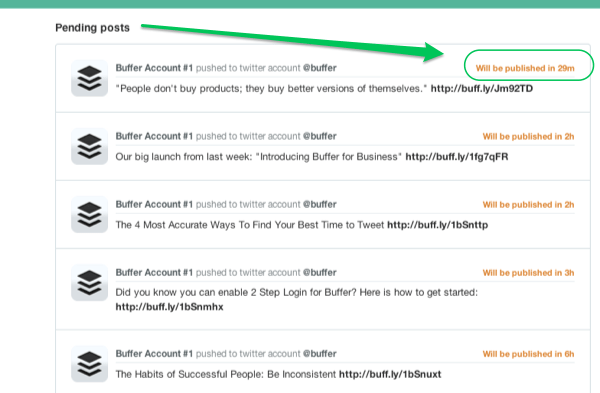 And if you add your social accounts separately, you can view your posts and add new ones. I added my Twitter account: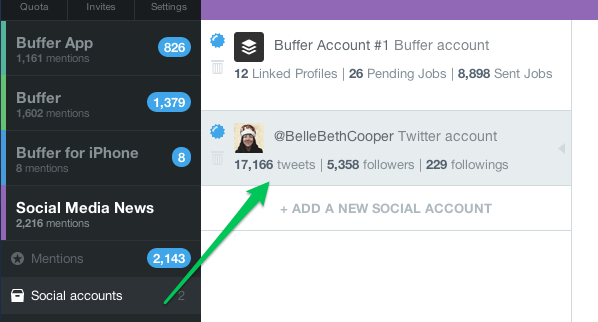 And now I can see all of my published Tweets, or add a new Tweet: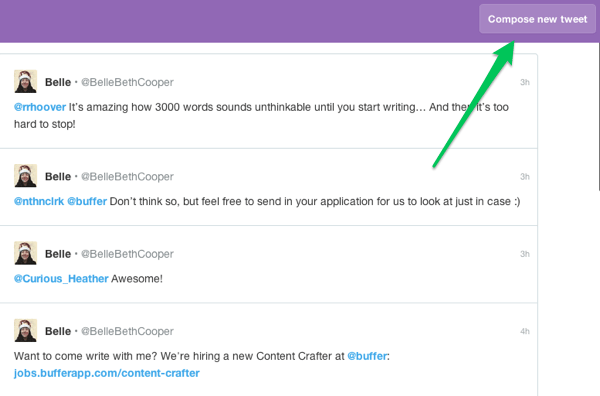 We hope you'll find this integration useful for your personal and business social media monitoring. We're keen to hear what you think, so sign up for Mention and give it a go, and let us know your thoughts!